This year I am ahead of the game and have most of my shopping done. This month I have been using the Shopular app on my phone to not only find the latest deals in my area, but also check out all the sales ads for retailers like Walmart, Target, Walgreens, etc too! Don't you hate when you buy something to find out later that another store has it on sale for cheaper? That wouldn't happen if you had the Shopular app.
For those looking for some holiday gift ideas, here are some products from my Holiday Gift Guide that you might want to grab.
Berry Breeze

For those on your shopping list that like to keep your fridge full, this might be a great gift. This product has been designed to lengthen food's freshness, deter molding, and eliminate refrigerator odors.

Doodle Quest

This is a FUN game for those that like to draw and even for those that can't but want to try! This is great for family game night! A fun drawing game with 36 illustrations and two levels to master!

JOCO Cups

For those that have to have their daily cup of coffee, a JOCO Cup would make for a great gift. Instead of helping waste trees on those paper cups, the JOCO Cups are REUSABLE glass that is made from natural materials and BPA and chemical FREE.
These are just a few suggestions that you might be interested in. To view the other featured gift ideas, visit Mom's 2014 Holiday Gift Guide.
I know that not everyone shops online. For those of you looking to save money when shopping at the brick and mortar stores and have a smartphone, be sure you have the Shopular app on your phone. When you have this app installed you will be notified of deals in your local area and you will also have access to the Weekly Ads right from your phone. No more having to buy and save the Sunday paper for the ads, you can have access to the weekly ads at your fingertips right from your phone.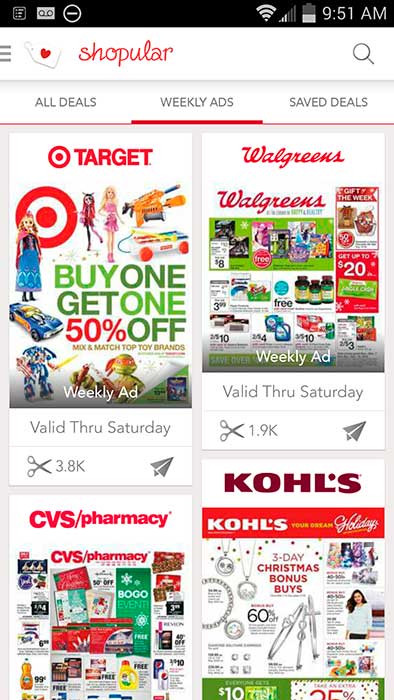 For those that like to save money the Shopular app is very handy. You can use the app to find the latest deals, redeem offers and coupons from your phone, get notifications of great buys in your area and you can also interact with the community and find out shopping tricks from other Shopular users.
To find out more about how you can start saving with Shopular visit: www.shopular.com | www.facebook.com/shopular