"I participated in an Influencer Activation on behalf of Influence Central for LISTERINE. I received samples for this review and a promotional item to thank me for participating."
As a mother I am always reminding my children to brush their teeth, especially now that school is back in session and the night time routines are a must to keep me sane. I remind my kids that they need to brush, floss and use mouthwash if they want to have white healthy teeth. I find myself reminding my two youngest what happens to teeth when you don't brush when they want to complain about having to brush before they go to bed.
One thing my kids do need to do more is floss. I keep floss in the bathroom cabinet at all times but I am sure they are not flossing as much as they should. I was thrilled when I received a variety of Listerine products, including 4 different types of flosses that will encourage everyone to floss more!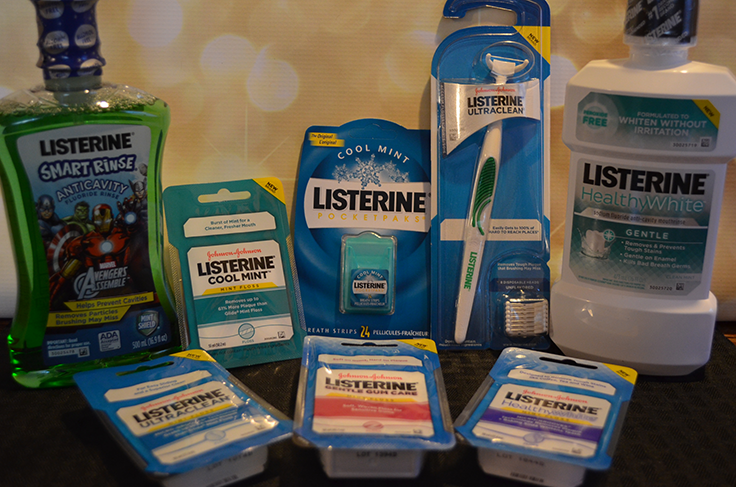 As a child I remember wanting to have white and healthy teeth. This was especially true once I entered junior high where having bad teeth wasn't cool. I remember spending a lot of time in the dentist office and I didn't want him ever to tell my mom I wasn't brushing my teeth good enough. Years ago they didn't have toothpaste with baking soda so I would add some to the top of the toothpaste on my tooth brush. Sometimes I would even brush my teeth with plain baking soda to try to make them as white as I could. I think I must have seen my mom do this.
I am thankful that there are so many different products like the Listerine products to help us keep our family's teeth healthy & clean!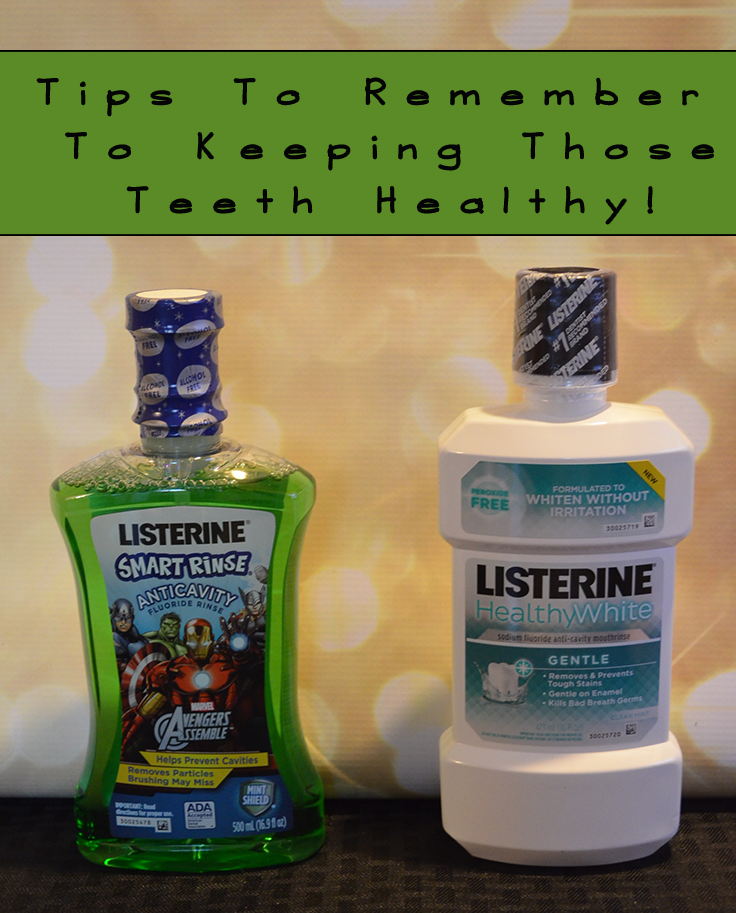 Here are a few tips to remember to keeping those teeth healthy:
Replace your toothbrush every three or four months.

Sooner if the bristles are frayed. A worn toothbrush won't do as good job of cleaning your teeth.
Keep your bottle of LISTERINE® Antiseptic in a visible spot in the bathroom so you don't forget to rinse. Rinsing with LISTERINE® Antiseptic twice a day was shown in a clinical study to help reduce 52% more plaque and 21% more gingivitis than brushing and flossing alone.

Limit foods that are high in sugar.

If you do give in to your sweet tooth, eat sugary foods with meals. Your mouth produces more saliva during meals, which helps neutralize acid production and rinses food particles from your mouth.
Out of the Listerine products we received, I was most excited to try the Listerine Healthy White Gentle Rinse and the Gentle Gum Care floss. I have used the Listerine products for years and have always been used to the STRONG flavors of there mouthwash products. This new product has been made to help whiten your teeth, help to restore enamel, kills bad breath germs and more. I have been using this mouth this past week and the flavor is definitely not as strong as their other products I have used. I also am liking the floss. My gums are sensitive and this floss seems to be more gentle on my gums than the other floss I have been using.

Be sure to visit Listerine's Healthy Habit Heroes Video Series to learn more about becoming a Healthy Habit Hero.