I received a complimentary stay in exchange for my review. The thoughts expressed here are my own and not influenced monetary compensation.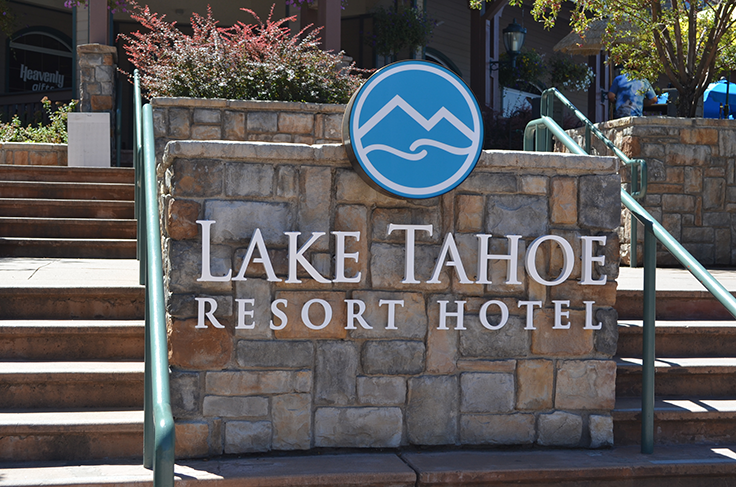 After my fun ride on the Murder Mystery Train in Carson City, my daughter and I made our way to Lake Tahoe to stay at the Lake Tahoe Resort Hotel. I have to admit I was a little excited to arrive at the hotel. For years I always wanted to stay at the cute Embassy Suites in Lake Tahoe. That cute Embassy Suites that many are familiar with has got a makeover and now known as the Lake Tahoe Resort Hotel.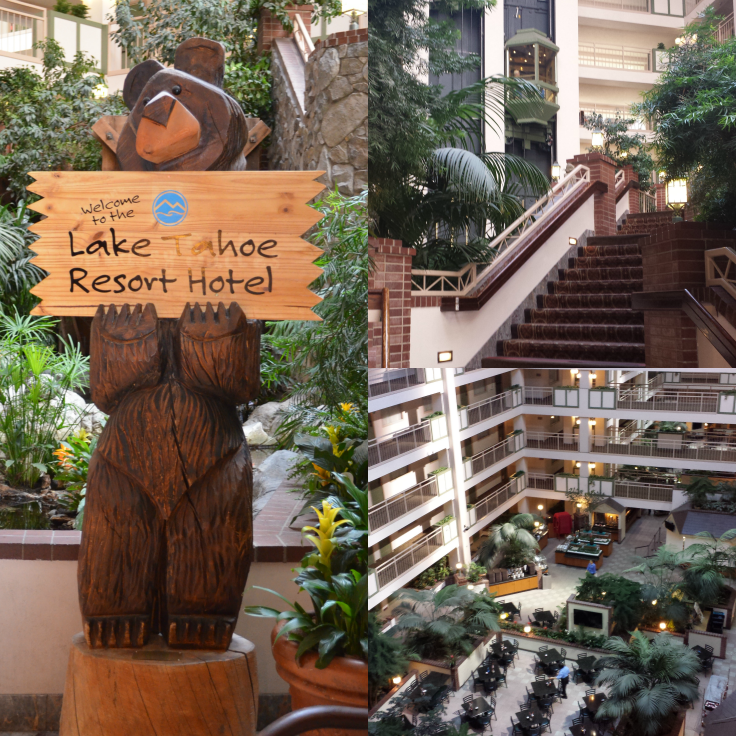 From just looking at the outside of the hotel you cannot see just large and just how amazing this hotel is once you are inside. When you step through the doors you are welcomed with a beautiful lobby area with plenty of places to rest,  3 garden atriums, a Koi fish pond, glass elevators and some other fun amenities.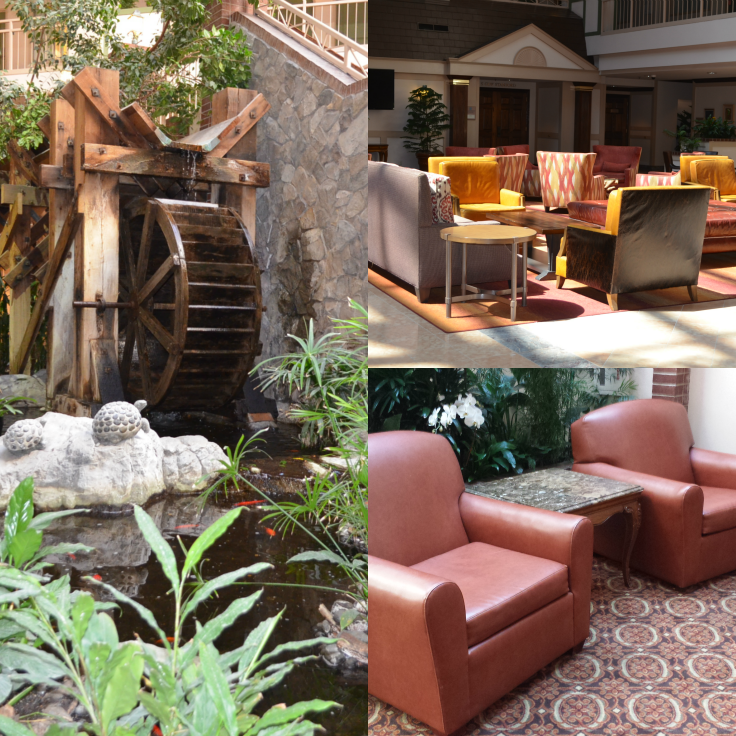 Once we were checked in I couldn't wait to check out the inside of our suite. Since we were staying on the 7th floor we got to ride on of the four glass elevators in the hotel to take us to our floor.  I was excited to see this pretty living area that would be my home for the next couple days.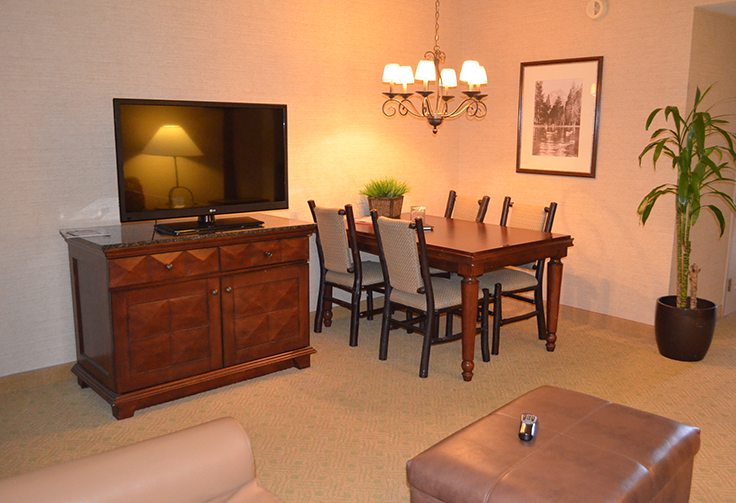 Every suite at the Lake Tahoe Hotel Resort has a bedroom area and living room. The living room area includes a sofa bed, armchair and a dining table/work area with plenty of lighting for those like me that need to get work done at night time.
The suites also include a refrigerator, microwave, coffee maker and a large flat screen TV in both the living room and bedroom areas.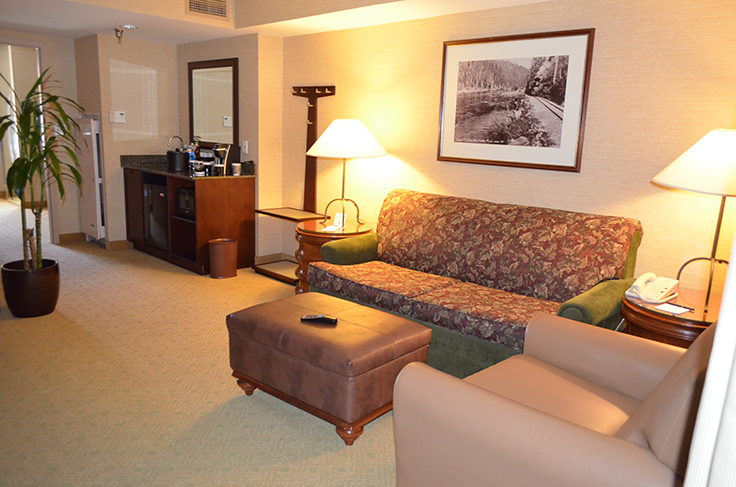 While I enjoyed having a TV in both rooms I did really enjoy having a Keurig brewer with Starbucks K-cups at hand. I had some posts to write while I was there and the coffee definitely came in handy.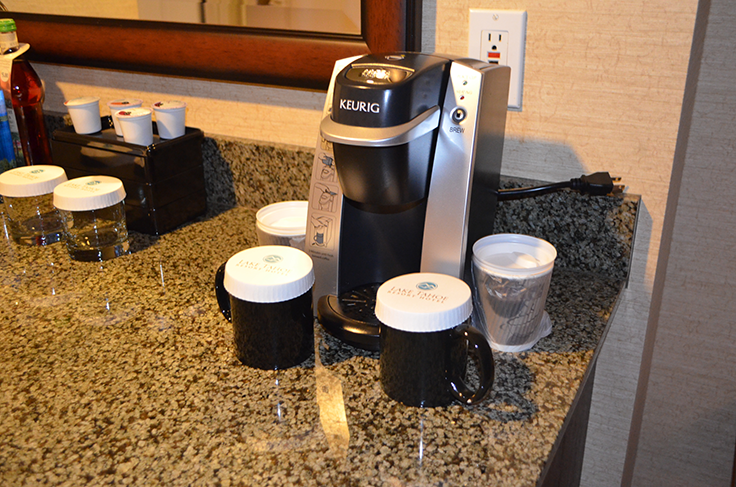 When reserving a room you have the choice of one king size bed or two queens. We had a big comfortable king size bed in our room with lots of pillows. It was nice being able to watch some shows on Direct TV before going to bed each night in a big nice bed.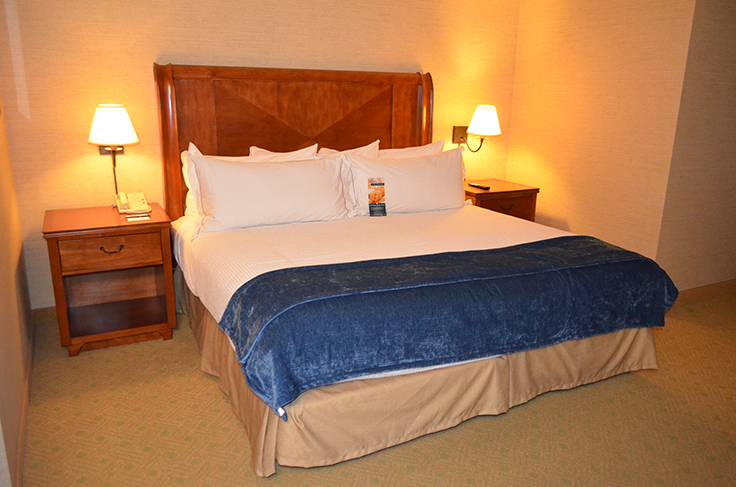 Our suite also included a window with a bench in the bedroom so we could enjoy the view of Lake Tahoe.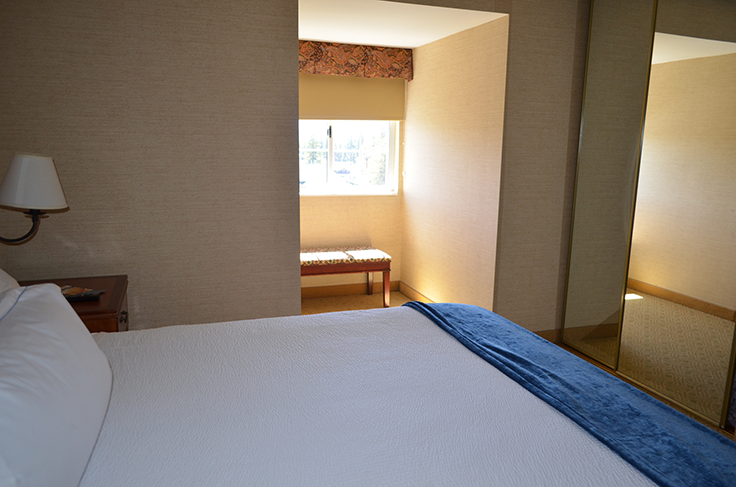 While it was great to be able to not set an alarm clock, I did make sure that we didn't miss the FREE breakfast buffet that is included with your reservation.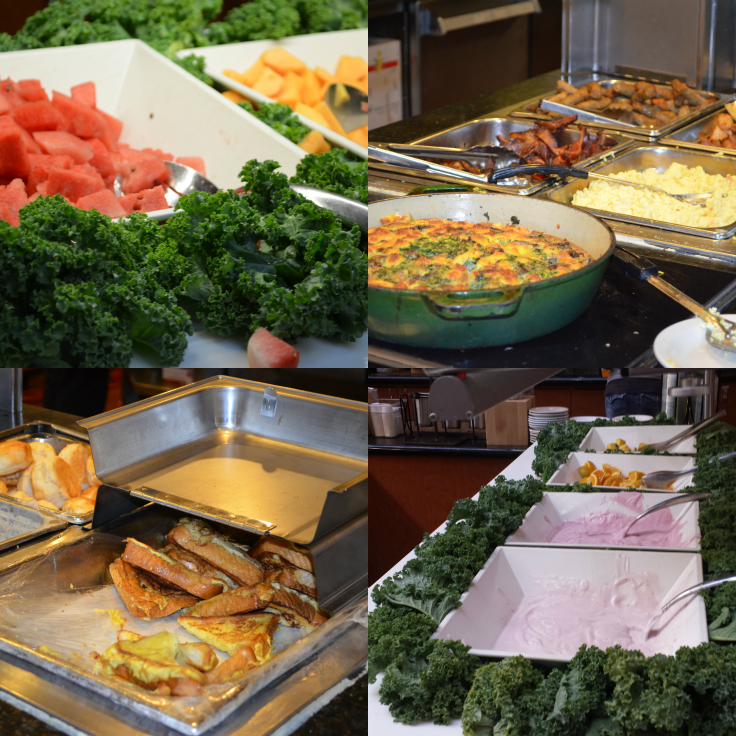 Each morning we looked forward to breakfast. There were so many different options that is was fun seeing what we each put on our plates. They also have a beverage bar too with juice, coffee, soda and other beverages to enjoy with your breakfast.
Here were some my breakfast buffet choices for the weekend.
For those that want to enjoy some of the amenities of the hotel, you can spend some time in the heated pool that is stocked with plenty of clean towels to dry off with. I didn't get a chance to use the pool but I will next time.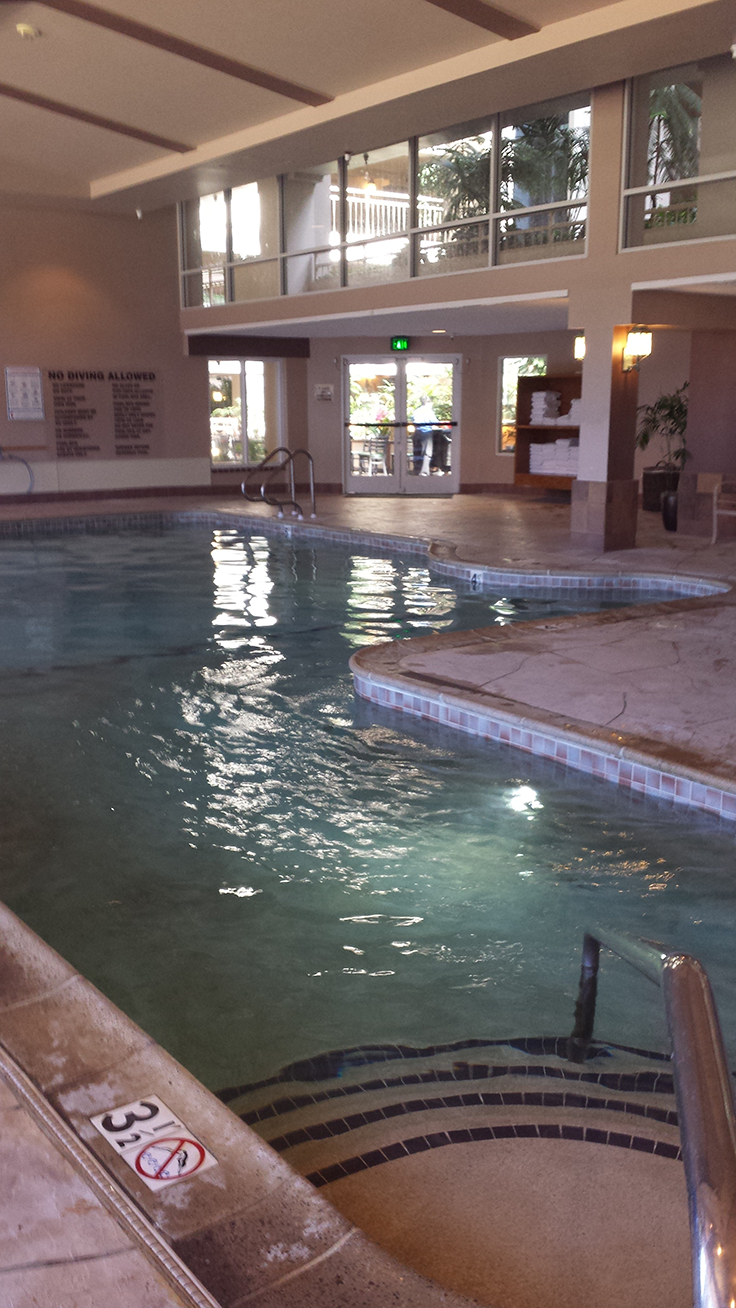 If you prefer to sweat over a dip in the pool you can choose to burn some calories at the gym. Their gym includes some treadmills and stair stepper with TVs, weights, cold water, towels and other equipment to enjoy a nice workout.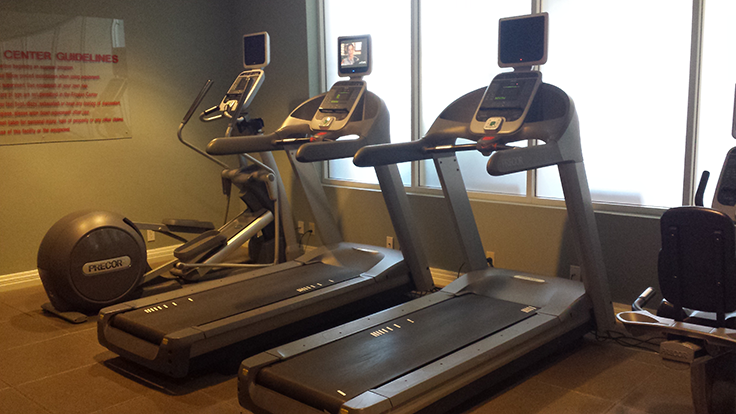 Or you can take a walk outside the hotel and enjoy Lake Tahoe! Just outside the doors you have access to a variety of places to eat and plenty of entertainment.  While many enjoy the casinos and hiking outdoors, my favorite would be the beaches at Lake Tahoe. I love the view and I can never take enough pictures of pretty blue water.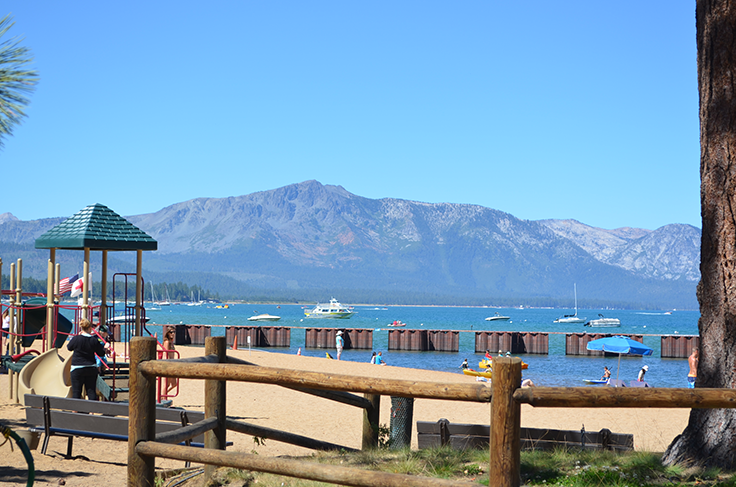 Prefer to explore wildlife? Just behind the Lake Tahoe Resort Hotel you will find Van Sickle Bi-State Park. This park offers dozens of miles of trails of pine forest for those that enjoy walking and hiking. If you happen to hike to the top of the ridge, you will get a view of Carson Valley, Lake Tahoe and the Tahoe Rim Trail.
Here are just some of the other hotel amenities that I haven't mentioned yet:
Whirlpool
Outdoor Sundeck
Complimentary copy of USA Today
Gift Shop
Guest Laundry
In-room massage
And more….
I really enjoyed my stay at the Lake Tahoe Resort Hotel and I can't wait to go back. I stayed two nights but wish I could have stayed a few more. On my next visit I want to ride the gondola ride that you can find next to the hotel. The Heavenly Mountain Gondola is a 2.4 mile ride that offers panoramic views of Lake Tahoe!