Disclosure – I received a Samsung Galaxy S4 Mini with Sprint services to provide you with this review. This is not a paid post and all thoughts opinions expressed herein are 100% my own.
For the last few years I have been a big fan of the iPhone. I first started with the iPhone 3GS and then upgraded to the iPhone 4S and I thought I was happy with it. For the last month though, I have been using and playing around with the Samsung Galaxy S4 Mini with the Sprint network. I think this phone might have WON my love over the iPhone.
Here is my Samsung Galaxy S4 Mini and my iPhone 4S side by side. As you can see, they are almost the same size with the Samsung being just a tad taller.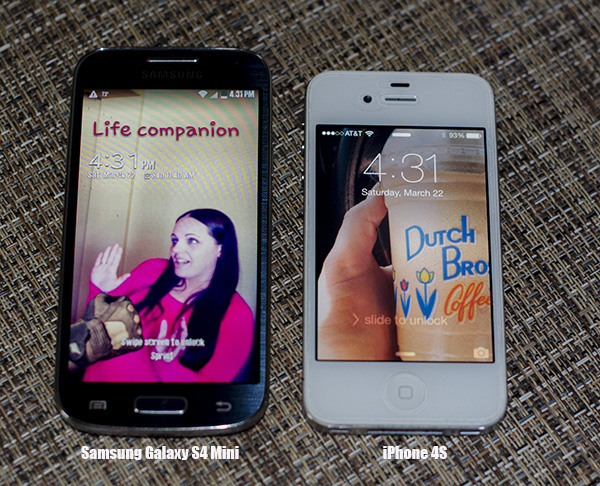 The Samsung Galaxy S4 Mini vs the iPhone 4S
So until I used the Samsung Galaxy S4 Mini, I thought the iPhone was all I needed. I had all my apps like Instagram, Facebook, Pandora, Twitter all within hands reach. I even had all my music and I could use it like an iPod. After using my Samsung Galaxy S4 Mini, my iPhone seems a little boring. The S4 Mini seems like a little computer to me and the size is perfect since its almost the same size as my iPhone.
One thing I have enjoyed with the S4 Mini is the Samsung Hub and Entertainment Universe. You can't get bored if you have access to this!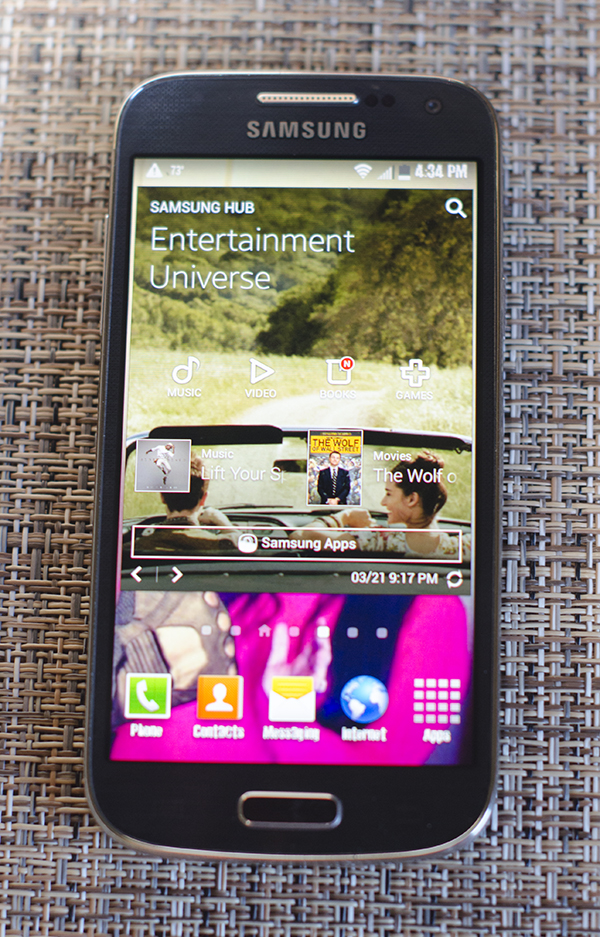 Once you sign into the Samsung Hub you then have access to shop for TV shows, movies, games, music, books and more to your phone. What I like about the hub is that it integrates your storefront and media player so you do NOT have to leave the app to view the content you purchase which makes using it easier.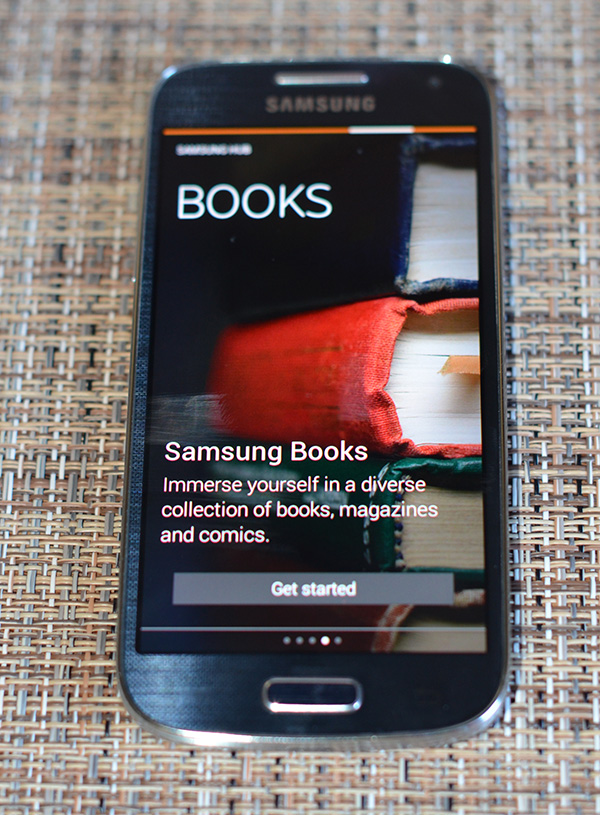 I like to read so I am liking the Samsung Hub Book app. You can access your e-books from different Samsung devices. The content you purchase belongs to the user and not just the device. You are able to re-download the same purchased content as many times as you wish for up to 5 Samsung devices.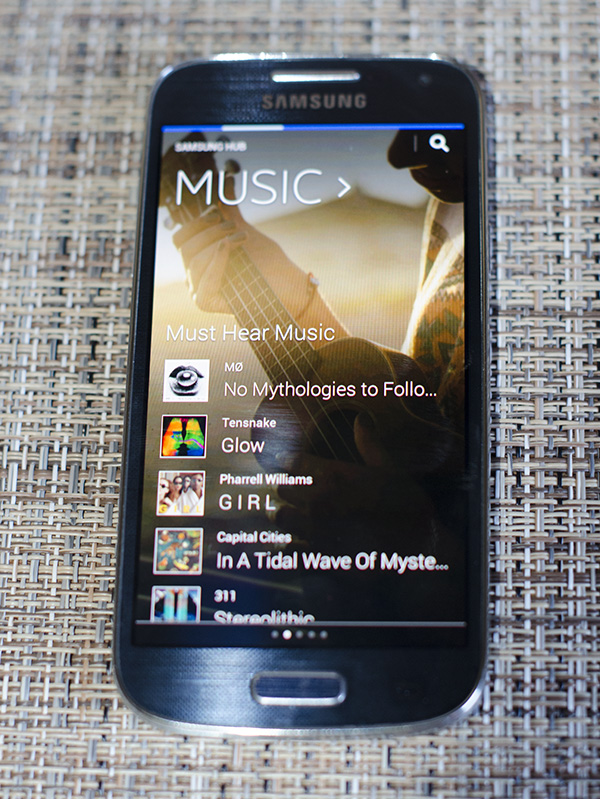 I LOVE music so having access to new music as well as old music is a must. With the Samsung Music Hub you get access to a global catalog of over 14 million songs. I think that iTunes may have access to more music, I think last year they were at 25 billion but for me, I mostly listen to songs I am easily going to find on either device so I don't need that big of a library to look from.
What is neat about using the Samsung and listening to music is that the phone listens to what you play and then suggest similar artists and songs for you. As you continue to listen to your favorite songs,  your recommendations will become more refined. I think this is also a great way to find new music that you haven't discovered yet.
Here are some other features I like about the Samsung Galaxy S4 Mini from Sprint over the iPhone 4S:
Larger screen (4.3 vs 3.5)
More ram (1.5gb vs .5gb)
Faster clock speed (1.7GH vs .8GHz)
Super AMOLED technology
The Samsung Galaxy S4 Mini vs the Samsung Galaxy S4
There are many of you that have or want the Samsung Galaxy S4. You might be wondering what the difference is between these two phones. From what I can see, the Galaxy S4 Mini is a smaller version of the Galaxy S4. Not only is it smaller it is also comes with a smaller price tag. I think for those used to the iPhone like me, the Samsung Galaxy S4 Mini might be your way to go over the larger phone. That is unless you are looking for a fancier and bigger phone.
Here is the Samsung Galaxy S4 Mini next to a regular Samsung Galaxy S4. You can definitely see the size difference.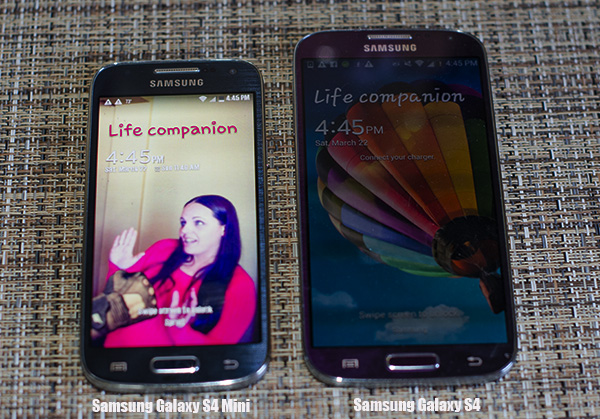 When it comes to sizes, the Samsung Galaxy S4 has a 5-inch screen in a 136.6 x 69.8 x 7.9mm chassis. The Samsung Galaxy S4 Mini has a 4.3 inch screen in a 124.6 x 6.3 x 8.9mm chassis. The Samsung S4 weighs 130g whereas the S4 Mini only weighs 107g.
Here is a picture of all three phones together from smallest to largest.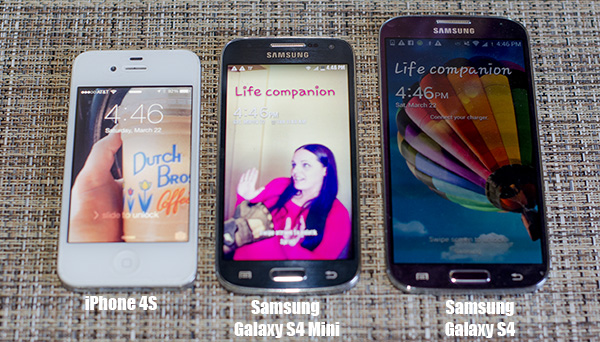 While many people like the bigger fancy cell phones, I prefer to have a smaller hand sized phone. I am always using my phone and the smaller sized phones have always worked best for me. They seem to fit in my purse better and are easier for me to take #selfie pictures with.  🙂
Which type of cell phone do you prefer to use? Feel free to leave me a comment letting me know what kind of phone you have or what your dream cell phone is.
I hope you enjoyed reading my Samsung Galaxy S4 Mini Review. Stay tuned for my upcoming post about Sprint's Framily Plan and how it might be able to save you some money on your cell phone bill costs.