I am a member of the Collective Bias® Social Fabric® Community. This shop has been compensated as part of a social shopper insights study for Collective Bias™ and their client.
I LOVE this time of year. Not only is it sweatshirt weather, it is also time to make desserts that include pumpkin. I don't know why, but picking pumpkins is always fun no matter how old I get. I enjoy carving them and I also enjoy eating them.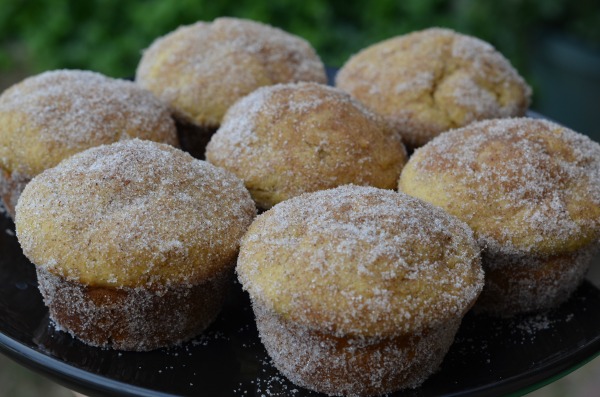 This weekend I made Pumpkin Donut Muffins that included fresh baked pumpkin puree that I made in my oven with pumpkins I found at my local Save Mart. I know that I could have bought the pumpkin puree in a can but what fun is that?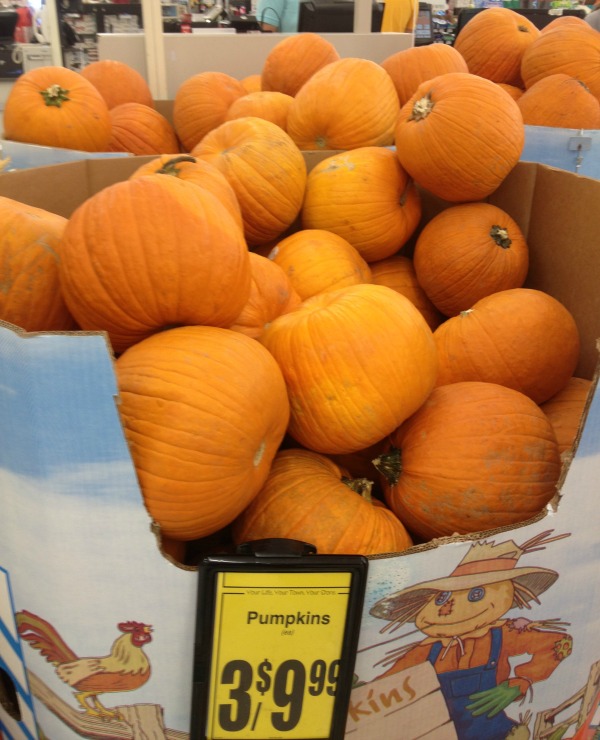 A couple years ago I got brave and taught myself how to take a pumpkin, bake it and use the insides to make my own pumpkin pie. That homemade pumpkin pie I made turned into me wanting to make all sorts of baked good with homemade pumpkin puree. I will show you how easy it is to make it yourself.
First, I buy the small pumpkins that are dark orange in color. They are usually called sugar pumpkins. I bought two of these small pumpkins at Save Mart and my son immediately claimed one of them as soon as I put them on the counter.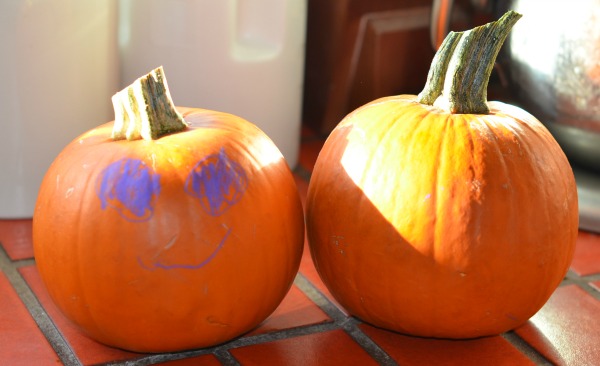 To make the pumpkin puree, you will first want to cut the pumpkin in half and remove the stem. Then remove the seeds and the stringy insides. I used the side of a metal spoon to scrape the insides clean.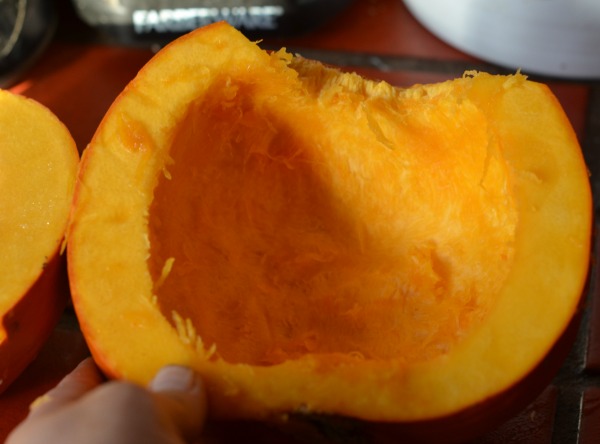 Next place both halves of the clean fresh pumpkin face down on a baking sheet. I used a 13×9 but you could use something smaller. Bake at 350 degrees for 45-60 minutes. My pumpkin took about 1 hour to cook to the consistency I wanted.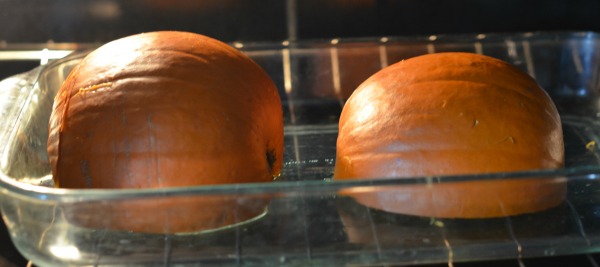 To check if it is done, remove from oven and use a fork to see if it has soft/mushy consistency. You should also be able to peel off the skin of the pumpkin in large sections.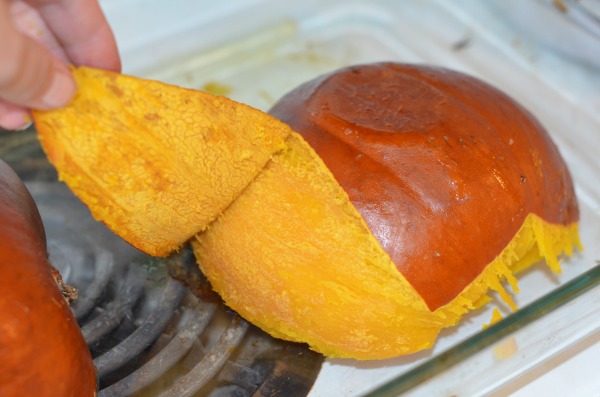 Remove all the skin from both halves of the pumpkin. You will then want to place pumpkin in blender or a mixing bowl to make it into puree. I used my KitchenAid stand mixer and used the whip attachment.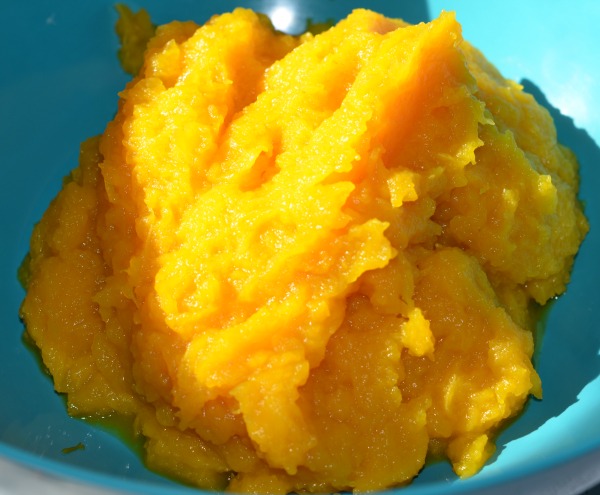 Once you have your pumpkin puree you then can make some delicious pumpkin donut muffins like the ones I made this weekend. These are easy to make (once you got your pureee) and something that is very good for your tastebuds. This batch only makes 12 LARGE muffins so if you are looking to make more you will want to double my recipe.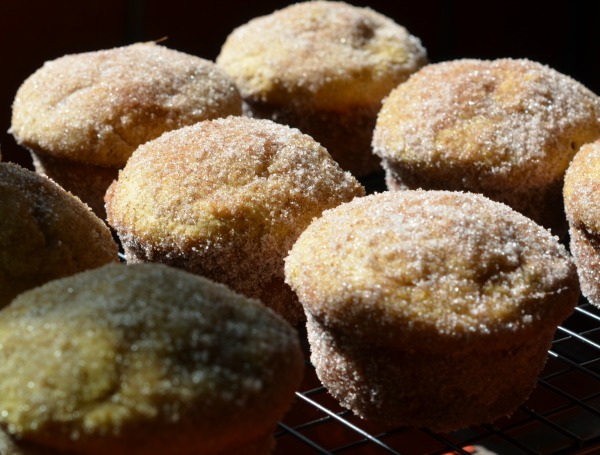 Right now is the perfect time to get your pumpkins. The stores are just getting their pumpkin supplies in and the pumpkin patches haven't been hit hard yet. If you are looking to make desserts with homemade pumpkins, get your sugar pumpkins now before everyone else gets them.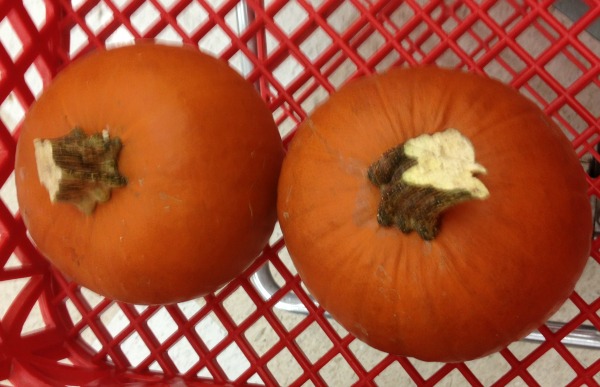 Okay, now for the recipe for these delicious Pumpkin Donut Muffins:
Pumpkin Donut Muffin Recipe
Author:
Ingredients
3 cups all purpose flour
2 1/2 tsp baking powder
1/4 tsp baking soda
1 tsp fine sea salt (or regular table salt)
1 1/2 tbs pumpkin pie spice
1/3 cup buttermilk
2 eggs
1 1/3 cup fresh pumpkin puree
3/4 cup brown sugar
1/3 cup non fat milk powder (optional)
10 tbs unsalted butter (room temp)
1/4 cup unsalted butter (melted) – for coating
3/4 cup granulated sugar – for coating
2 tsp ground cinnamon – for coating
Instructions
In a large bowl add flour, pumpkin pie spice, baking powder, baking soda, salt and non fat milk powder; set aside.
In mixing bowl cream butter and sugar until fluffy. Add eggs gradually and scrape sides.
Mix buttermilk with puree. Add flour in 3 increments with puree mix just until combined. Do not overmix.
Divide the batter equally into muffin cups (12). Bake at 350 for 25-30 minutes or until toothpick comes out clean. Move to wire cooling rack and allow to cool for 10 minutes.
While cooling add sugar and cinnamon in bowl and mix to make coating. Take each muffin and brush with melted butter. Then roll in cinnamon/sugar mixture.
Move to cooling rack again until ready for storage or eating.
Enjoy!
This was a recipe that I definitely had fun making. I was going to bake both of the pumpkins but my son really took a liking to one of the pumpkins before I got a chance to bake them. He even put a cute face on the pumpkin while mom wasn't looking. I will probably be making some pumpkin pie with his pumpkin later this month. 🙂

You can buy fresh pumpkins right now at Save Mart as well as other grocery retailers. You can of course visit your local pumpkin patch but if you don't have time, the grocery store is the next best place! You can also visit the Save Mart website for more #FreshFinds recipe ideas.
To learn more about Save Mart, visit their links at: