When your child goes off to college, he or she is all alone. If that thought fills you with dread, you're definitely a parent. Fortunately, you can assuage your fears if you follow a few steps.
Calm Down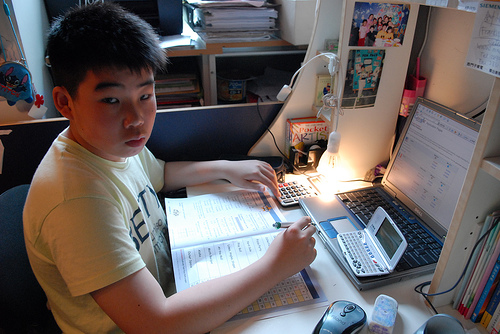 Image via Flickr by Louis Law
The first thing you need to do is calm down if you find yourself getting anxious. As the day when your child takes the early step into adulthood that is college looms before you, there may be temptation to over think everything. You may even feel tempted to ground your child just to keep them home a little bit longer. You must fight these urges and accept that while things won't be perfect, they will be okay.
Remember How You Were at That Age
One of the worst things a parent of a teenager can do is to forget what it's like to be that age. There's a lot of pressure as a person goes from being a child to being an adult, and the process is a slow one. Many teens will test both their personal limits and their parents' patience. But were you so much better behaved and responsible at that age? Chances are, other than technology you weren't much different. Somehow you survived and prospered in spite of yourself.
Help Your Child Learn to Study Well
Studying is a skill that has to be self-motivated in college. If your child isn't very studious, at least give him or her the tools in case this trait develops later on. Whatever you do, do not allow yourself to become a crutch that your child can endlessly lean on. Your child needs to learn how to handle his or her own academic career, not to mention the future once school is finished for good. Good study and research skills are worth a great deal to most anyone's future career.
Ensure Your Child Gets the Best Scores Possible
Tests like the SAT and ACT are no joke. They can mean the difference between not getting into a desired school and getting into the school's honors program. So ACT prep, such as that offered by Huntington ACT test preparation, can be a significant boon to your child's academic future. Do not allow your child to be discouraged if his or her initial scores are less than stellar. Everyone occasionally does poorly, and only the last time one takes these tests really matters.
Instruct Your Child on Reasonable Etiquette
Treating people well is a trait that far too many people go off into the world not possessing. When you observe how your child acts towards others, be aware that you will not always be there to advocate for their actions. In the real world and in college, how your child treats other people will decide much of their ultimate fate. Do your best to provide a solid example, and make sure you consistently lay down the law for your child starting at an early age.
There is a lot you can do to help your child be successful in college. Keep your mind clear and do all you can to impart the crucial skills, and everything should be fine.