I am always trying to make sure I keep up on the laws when it comes to the child safety seat laws in California. I want to make sure my children are not only safe, but that I am abiding by the laws too. I know I am safe when it comes to my teenagers, but I wanted to make everyone aware of the laws in California when it comes down to the little ones.
Last year they had changed the laws which required my 8 year old to sit in a booster seat. She wasn't so happy, but the law is the law!
Here are the laws you must abide by:
Children under the age of 8 must be secured in a car seat or a booster in the back seat of the vehicle.
Children that are under the age of 8 that are 4′ 9″ or taller may be secured by a safety belt in the back seat.
Children that are 8 years & over can be properly secured in an appropriate child passenger restraint system or safety belt.
Passengers in the vehicle that are 16 years of age and over are subject to California's Mandatory Seat Belt law.
Being in a car seat isn't always fun for kids. You can make it a little more fun by getting a cute car seat for them. I just LOVE this Dale Earnhardt car seat for boys.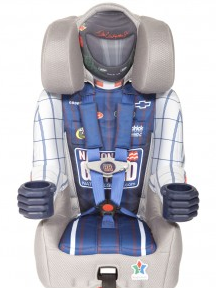 My son is now in a booster, but I would have loved to have one of these for him. I asked my son if he liked this car seat and he said YES. I might just have to get one of these for him since he loves having cupholders on his car seat to hold his little things he likes to bring.
I have seen some pretty CUTE car seats online for girls too!