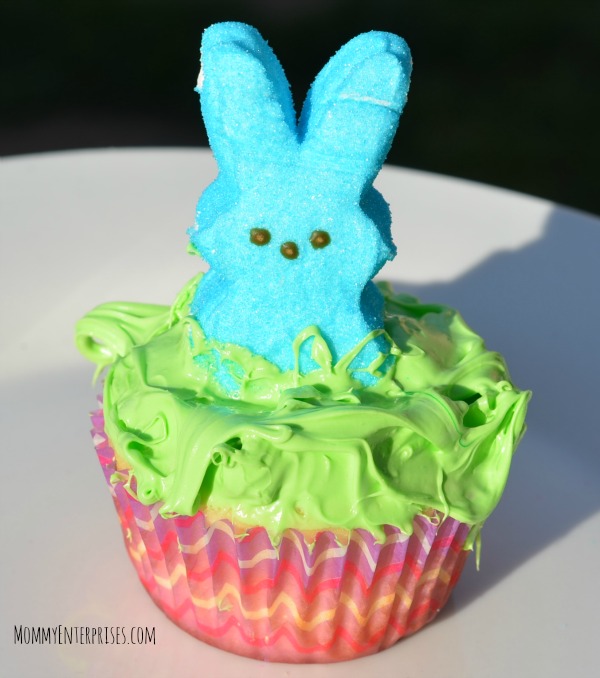 I will admit that I like Peeps even though I know they are like PURE sugar. I remember it was something I know I could look forward to each year in my Easter basket from my grandparents. I am glad though that these yummy but not so healthy treats are only available on the holidays.
When I seen the colorful bunny Peeps at the store just a couple weeks ago, I had to grab a couple packages and create something cute with them. The first thing that came to mind was cupcakes.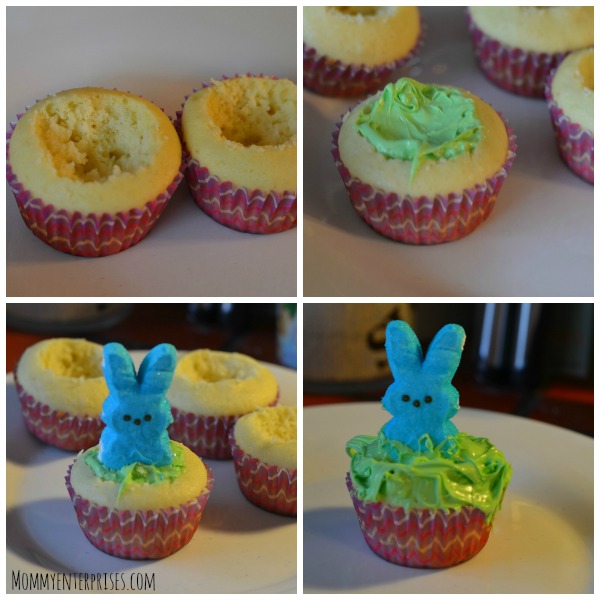 Making these cute peep cupcakes is not only fun, they are really easy to make too. This might be something you want to do with the kids this week.
Here are the simple steps:
First you make your cupcakes and let them cool.
Use a knife and cut a circle in the middle. Then use spoon to remove some of the middle of the cupcake. I didn't want to use that much frosting in the middle, so I only took out a small amount of cake.
Fill hole with frosting and insert bunny peep.
Use frosting to create a grass like look. This can be done using a fork.
If you don't want to buy a cake mix from the store, I want to share with you a simple cupcake recipe that I use each time without fail.
Easy Cupcake Recipe
Author:
Ingredients
3 cups flour (use cake flour if you have it)
1 1/2 cup granulated sugar
2/3 cup butter (softened)
1/2 tsp salt
2 1/2 tsp baking powder
2 eggs
1 1/3 cup milk
1 1/2 tsp vanilla extract
Instructions
In a mixing bowl, add flour, salt and baking powder. Add milk, eggs and vanilla.
In a separate bowl add butter and sugar and mix well.
Mix butter/sugar mixture to flour mixture.
Place cupcake liners into pan. Pour batter into liners and bake at 350 to 20 to 22 minutes or until golden color and toothpick comes out clean.
Do you enjoy Peeps during the holidays?