Over the past year I have tried making new recipes and coming up with my own instead of sticking to the same meals each week. I love to cook and my skills in the kitchen are definitely improving. When I am not cooking or on the computer, you might find me messing around with my iPhone. I now how have a cooking gadget that can communicate with my iPhone that will let me keep tabs on the temperature of my food that is cooking.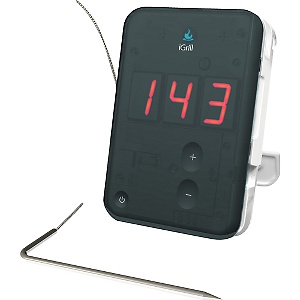 The iGrill is a cooking thermometer that is made for use with iPhones, iPads and iPod Touch devices. The iGrill uses the Bluetooth technology that has a 200+ foot range and is used in conjunction with the free iGrill App in the iTunes store.
This neat cooking gadget can be used as a stand alone meat or fish thermometer that allows you to check on your food at any time so you don't always have to be in the kitchen. For those that like to keep up with the temperature of your meat, this just might come in real handy.
Below are some additional iGrill features:
Wrap and store probe safely on the device
Alarm settings
Multi-probe capacity
Available in white or black
Although this isn't a must for every cook, I think it is something that would make a great gift for that techy or cook on your shopping list.
To find out more about the iGrill, visit: http://www.igrillinc.com.
Disclosure – I received one of these cool iGrill gadgets to provide you with this review. This post is not a paid post and the opinions stated herein are 100% my own.