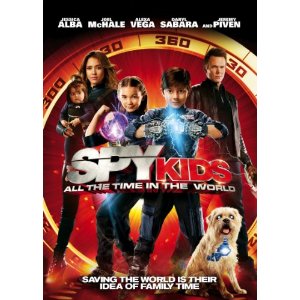 Got a Spy Kids fan on your shopping list? Last month the Spy Kids 4: All The Time In The World was released on DVD and Blu-Ray. My daughter Hannah is 7 and is a huge fan of the previous Spy Kids movies. She has the other movies in her DVD collection and was excited to see that mom had a new Spy Kids DVD that she had not seen yet. She watched it this weekend and asked if she could keep the DVD in her room because she really liked it and wants to watch it again.
The action packed franchise is back…with the next generation of Spy Kids! Marissa Cortez Wilson (Jessica Alba) has it all: married to a famous spy-hunting television reporter (Joel McHale), with a new baby and intelligent twin step kids, Rebecca (Rowan Blanchard) and Cecil (Mason Cook). When the maniacal Timekeeper (Jeremy Piven) disrupts her domestic bliss—threatening to take over the planet—Marissa comes out of retirement as a top secret agent. With Armageddon quickly approaching, Rebecca and Cecil are thrust into action! With a little help from some familiar Spy Kids friends, Carmen (Alexa Vega), Juni (Daryl Sabara), their faithful dog Argonaut (Ricky Gervais) and some mind-blowing gadgets, they just may be able to save the world!
My favorite part of this Spy Kids DVD is that Jessica Alba is one of the stars. I think she is an awesome actress and was happy to see that she was involved with such a cute movie.
I almost forgot to mention the cool bonus materials that are included with the DVD we received.  The bonus features include an interview with director Robert Rodriguez, a Spy Gadgets Clip, deleted scenes and more!
Right now Spy Kids 4: All The Time In The World is available on DVD at Amazon for only $14.99!
Disclosure – I received a review copy of this DVD to provide you with this review. This post is not a paid post and the opinions stated herein are 100% my own.