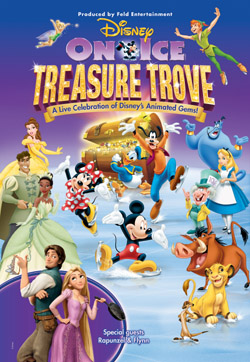 No matter how old I get, I will never be too old for anything Disney!
Next week, Disney On Ice presents Treasure Trove in Sacramento at the Power Balance Pavilion, Wednesday, October 26 through Sunday, October 30, 2011 for nine spectacular performances!
I am so excited because we are going! My kids and I are going to be in for a treat next week when we take a trip to the Power Balance Pavilion to see some of our favorite Disney characters …
Disney On Ice is definitely setting the gold standard with their all-new magical medley of Disney tales that span through the years of Disney from their first animated film, Snow White and the Seven Dwarfs, to the 50th animated film, Tangled.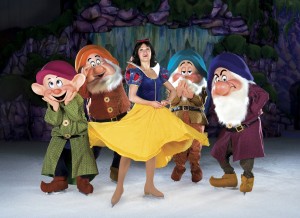 Treasure Trove is an action-packed ice adventure that takes audiences on a journey through the legacy of classic Disney animated films. Families can expect to get tangled up in the Walt Disney Studio's 50th animated feature with Tangled stars Rapunzel and Flynn, and enter the worlds of other favorite Disney princesses – Tiana, Cinderella, Jasmine, Ariel, Sleeping Beauty, Belle, Mulan and of course, the one who started it all, Snow White.
Take a peek below!
Children of all ages (like me) are going to enjoy setting sail with Peter Pan, Tinker Bell, Captain Hook & his pirate pals on an adventure beyond Never Land; trekking the wilds of Africa with Simba, Nala, Pumbaa and Timon as they discover the true meaning of the 'Circle of Life.'
And no one wants to be late to a very important date in the whimsical world of Wonderland with Alice & the Mad Hatter as they march with the Queen of Hearts' Army of Cards. Be sure to check out the schedule of events below so you don't miss out on the fun!
Disney On Ice Treasure Trove Schedule
Wednesday, October 26 – 7:00 p.m.
Thursday, October 27 – 7:00 p.m.
Friday, October 28 – 11:00 a.m. & 7:00 p.m.
Saturday, October 29 – 11:00 a.m., 3:00 p.m. & 7:00 p.m.
Sunday, October 30 – 12:00 p.m. & 4:00 p.m.
All seats reserved and available for purchase at www.ticketmaster.com, ticketmaster retail locations, Power Balance Pavilion Box Office or call 1-800-745-3000
To discover more about Disney On Ice, go to www.disneyonice.com, or on Facebook and YouTube.
Disclosure – I am receiving VIP tickets from Karen Bakula & Company, Inc. in exchange for this post. These opinions expressed are my own opinions and are NOT influenced by monetary compensation.