Just because winter is here does not mean that you should settle for a cold, lifeless house. There are ways to decorate your home in winter that come with the added benefit of being eco-friendly. Have a look at five ways in which you can decorate your home in an eco-friendly way and breathe new life into it.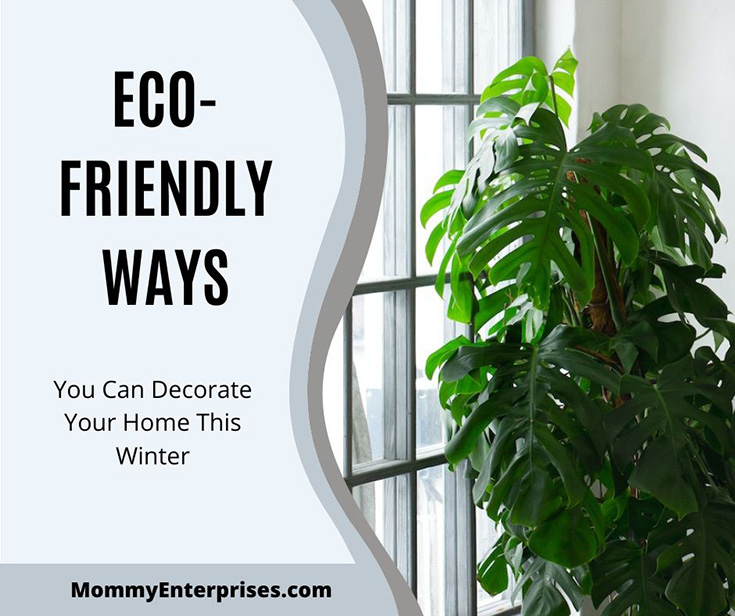 Add Indoor Plants
Currently, becoming a plant parent is all the rage online, and you can also get in on the fun. Simply find out which ones among the many species of indoor plants appeal to you and then source them. Apart from making aesthetically pleasant decor items, they will also be great for keeping the air indoors pure and fresh. You could also get some herbs for your kitchen counter, but keep in mind that food crops need to compete with about 10,000 species of insects that eat plants. Make sure you're prepared to ward off these pests if they do show up by also researching natural and eco-friendly pest control so that you make the most of your new plants.
Get a Real Christmas Tree
Instead of getting a plastic Christmas tree, go for a real one, as it's more eco-friendly. It will be a great way to support farmers who rely on selling the trees, and you won't be encouraging the addition of more plastic into the environment. While it may seem like a better deal to get a plastic tree that won't decompose and that you can reuse in the next season, storage often leaves plastic trees in a state that leaves people no option but to buy a new tree. A real Christmas tree helps purify the air as it grows, and it can be composted or replanted when the season is over, making it an eco-friendly option.
Use String LED Lights
Christmas is not complete without lights, so get some for your home this winter, but make sure they're LED. These will not only save you some energy as they use up less power to light up, but they will also produce less heat and are overall more eco-friendly than regular bulbs. This is backed by the fact that LED lights consume between 80% to 90% less energy than that consumed by incandescent bulbs. They also last up to 100,000 hours, unlike incandescent bulbs which last for just 3,000 hours. You can get them online and avoid the hassle of traffic and long queues at the store.
Buy Handmade Decorations
Rather than deck your surfaces out with shiny plastic baubles with a metallic sheen, opt for more natural options. These could be made from wood, clay, or even glass, and they will give you a more authentic look in the end than the regular ones. The fact that you will also be supporting a local handmade business will go a long way in ensuring you spread the holiday cheer. If you're artistically inclined, you can search for tutorials online and make the decorations yourself, getting your children in on the activity!
Purchase From a Sustainable Carpet Brand
Finally, it's a great time to update your home's carpets, so while you're at it, you can shop and purchase from a sustainable carpet brand. In the United States, the carpet industry accounts for up to 51% of the total flooring market, showing that there are many homes with carpets in America. To enjoy the benefits of having a warm and comfortable floor in winter while helping keep the environment green, shop for an extra or replacement carpet from a carpet brand that's sustainable.
As a parent, you may find it hard to draw the right balance between spending time with your children in a healthy way and getting the home ready for the holidays. You might even want to give your bedrooms a mini makeover for the winter. Maybe you can buy silk duvet covers for all of the beds to give all the rooms a new look! The five tips above can help you do both of these things successfully, so try them out this winter.