If you are a fan of big monster trucks and are in the Sacramento area, you are in for a treat in January! This. Is. MONSTER JAM!  The most action-packed motorsports experience for families in the world today returns to Sacramento for another high-octane weekend featuring the ultimate mix of high-flying action and four-wheel excitement with the Monster Jam Triple Threat Series®, featuring six different competitions of speed, racing and freestyle stunts at the Golden 1 Center from January 17–19, 2020.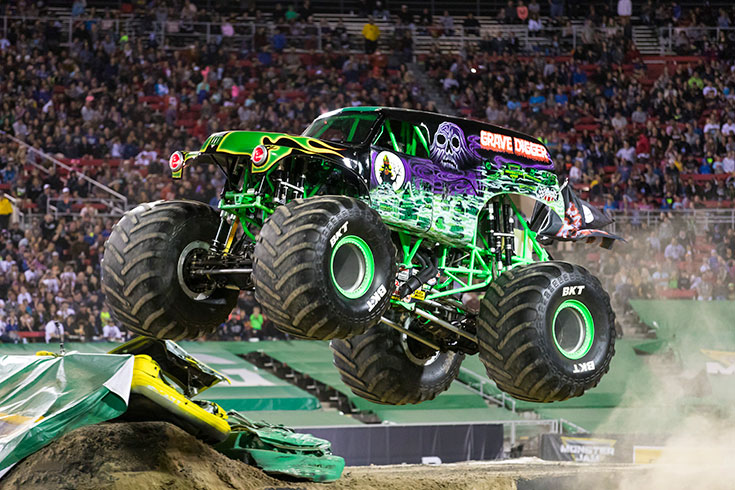 Featuring eight skilled Monster Jam athletes, SoCal fans will witness a fierce battle for the championship with each Triple Threat Series competitor tearing  up the dirt in customized high-powered vehicles: Monster Jam Speedsters, Monster Jam ATVs and of course, the iconic Monster Jam trucks; going head-to-head for points in Freestyle, 2 Wheel Skills Challenge™, Backflip stunts and several Racing competitions testing their agility, speed and versatility.  From unbelievable action to unexpected thrills, this is full throttle family fun!
Monster Jam Triple Threat Series world-class athletes vying to become champions will be: 
Grave Digger

®

driven by Brandon Vinson 

(2018 Rookie of the Year)

El Toro Loco

®

driven by Elvis Lainez

Zombie

™

driven by Bari Musawwir

Megalodon

®

driven by Austin Minton

Soldier Fortune

™

Black Ops

driven by Tony Ochs 

(Winner Arena Freestyle 2019)

Scooby-Doo

™

driven

by Myranda Cozad

Monster Mutt

®

Rottweiler

driven by Tanner Root  

Earth Shaker

driven by Tristan England
Monster Jam drivers are trained, world-class male and female athletes who have mastered not only the physical strength and mental stamina needed to compete, but the vital dexterity to control 12,000-pound machines capable of doing backflips, vertical two-wheel skills and racing at speeds up to 70 miles per hour to produce jaw-dropping, live motor sports action seen around the world.  
The Scooby-Doo is one of my family's favorites! It is fun watching the ladies behind the wheels of these big trucks!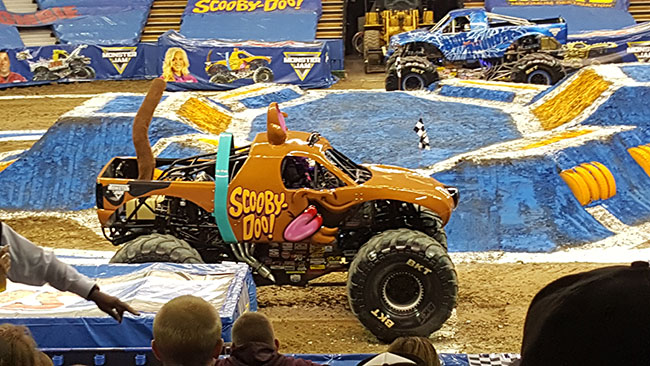 Here is a picture from a couple years ago of me at Monster Jam before with Max D driver Jared Eichelberger!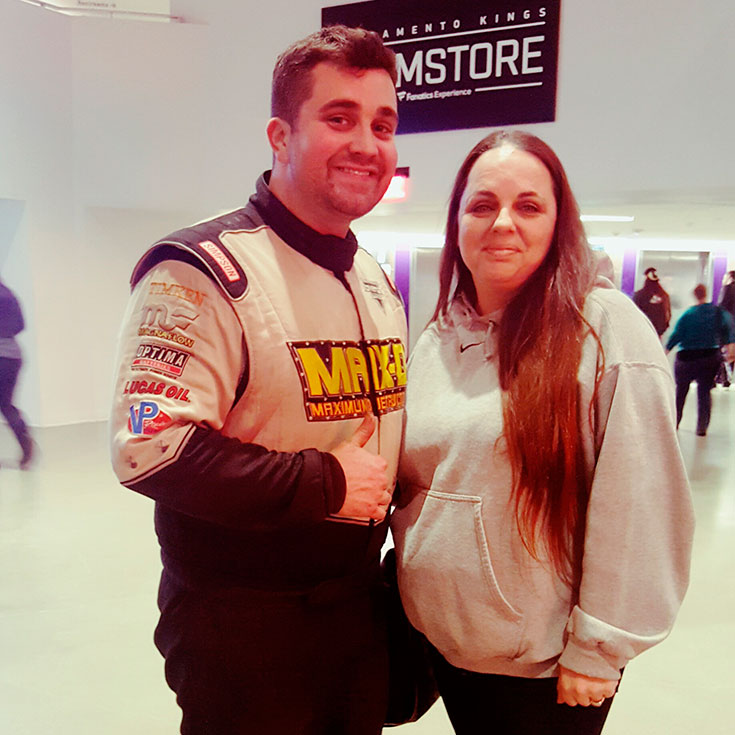 At the Monster Jam® Pit Party, you can see the massive trucks up close, meet your favorite drivers, get autographs, take pictures and enjoy other family-friendly activities. It's an unforgettable part of the Monster Jam experience where lifelong fans are born.  Plus, fans in every city can become part of the action by voting for the winner in the two-wheel and freestyle competitions via real-time, in-arena fan voting on their smartphones.  
WHEN: Friday, January 17, 2020
Saturday, January 18, 2020
Pit Party open from 4:30 PM–6:00 PM
**Saturday event ticket & Pit Pass required for entry
Sunday, January 19, 2020
Pit Party open from 10:30 AM–12:00 PM
**Sunday event ticket & Pit Pass required for entry
WHERE: Golden 1 Center – 500 David J. Stern Walk, Sacramento, CA 95814
TICKETS: Tickets are affordably priced for the whole family with seats starting at just $20 each*
Discount Opening Night tickets available for select seating only $15!
Pit Passes available to purchase for $15 each
Tickets & Pit Passes now available for purchase online at Ticketmaster.com or visit the Golden 1 Center Box Office.                                                  
**ticket prices subject to change – venue/ticketing fees may apply.