All the people in your life deserve something special this time of year. But you know what? You do, too. This year why not add your own name to your shopping list and gift yourself with something AMAZING? This year is now is the time to treat yourself to a NEW HP PC that can accelerate everyday tasks! I am talking about a NEW HP laptop featuring Intel® OptaneTM Memory! Not only will you be able to launch applications faster, the computer is SMART too! It has the ability to learn your habits and use storage acceleration so you can do more and wait less. How cool is that?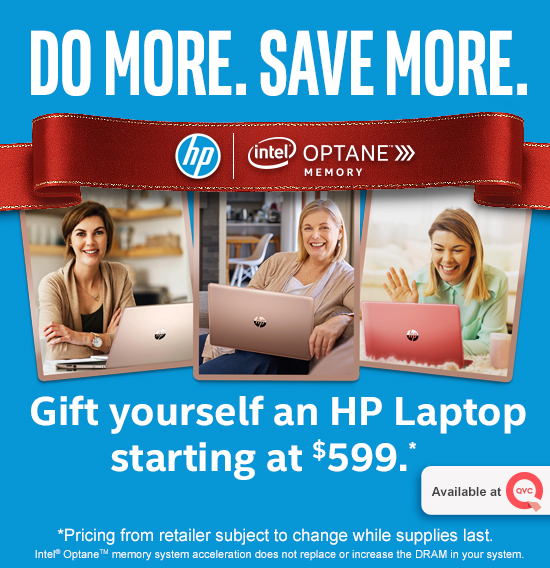 Not sure what to get? You just may want to add one of these your shopping list so that you can really spoil yourself like you deserve…
15" HP Laptop powered by Intel® OptaneTM Memory (without Microsoft Office $599/with Office $649) 
17" HP Laptop powered by Intel® OptaneTM Memory (without Microsoft Office $649/with Office $699)
Here are the key features and benefits you will want to know:
Short boot times
Fast app launches
Responsive performance
8th Gen Intel® CoreTM i5 processor with Intel® OptaneTM Memory
8GB RAM, 2 TB Storage
Touchscreen
Windows 10 included
Backlit keyboard
If you have been wanting a laptop with some color you in luck! Both of the 15″ and 17″ models are available in 6 colors that include Natural Silver, Pale Gold, Twilight Blue, Maroon Burgundy, and Iridescent Rose Gold and Iridescent White that are exclusive to QVC.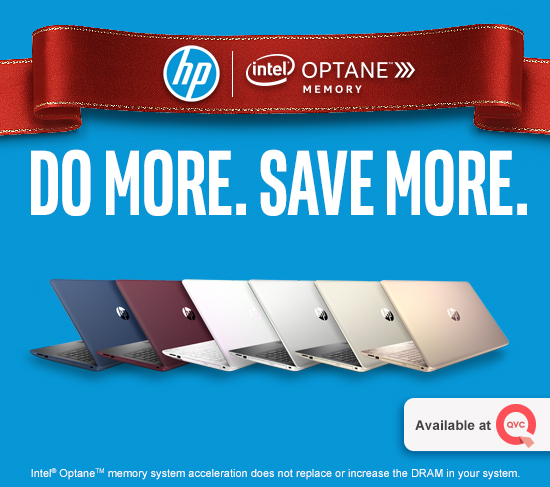 Ready to spoil yourself with one of these HP laptops powered by Intel® OptaneTM Memory? You can PRE-ORDER one of the laptops above on QVC.com on November 17th to November 24th. Be sure to watch the QVC Live event on November 24, 2018 for a great deal before it sells out.
*Intel® OptaneTM memory system acceleration does not replace or increase the DRAM in your system.