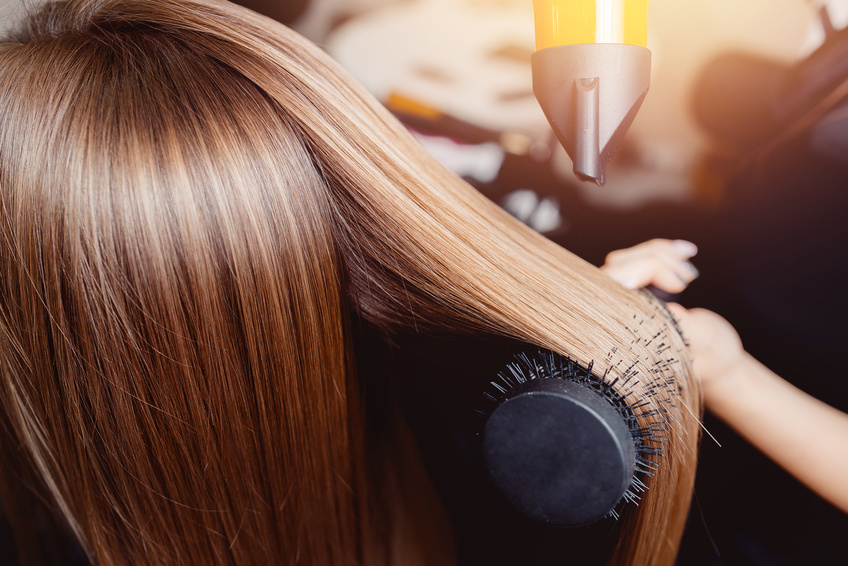 The average person sheds somewhere between 50 and 100 hairs a day. This mildly disgusting fact might explain why your drain is clogged after every shower. However, if you notice that your own hair seems to be pulling out at an alarming rate, or that you keep a lint roller for removing your own hair from sweaters and not your cat's, you might be losing unnecessarily large amounts of hair. By the age of 35 two-thirds of American men experience some degree of hair loss, and 0ver 50% of women older than 65 have reported thinning hair.
Often, our hair-care habits can trigger higher rates of breakage and hair loss. Use these tips from Real Simple and Prevention to help keep your hair beautiful and, well, on your head:
Don't Brush Wet Hair
Wet hair is prone to breakage, so the less brushing you can do after a shower or swim, the better. Try brushing hair immediately before it gets wet to get rid of as many tangles as possible, and then use a wide-tooth comb after your soak.
Shower the Right Way
Avoid scalding showers, and try rinsing in cool water — heat strips hair of the natural oils it needs for strength and shine. Additionally, avoid aggressive rubbing with a towel. Instead, soak up excess moisture by gently blotting wet hair.
Avoid Tight Hairstyles
Big buns and ponytails clamped or tied in place can put a strain on your scalp and your hair. The follicles can even be permanently scarred over years of pressure from tight styles, leading to hair that is permanently thinner. Try wearing hair down whenever possible, and taking holders out immediately after sports and work. If you do tie your hair back, try to use a loose style, such as a low braid. Finally, avoid wearing your hair tight while sleeping.
Eat Healthy Foods
Eating well can provide your body with the nutrients it needs to grow a healthy head of hair. According to Real Simple, protein and iron are the most important nutrients for hair growth. The body considers hair less essential than organs, so if you're not getting enough protein, your body will send the nutrient to other essential functions, and your hair will go without.
Go Natural Whenever Possible
Finally, natural hair is often healthy hair. Though we may be tempted to blow dry, curl, straighten, and spray our hair every morning, giving your head a break from the products and tools can let your hair care for itself. If you can't give up the hot tools, use heat-protective sprays and lotions to keep your hair healthy.
To avoid a head of broken, dry hair, adopt these five habits. You might be surprised how good your hair feels, and how many compliments you get when you care for it naturally!