This post is sponsored by See Monterey, but the content and opinions expressed here are my own.
Being someone who has lived in California my entire life, I have seen most of the state! I would have to say that Monterey County is one of the MOST beautiful parts of my state with so many things that you can do with your family that will make lifetime memories!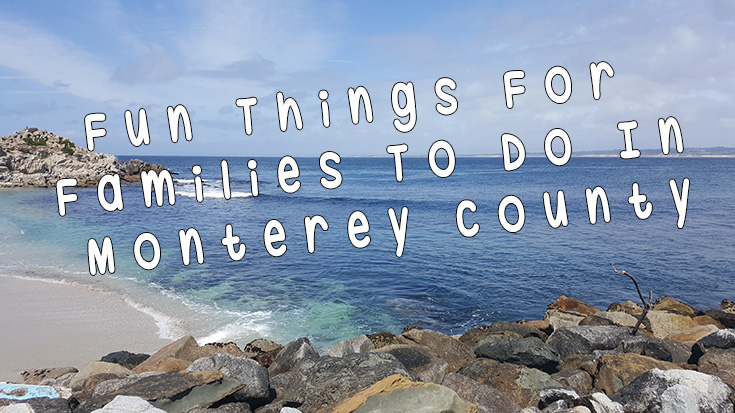 If you are planning on taking a trip to Monterey make sure to plan for more than one day because you will be mad that at yourself if you don't. The city of Monterey and it's surrounding cities in Monterey County have some amazing sights you will want to see as there is a little something for everyone! This month I wanted to spend Mother's Day weekend in one of my favorite places so my kids and I took a road trip to where we visited some of favorite spots in Monterey as well as explored some new places I want to share!
Old Fisherman's Wharf
When we arrived in Monterey on Saturday we first checked into our hotel, unpacked our bags and headed to the Old Fisherman's Wharf on the Monterey Peninsula. This was our first time to the wharf and a great place if you want to enjoy some of the sights and sounds of Monterey's past!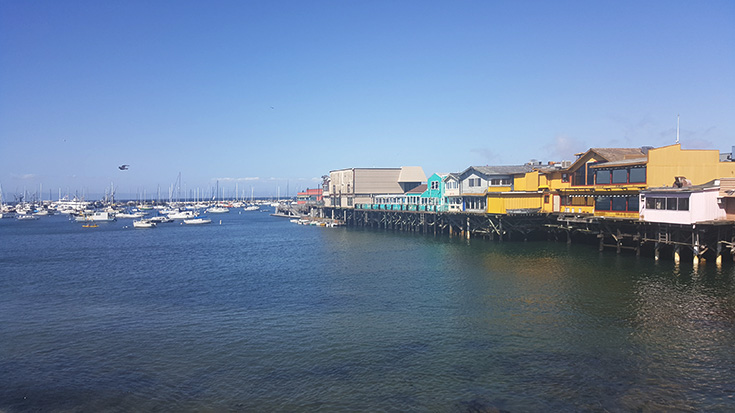 At the Old Fisherman's Wharf you will find a variety of great seafood restaurants, confections and gift shops filled with unique gifts to bring home. If you have a sweet tooth, a visit to the Wharf Chocolate Factory is a must!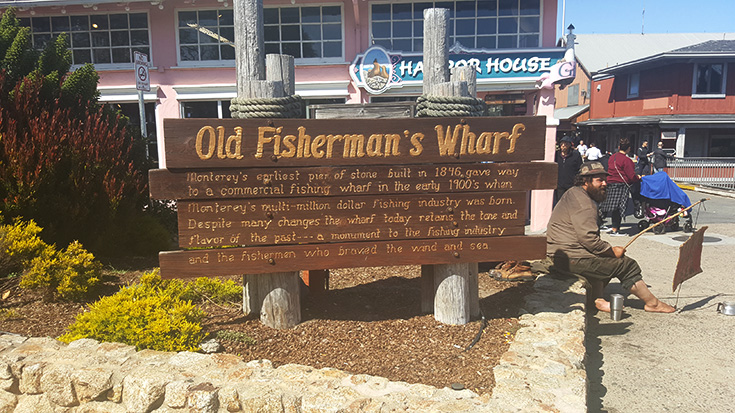 If you are looking for more of an adventure during your time at the wharf you will also find whale watching, glass bottom boat tours, sailing, fishing trips and more!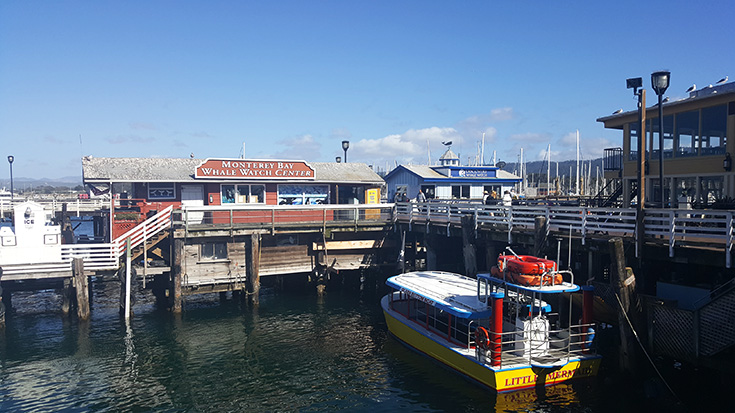 If you are are a fan of clam chowder this is the place you will want to go! While my kids and I were strolling down the wharf enjoying all we cook take in, we were greeted by many of the restaurants giving samples of their clam chowder right outside their doors. It was fun being able to try the different chowders before deciding what restaurant we were going to go with.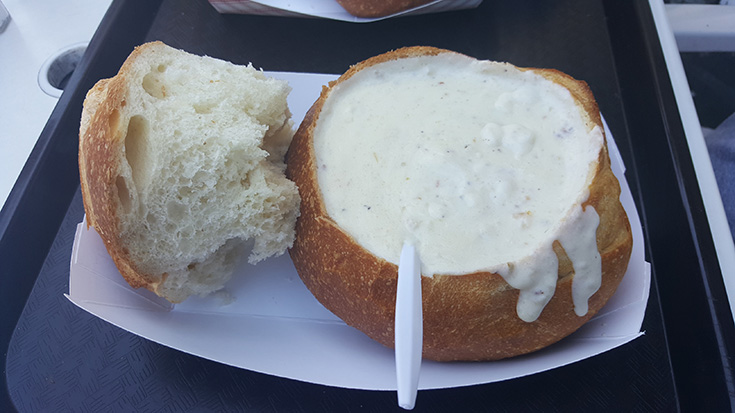 Cannery Row
Another spot that you MUST visit on your trip to Monterey is Cannery Row. This is a place that I have to visit on every trip that I make to the city. Just like the Old Fisherman's Wharf, Cannery Row offers a place for good food, wine tasting, art galleries, shopping, hotels, entertainment and more!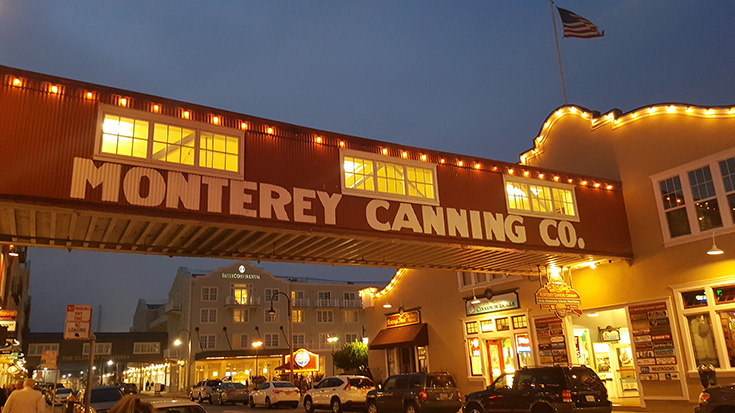 What makes Cannery Row the perfect place to visit is there is always something to do during the day and at even at night! I love the atmosphere of Cannery Row and it is a place that you should add to your bucket list.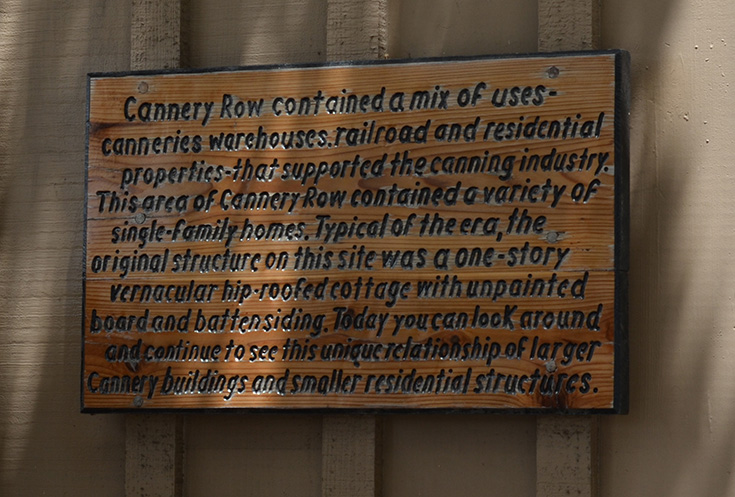 During the day you can get some awesome views of the ocean while sticking your feet in the sand, you can shop for souvenirs, grab some delicious food for lunch, or maybe take a free walking tour and explore Cannery Row even more.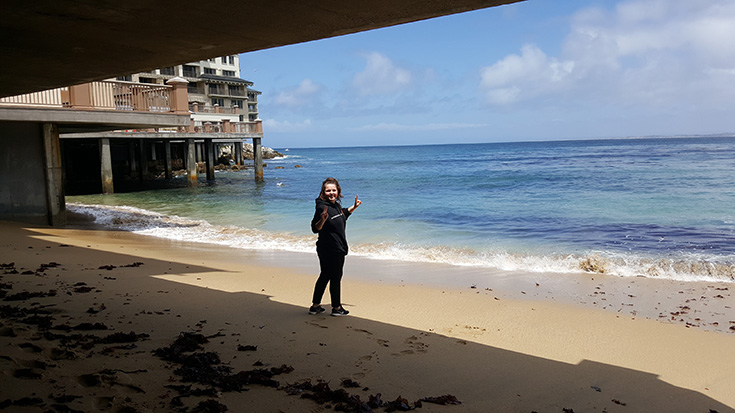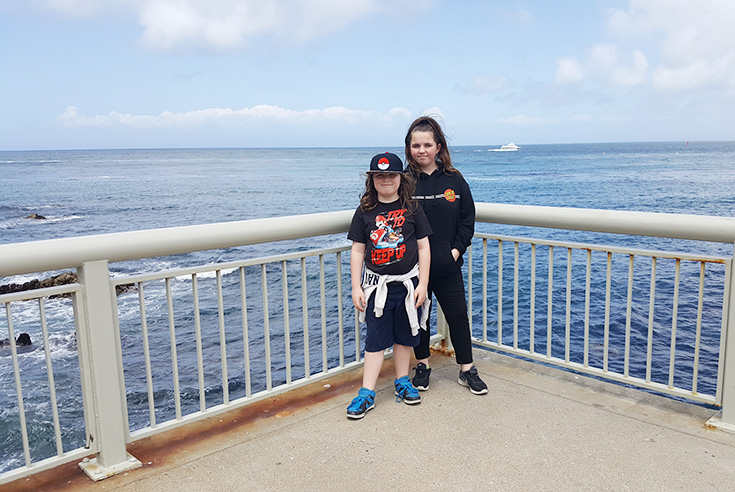 Monterey Bay Aquarium
One of Monterey's most popular attractions is the Monterey Bay Aquarium. This is something that you will want to schedule the whole day for if you love sealife. The Monterey Bay Aquarium is a place to learn, explore and have fun! There is so much to see including a variety of beautiful fish, creatures from the sea, penguins, puffins, sea otters and more.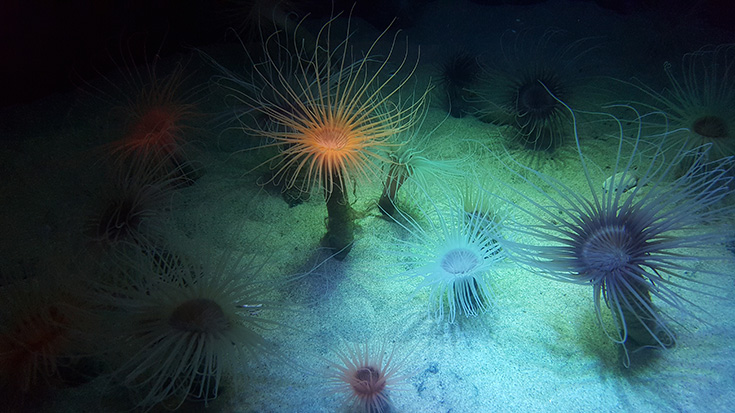 Not only can you en joy your lunch at the aquarium, you can also watch many feedings that happen daily at the aquarium as well. There is always something fun going on at the aquarium and something new to see.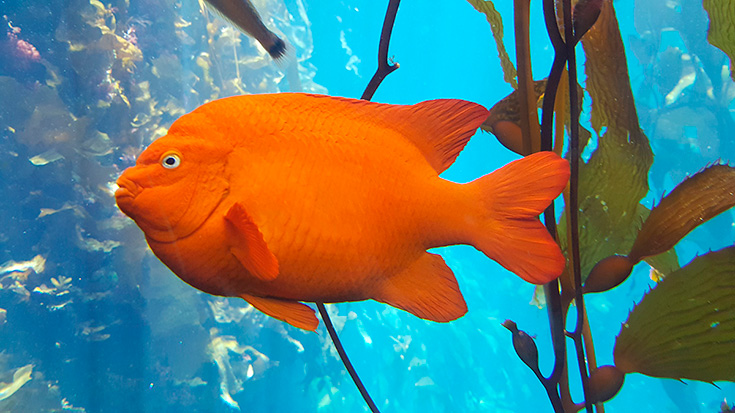 The Monterey Bay Aquarium is located in Cannery Row so spending the day at the aquarium and Cannery Row is something I recommend.
El Estero Park
If you are looking for somewhere to take the kids to play outdoors for maybe a picnic lunch, the El Estero Park is a great option! This park surrounds El Estero Lake where you will also find the Denace The Menace Playground that is a FUN playground for kids, the Monterey Skate Park and the El Estero Exercise Course.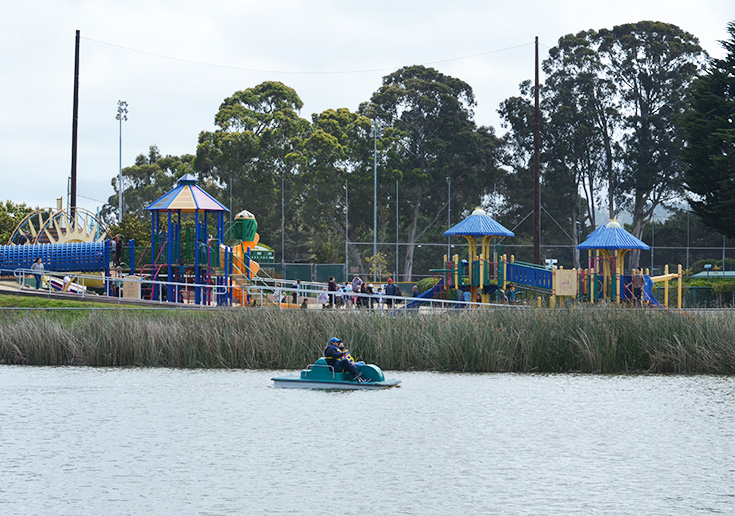 Want an even better view? You can choose to view the park in the water by taking a paddle boat ride on the lake. If you love birds, good chances you will see ducks, seagulls and you probably will spot a Canadian Goose or two.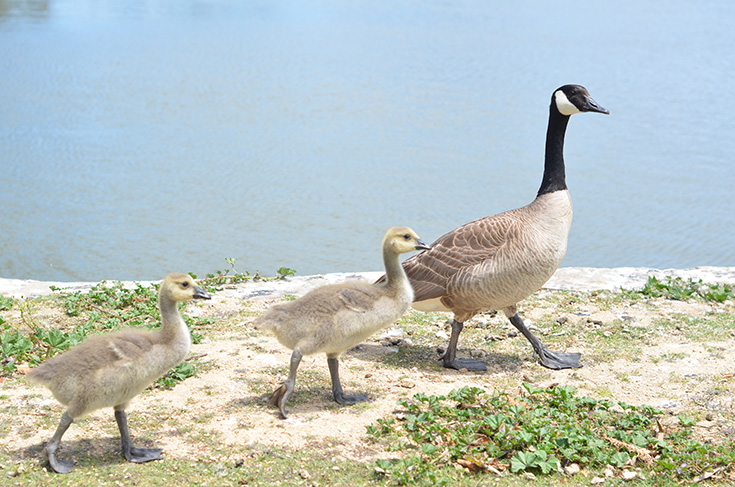 Pacific Grove
Right next to the city of Monterey is Pacific Grove. This is the PERFECT city to visit if you love the beach and watching the waves.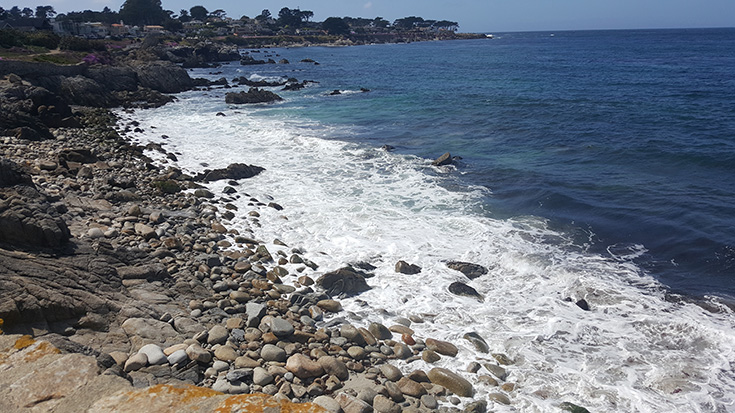 While I haven't had a chance to explore the whole city, I found Lovers Point Park that is used for picnicking, fishing, swimming, water sports, surfing and making memories with your kids!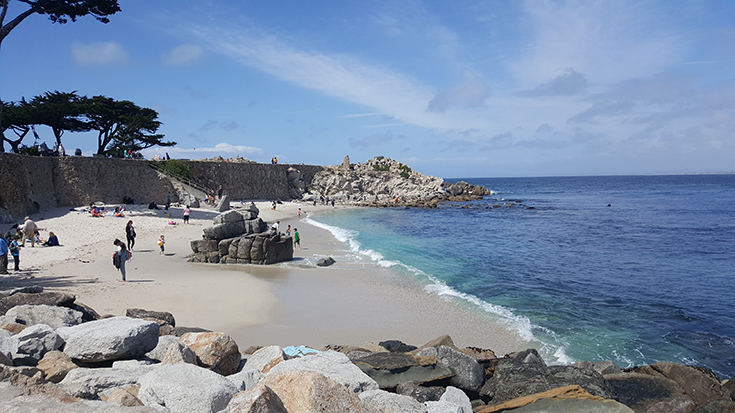 Lovers Point Park is a place for the whole family! It includes a large lawn area, sandy beaches, a children's swimming pool, volleyball court, a concrete pier structure, a snack bar and even a restaurant. If you are looking for a place to play in the sun on the beach, Pacific Grove is a great choice.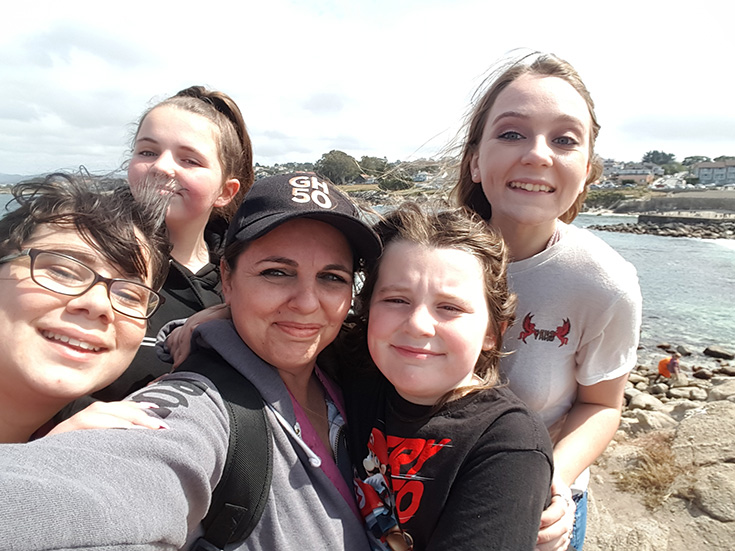 17 Mile Drive
Love a long scenic drive? I love driving down highway 1 along the coast. Taking the 17 Mile Drive is something that I have done once and can't wait to go back and do again. If you have a passion for taking breathtaking photos, this is something you will want to add to your itinerary.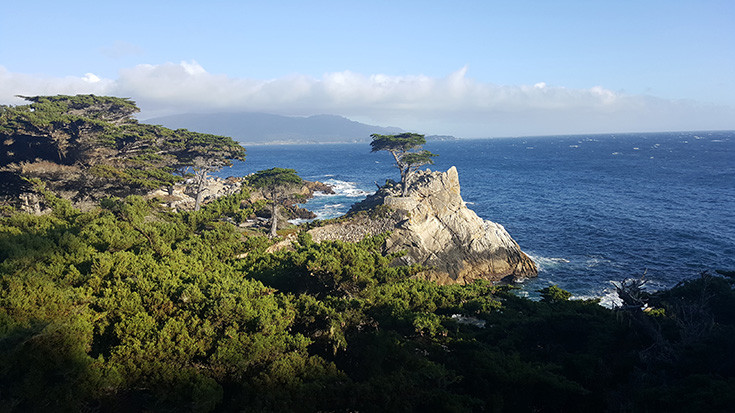 The 17 Mile drive is full of things that you will want to see! I was able to take a TON of pictures of The Lone Cypress, a 250+ year old tree that sits perched in Pebble Beach and is one of the most photographed trees in North America.
Watch The Sunset At Big Sur
Once you are done with the 17 mile drive, take a scenic drive on Highway 1 into Big Sur. Driving down Highway 1 is one of the most popular scenic drives in the world. As you cruise down the highway along the coast you will see towering cliffs, beautiful redwoods and you even have the opportunity to go over two of Big Surs iconic bridges including the Bixby Bridge!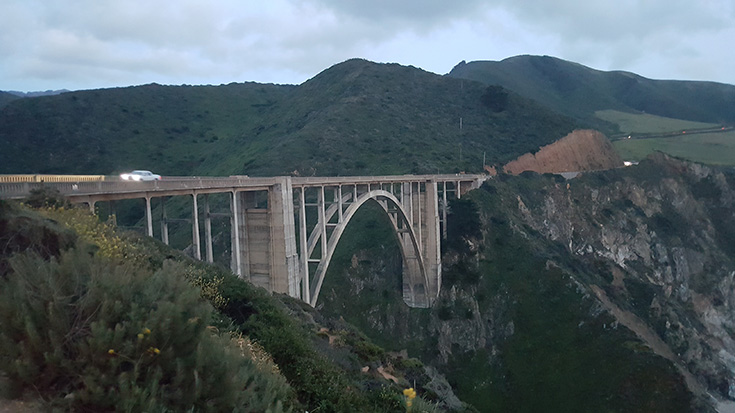 If you are in Big Sur when the sun starts coming down be sure to pull over and grasp the moment. My kids and I asked Google what time sunset was and made a trip to Pt. Sur State Historic Park to watch the sun go down alongside the Sur Lightstation.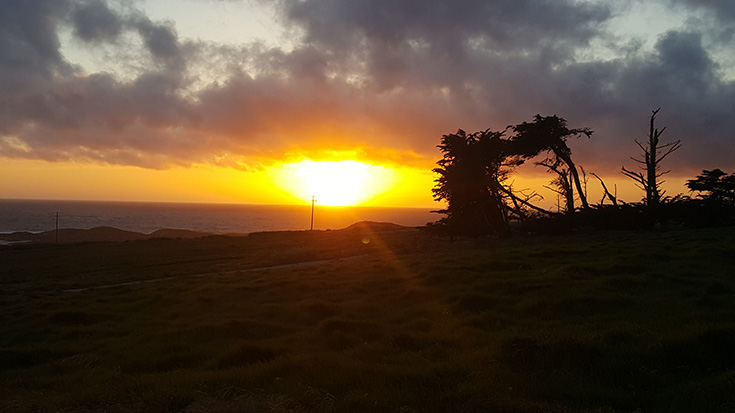 Watch my video I captured with my kids of the sun going down in Big Sur.
Other Things To Do In Monterey County
Looking for even more ideas? Here are some additional suggestions of things you might want to do during your stay in Monterey County:
Mazda Raceway Laguna Seca
Carmel River State Beach
Moss Landing State Beach
Chaparral Ranch Horseback Beach Rides
Elkhorn Slough Safari
Frog Pond Wetland Preserve
Looking for even more things to do? Visit the See Monterey website that has a wealth of information of things that you can do during your stay in Monterey!