Discloure – I was invited to the #BeOurGuest press event from Disney. Expenses for trip were paid by Disney but thoughts and opinions are my own.
My son LOVED watching the show Phineas and Ferb! Although I didn't watch every episode, I probably heard every episode while working at my desk blogging away. In 2015 I met the creators of the show Dan Povenmire and Jeff "Swampy" Marsh on a press event and I was a little sad to hear that the show was ending! What they did say that gave me relief was they were working on something new. That something that they were talking about was Milo Murphy's Law that is a FUNNY animated show on Disney XD that I believe is for all ages!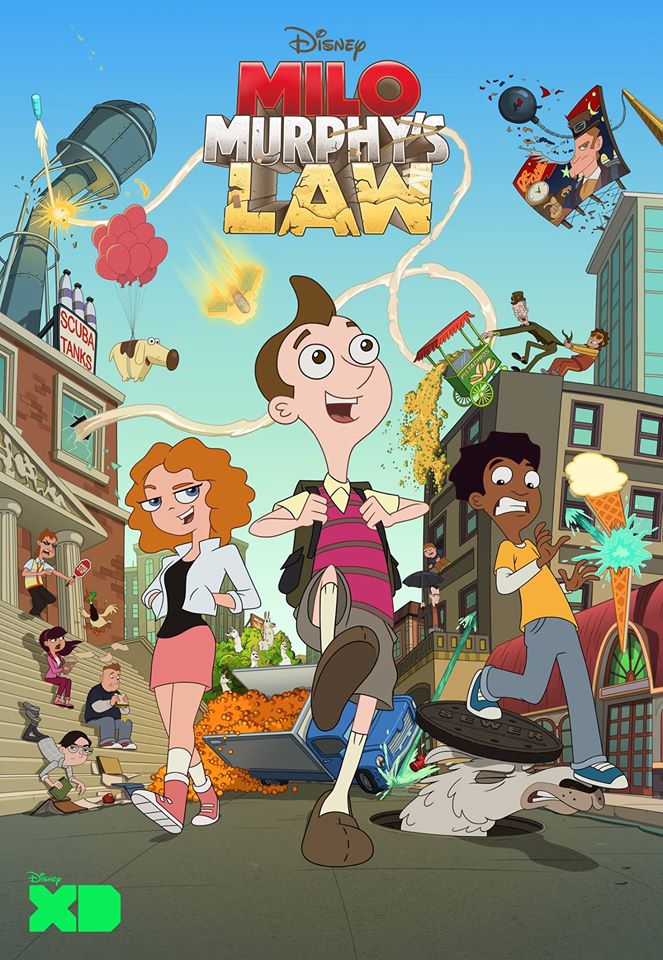 Milo Murphy's Law revolves around Milo Murphy, a boy who lives a couple of neighborhoods over from "Phineas and Ferb" and is the descendant of the namesake of "Murphy's Law". Milo is the personification of Murphy's Law where anything that can go wrong will go wrong. Milo suffers from EHML (Extreme Hereditary Murphy's Law) condition but always looks to make the best of what he is being dealt with.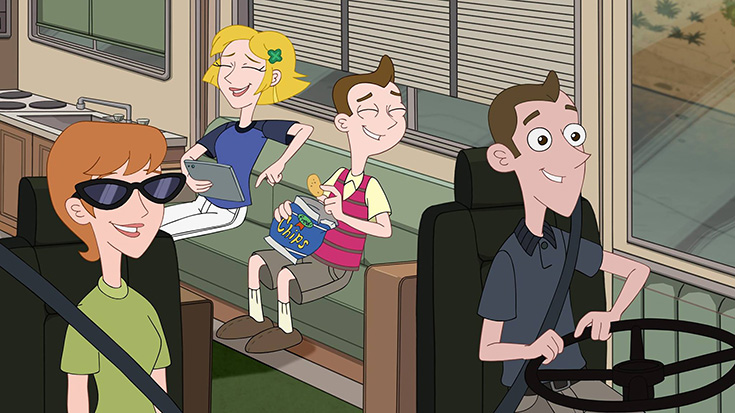 So what makes this show fun for me is that sometimes in life you think that if something bad is going to happen, it is going to happen to you. I know many of you have felt this way one time or another. In Milo's world, he turns those catastrophes into some WILD adventures! Dan and Jeff have seriously thought out some hilarious episodes that you can really enjoy watching with your kids that will have you all laughing.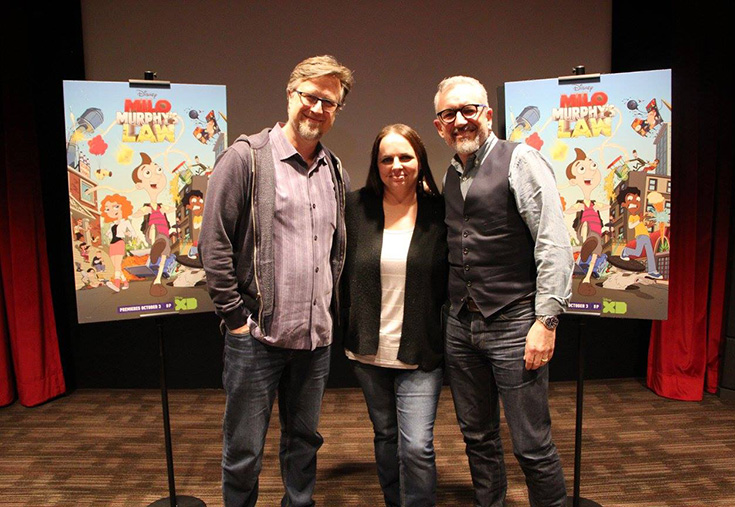 If you are a "Weird Al" Yankovic fan this show is definitely something you should watch! "Weird Al" Yankovic is the voice of Milo and I can only imagine the fun that Dan, Jeff and "Weird Al" had when putting this show together for their fans! I have always been a fan of "Weird Al" Yankovic's parodies (I was a kid in the 80's) so its fun hearing him now on a show that my son enjoy watching.
Watch Disney XD's "Milo Murphy's Law" Adventure Montage with "Weird Al" Yankovic:
During my time this month in Los Angeles I had the opportunity to screen one of the episodes with the show creators Dan Povenmire and Jeff "Swampy" Marsh. They actually introduced the show first to us, watched the episode with us and then let us to a Q&A style interview after. Below I am sharing some of my favorite questions from that interview with Dan Povenmire and Jeff "Swampy" Marsh. Be sure to scroll to the bottom to watch the whole interview!
What is it like, working with Weird Al Yankovic, and how much influence does he have on Milo? 
Jeff "Swampy" Marsh:    Well, between the temper tantrums.

Dan Povenmire:   He's a horror to work with.  No.  He's a wonderful, wonderful guy.

Jeff "Swampy" Marsh:   Somebody said the weirdest thing about him is just how normal he is, so —

Dan Povenmire:   True.  He's super, super normal.  He's not as wacky as I think people expect him to be, except on stage, or, you know, doing one of his videos. But he's about the nicest guy that we know. And that's part of why we ended up with him, is we were looking for somebody to have this very positive voice without sounding put on. And we went to some, we auditioned hundreds of people for Milo.  And we auditioned kids.  Seasoned voice actors.  You know, people whose work we love.  But when they try to do that super-positivity thing, it'd always come off sort of Pollyanna and false.  And we were just like, we just need to find somebody who just actually has that voice, 'cause the character is sort of modeled after a friend of ours who just sounds that way when he talks.  And, you know, he just always sounds really positive.  And we needed to find somebody who sounds, you know, who has that positivity just naturally.  And Weird Al came in and did a voice on Gravity Falls.  And Alex, who runs Gravity Falls, posted it, and I was like oh.  Weird Al.  Weird Al would be like, I've met him.  I've seen him interviewed.  He's like, this super, super positive guy.  What does he sound like?  I had to like, look up an interview with him to remind myself what his voice sounded like. And we had him come in, and it just immediately worked.

Jeff "Swampy" Marsh:   I was against it.  We already auditioned literally hundreds of people. (Watch the video below to find out why)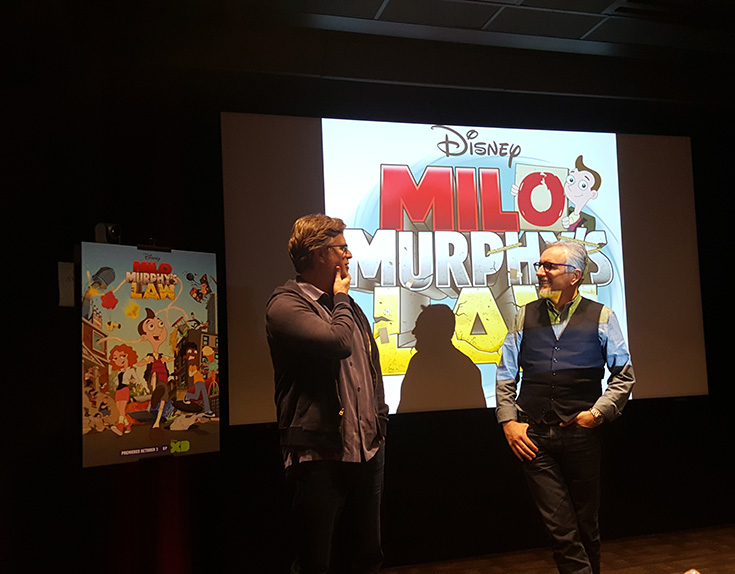 You'd mentioned that you looked online to see feedback you got from fans after they watched the show.  What is you're looking for from them?  What do you want them to get from watching this? 
Dan Povenmire:  Well, a lot of times you're looking to see what starts getting quoted, you know.  It's like, there's always the Monday morning gag.  That's what we're always looking for.  The Monday morning gag.  The gag that kids will come to school and talk about.

Jeff "Swampy" Marsh:  It's nice to know that things that you wanted, were hoping that would connect, do connect, and also I think I look for it to find the surprising things I didn't expect. And that's kind of the joy.  You think, oh, there's this whole other thing that happened that I really didn't anticipate. 

Dan Povenmire: You guys laughed at something that we weren't expecting you to laugh at, and I can't remember what it was, but I was like, "Oh, I guess that is funny." You know.  I hadn't thought of it that way at all, but it was like, that's always fun, when you get a laugh for something that you're like, "Oh, that's a surprise.  

Jeff Swampy Marsh: The other thing I'm always looking for is the people out there who were me.  That if I had had somebody much earlier on in my life say "you should do that," then maybe I would have found this gig a lot earlier 
Watch our Milo Murphy's Law Q&A interview with Dan Povenmire and Jeff "Swampy" Marsh below that will have you wanting to watch the show TODAY:
Other Interesting Things I Learned During The Interview:
Dan says that it is really fun watching the show with an audience. That somethings by the time that they are done with it, none of it is funny anymore because they have seen all of the jokes 30 or 40 times.
During the course of Phineas and Ferb there were several songs from the first season that were sort of popular that they wrote their own Weird Al Version of.
Dakota and Cavendish were not part of the original episode writings. They were added because they writers were used to cutting away to something like they did in Phineas and Ferb with Perry and Doofenshmirtz.
Jeff did not get involved in animation until he was 28.
Dan loves when fans on Twitter tell him they want to do animation. It makes him feel great.
Jeff's grandchildren appear as little characters in the show.
Dan says that Milo's mom in the show looks like his wife but when he drew her, she didn't.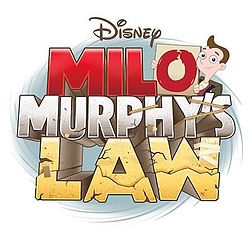 Watch Milo Murphy's Law on Mondays on Disney XD
For Milo Murphy's Law information & news visit: