This is a partnered post. All thoughts and opinions expressed are my own.
I love finding new shows to watch, especially when all the ones I love to watch seem to be on break or have been cancelled! I have recently been watching a new series on Amazon called The Other F Word that is dramatic comedy that addresses some of life's issues such as ageism, sexism, re-entering the workforce, sexuality for women 40+ and more.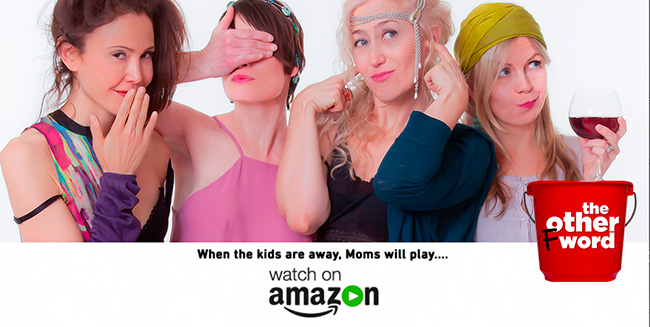 The Other F Word is a comedic coming-of-age series about four women friends who deal with the highs and lows of mid-life as they reinvent themself now that their kids are grown.
I know that I am one that is always worried about age. Getting old sucks and I wish I could stay young forever or at least look it! The title of this show stands for 40 and 50. These are the ages that women tend to get overlooked and ignored but the title also stands for FUN!
Season One's cast of The Other F Word features: Steve Guttenberg (Police Academy), Michael Boatman (The Good Wife), Reiko Aylesworth (24), Judy Gold (Jim Gaffigan Show) and Ben Bailey (Cash Cab). Take a peek at the trailer below:
Right now you can watch all 8 episodes of The Other F Word for FREE on Amazon! Episodes include:
Heaven Is A Place on Earth – Orly's fearless 50th birthday party ends with unexpected results when her husband dies of a heart attack. Steve quits his job to join the Peace Corps. He challenges his wife Amy, who he will leave behind for a year, to find her own reason for being now that she's an empty-nester.
Wake Me Up Before You Go-Go – At Jeffrey's Irish Wake, Amy shares the news about Steve leaving her. Trish announces that she's going back to college to take all of her daughter's classes so she can continue to help her with her work. Orly, who is manic more than mourning, invites Amy to move in with her in the city.


TV-14

Runtime:

6 minutes

Should I Stay Or Should I Go? – Steve leaves for the Peace Corps. Diane, Amy's sister, invites Amy to move into the city with her instead of Orly. Diane didn't realize Amy's dog, Max, who has the same name as her new boyfriend, would be moving in as well.
Manic Monday – Amy runs into an old friend in Central Park. Diane is conflicted by the age of her boyfriend. Trish starts school.
When The Levee Breaks – Amy learns that she has to return to work or possibly lose her home. Orly finally comes to terms with the loss of her husband.
The Dark Side Of The Moon – Trish video chats with her daughter after seeing curious photos on her Instagram account. Amy visits with an old colleague
With Or Without You – Orly dreams of Jeffrey prior to attending her daughter's "Take Your Parent To Work" event along with Amy whose son works there as well.
Girls Just Want To Have Fun – Amy, Diane, Trish and Orly have a "Girls Night In" that involves a provocative drinking game.
Watch on Amazon at: https://www.amazon.com/dp/B01LDXWSIO
Want to stay in the loop? Follow The Other F Word: