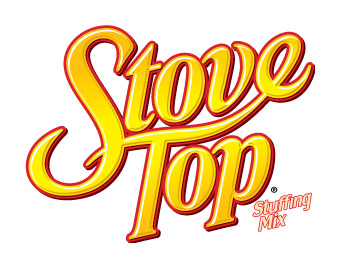 As a child, I was one of those that liked StoveTop Stuffing. I remember going to my Nana's house every Thanksgiving where our family would eat together. I remember my cousins not wanting the stuffing, but I would always look forward to eating it. I honestly thought back then that stuffing was something you at for the holidays because it wasn't something my mom made as a side dish with any of our meals.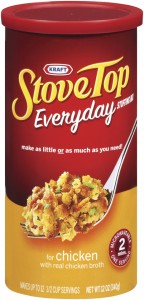 Now that I am a mom and one that LOVES to cook, I have learned that you can eat stuffing anytime. You can even eat it now as just a snack.
Did you know that you can now buy StoveTop Stuffing in a canister that allows you to cook as little or as much stuffing as you want? We received one of the 8oz canisters of the StoveTop Everyday Stuffing Mix in chicken flavor. These canisters make it easy just to make one or two servings in just minutes. You can either cook the stuffing on the stove of course or throw it in the microwave for 2 minutes. How easy it that?
You can find the new Kraft StoveTop Everyday Stuffing Mix in chicken and herb flavor. What I like is that the canisters are re-sealable and that the chicken comes in both 8oz and 12oz sizes. I think I will be buying the 12oz on my next grocery shopping trip. You can also find the stuffing mix in StoveTop Quick Cups for those needing individual size portions.
If you think that StoveTop Stuffing is boring, try adding some extra ingredients to make it even better! Here are some ideas of other goodies you can add to make your stuffing even tastier….
1/2 cup diced bell peppers
1 can whole kernal corn
1/2 cup shredded cheese
bacon – cooked and crumbled
1/2 cup dried fruits
Finely chopped onions or celery
Fresh herbs – such as rosemary or parsley
These are just some ideas of things that you can add to your stuffing to give it more flavor. Since I am a cook at heart, I am always finding ways to jazz up my side dishes. You can also visit the Kraft website to find more Mix-In Ideas, Recipes or Leftover Ideas.
To find out more about StoveStop Everyday Stuffing Mix, please visit: http://www.kraftbrands.com/stovetop.
Disclosure – The product featured above was provided free of cost to me by the manufacturer or representing PR agency. These opinions expressed are my own opinions and are NOT influenced by monetary compensation.