I have always loved to color! Now that coloring for adults is now popular and also a way to relieve some stress I thought I would start creating some pages for my readers to download and color.
Do you like paisleys like I do? Below is my first Paisley Coloring Page that I have created that you can print and download. To view the full size version, click the image below: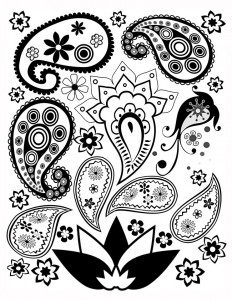 This is just my first free paisley coloring page. I will be creating more that you can download soon!
For those looking for a neat adult coloring book I recommend the book Secret Garden by Johanna Basford.  I bought this book on Amazon last month and LOVE it! I think the designs are beautiful and I love the thick paperstock that this book is made with for when I want to color with markers!