Disclosure – I received an invite to the #StrangeMagicEvent. All expenses were paid for and covered by Disney. This post is not a paid post and the opinions stated herein are 100% my own.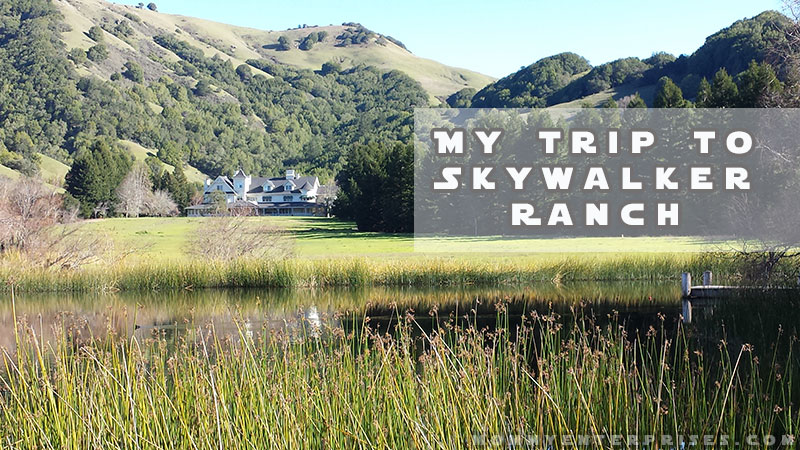 This week I was able to experience a once in a lifetime opportunity. I was invited by Disney to take a visit to Skywalker Ranch & Pixar along with 24 other bloggers. On our itinerary we knew that we would be screening the new Lucasfilm "Strange Magic" but what we didn't know was that George Lucas was going to be there with us and screen it with us . Yes, I can officially say that I have watched a movie with George Lucas at his ranch! 
Tuesday morning when I was driving to Skywalker Ranch I have to admit that I was really excited. The ranch is a place that is NOT open to the public and a place where the office of the MAKER of Star Wars can be found. I was born in the seventies so I grew up with Star Wars and remember wanting to be Princess Leia and dressing up like her. Being able to visit the ranch of the man that made those blockbuster movies when I was a kid was really exciting and something I couldn't help but brag about to my family and friends.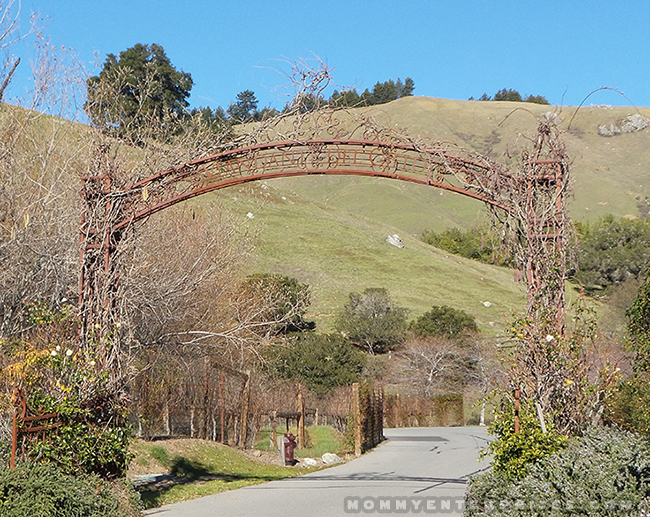 So Skywalker Ranch is not a place that you can easily find. It can be found in a secluded but very open area near Nicasio, California. While your GPS might navigate you to Skywalker Ranch, you will not be able to get through the gates and the security waiting to greet you. Once you get through security you will get to drive through the ranch and to the entrance of the Technical Building that houses Skywalker Sound, the company that specializes in special effects for science fiction and fantasy type films for both Lucasfilm and outside clients.
Once we arrived we headed inside the Technical Building and we spent a little time in the Entertainment Area taking pictures of whatever we could waiting to screen "Strange Magic". Just minutes before we headed into the screening room the one and only Elijah Kelley (voice of Sunny) and who also played in "Red Tails" and "Hairspray" surprised us with hugs and a photo opp to take some selfies to brag with.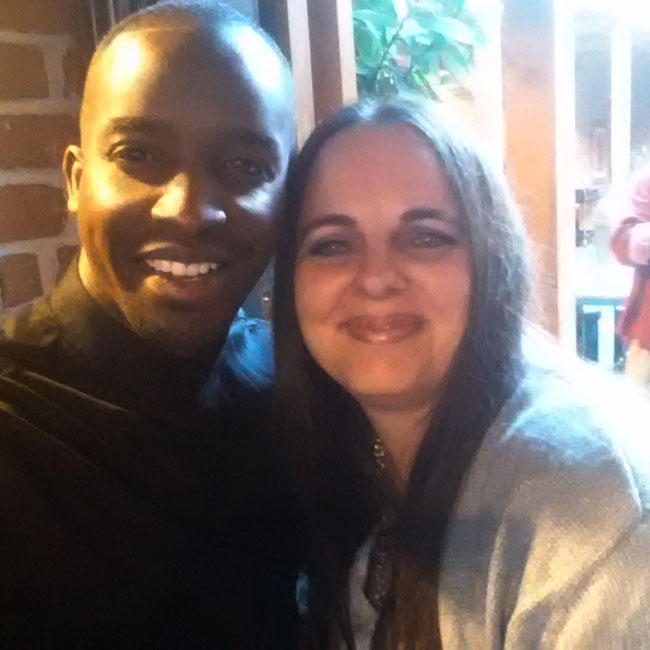 After the group took pictures we headed to the Stag Screening Room in Skywalker Sound that is state of the art theater that seats 300. With a group of only 25 of us, everyone had a great seat for the movie. The best part was in George Lucas entered the room and took a seat with us to watch his new upcoming film.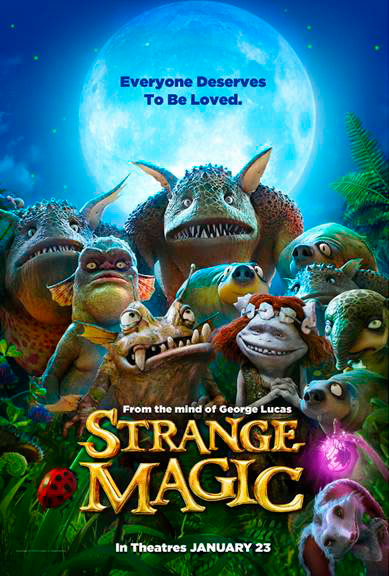 We screened the new Lucasfilm "Strange Magic" and I loved it. After the movie was an opportunity to interview Elijah Kelley, Director Gary Rydstrom and George Lucas. What was exciting is that prior to our trip we did not know that George Lucas was going to be at his ranch. It wasn't until the night before that we found out that George Lucas wanted to be part of the interviews as well. You should have heard the squeels and woots that were yelled on the bus when we were given such awesome news. In the next two weeks I will be posting my review for the new film "Strange Magic" as well as our interviews with Elijah, Gary and George.
After the interviews it was time to take a tour, get outside and explore Skywalker Ranch.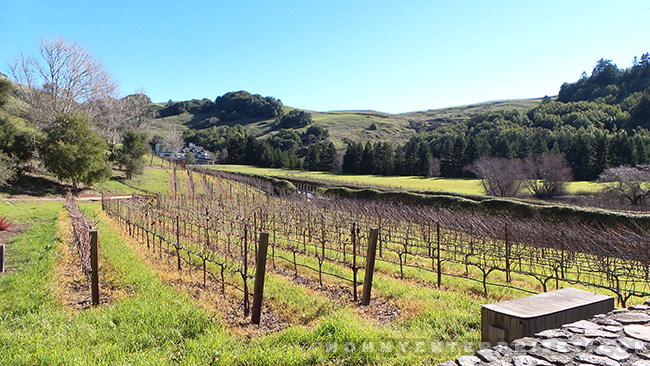 Once we were outside the view was truly amazing. I loved the weather, it was perfect! I do wish I would have had more time at the ranch to capture more pictures that I could have shared. Just steps outside the Technical Building you will find the beautiful vineyards, a view of the Main House Lake Ewok and so much more.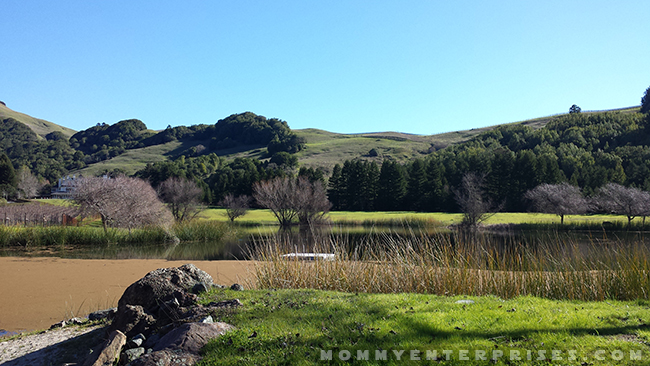 On the property you will find the Skywalker General Store. This isn't open to the public but is open for those that are working at the ranch. Although there is nobody that lives on the ranch, it does feature a small inn for clients and friends. At the store I had to buy myself a Skywalker Ranch t-shirt and a coffee mug. Although the store isn't open to public, those of you that enjoy wine can order wine online on the Skywalker Vineyards website. I am thinking of ordering a bottle of the Skywalker Pinot Noir Rosé.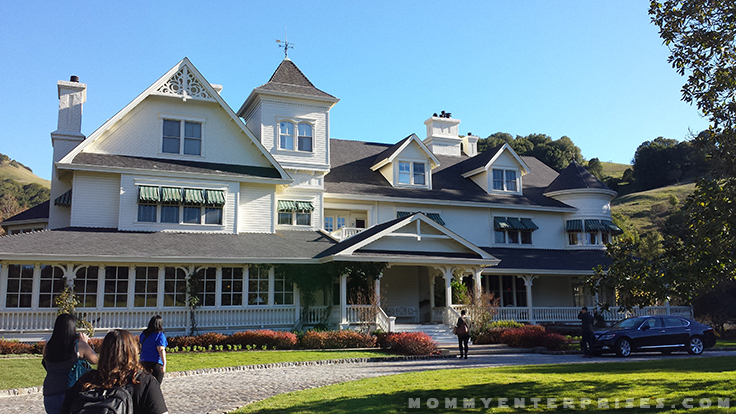 After shopping in the gift shop we headed over to the main house. This house is beautiful from the outside to the inside. We were not allowed to take pictures inside but I will tell you that there was a beautiful library of books that those working on the ranch are allowed to use. We asked how many books and the lady in the library mentioned she thinks that it now consists of around 30,000+ books. The main house is also where you can also find the office of George Lucas.
What I really loved about the Main House from what were we able to view was the huge front porch. I have always dreamed of having a big front porch with a swing. This porch didn't have a swing but it had some cute white chairs I enjoyed using for the few moments I could. This is the perfect porch for a party.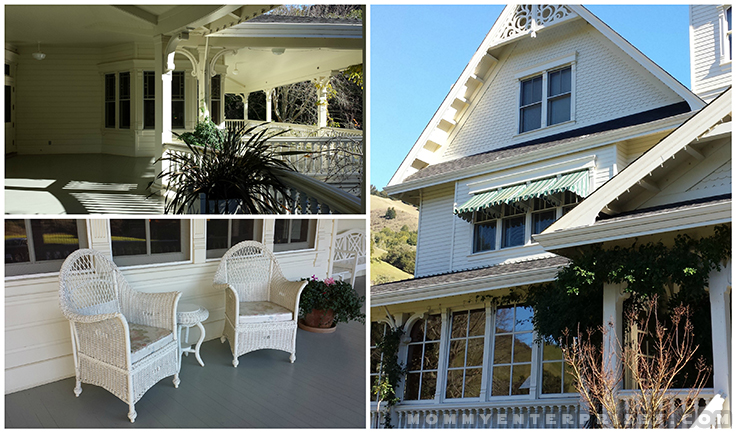 I took quite a few pictures while on my trip. Take a peek of a video of I made that has some video that I took and other pictures you didn't see here in my post:
Interesting Facts I Learned About Skywalker Ranch
It houses Skywalker Sounds, a 155,000 square foot technical building that features a 300 seat screening room, six feature film dubbing stages and a scoring stage.
George Lucas bought the property for Skywalker Ranch back in 1978 with the proceeds from Star Wars!
Skywalker Ranch has both a lake, underground pool and even their own fire department.
The ranch holds Luchasfilm archive that consist of every prop, costumes and more from George Lucas's cinematic legacy that include  "Star Wars", "Red Tails" and others.
The ranch which can be found on over 4,000 acres of land contains animals, the vineyards for Skywalker Vineywards, a restaurant, outdoor swimming pool, fitness center, hilltop observatory.
Now more about the movie that we watched. I want to encourage you to watch the trailer for "Strange Magic". This movie is fun for everyone, not just the kids and it opens in theaters Jan 23!