Last year I watched the Activision Family Game Summit online. I helped to promote the event and received a gift bag of video game goodies that my kids are still enjoying. Since that Family Game Summit last year, my family is a little HOOKED on the Skylanders. We have a HUGE collection and it only continues to grow.  🙂
I am happy to announce that next week is this year's Family Game Summit from Activision. I also will be one of the online hostesses that will be chatting with you gamers online during the event. I am SUPER excited for this event….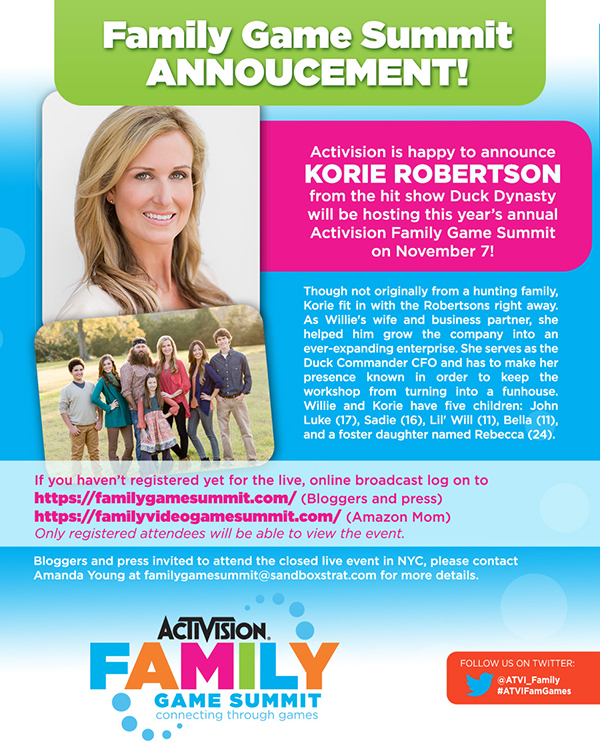 Now last year the host of the event was Soleil Moon Frye. I happened to be a big Punky Brewster fan growing up so I thought it was so cool knowing that the Punky Brewster that is now grown up and a mom likes games just as much as I do. This year the host will be Korie Robertson from Duck Dynasty. I have watched quite a few episodes of this show and I am anxious to see what Korie has to say about the new games from Activision.
For those that want to participate, you don't have to be in New York City to attend.  You can watch the Activision Family Game Summit online with me. Be sure to RSVP and mark your calendars with the information below so you can participate!
Activision Family Game Summit
Thursday, November 7, 2013 at 1:00 pm EST
RSVP at: www.activision.com/family

If you happen to RSVP by October 31, 2013 you have the chance at winning a goody bag from Activision. Don't worry though if you are too late! You have a chance at winning an AWESOME video game prize pack from me!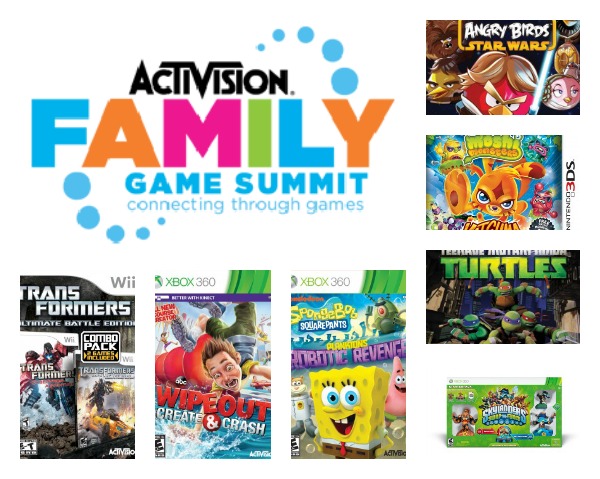 One of my LUCKY readers is going to receive a goody bag that contains 7 video games that are listed below along with an assortment of toys. This goody bag that Mom's Blog @ Mommy Enterprises gets to give to a lucky winner is worth $400!
Angry Birds Star Wars
Moshi Monsters:  Katsuma Unleashed
Skylanders SWAP Force
SpongeBob SquarePants:  Plankton's Robotic Revenge
Teenage Mutant Ninja Turtles
Transformers Bundle Pack
Wipeout Create & Crash
Please note that the version of the game received may not be the one pictured above.
To enter my Activision Video Game Giveaway worth $400, use the Rafflecopter below:
Good Luck to those that enter!!! Winners will be notified on November 7, 2013.