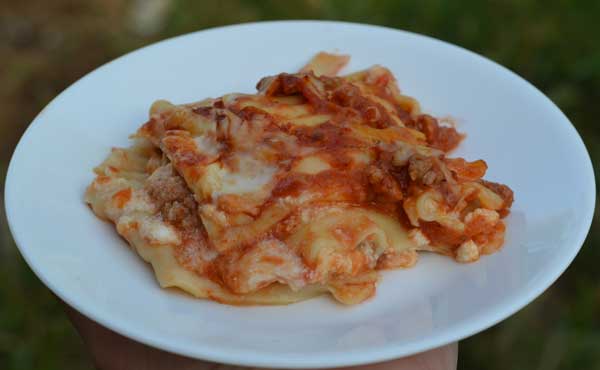 I don't know about you, but I LOVE lasagna. It was something that I always have enjoyed and didn't get brave enough to make until last year. Once I learned just how easy it was to make lasagna, I have been making it more often then before when I bought it frozen.
In an effort to keep my heart healthy, I decided to come up with a healthier version of the lasagna that I usually make for my family. I went to my local SaveMart in Carmichael, CA and bought ingredients for the lasagna that were healthier options than I normally use. I used the Dreamfields Healthy Carb Living lasagna noodles that only have 5 grams of carbs per 56gram serving. I also used reduced fat Mozzarella cheese, low fat Ricotta cheese and Johnsonville's Italian Sausage with the 50% less fat sticker on the package.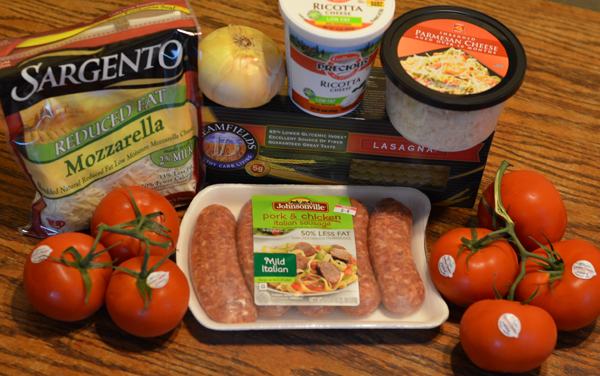 I also decided to make my own sauce using the vine ripe tomatoes which can be a little time consuming. I normally use hamburger meat, but like I mentioned before I used Italian sausage this time which gave it a really good flavor.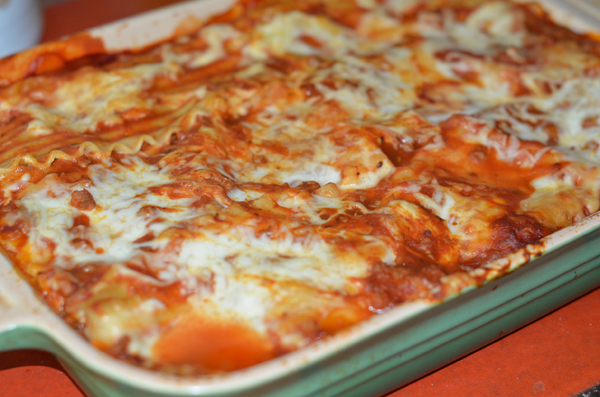 After my daughter took her first bite, she asked me if their was going to be leftovers. That put a smile on my face because with that comment, I knew it had to have came out good. There were leftovers and I am about to have some for lunch today!
Here is the recipe for my heart healthy lasagna:
Heart Healthy Lasagna Recipe
Author:
Ingredients
1 pound Italian Sausage
15 oz Low Fat Ricotta Cheese
2 cups Reduced Fat Mozzarella Cheese
1 egg
1 tsp garlic powder
1/2 tsp oregano
1/2 tsp salt
15oz can of organic tomato sauce
1/4 cup chopped onions
8-10 large tomatoes
Instructions
Boil tomatoes for 1 minute, remove from pot and immerse in bowl of ice. Remove skins immediately. Cut tomatoes in quarters and remove juice and seeds, then add to large pot. Add garlic powder, salt and oregano. Cook for 15-20 minutes or until you reach desired consistency. Add 1/3 of the can of organic tomato sauce to thicken sauce.
In a skillet, add sausage and onion and cook until sausage is done. Drain excess fat and add to pot of sauce. While cooking the sausage, cook lasagna noodles according to directions on package.
In a bowl, add ricotta cheese, 1 1/2 cups of Mozzarella cheese, 1/2 cup Parmesan cheese and egg. Mix until blended.
In a 13×9 casserole/baking dish add about 1/3 of the can of organic tomato sauce. Place 3 lasagna noodles in dish and add 1/3 of sauce/meat mixture, then 1/3 of cheese mixture.
Repeat layers above 2 times.
Pour another 1/3 of sauce from can over top later and top with remaining mozzarella cheese.
Cover with foil and bake at 375 degrees for45 minutes. Remove foil and bake uncovered and additional 10 minutes.
Remove from oven, cool, cut and serve!
For more information about keeping your heart healthy and for more recipes, visit: www.heart.org and www.goredforwomen.org.

Disclosure – I received a gift card by the manufacturer or representing PR agency to purchase ingredients for this recipe. These opinions expressed are my own opinions and are NOT influenced by monetary compensation.