My son is 4 and he is at the age where he LOVES dinosaurs. Last year he was a green dinosaur and this year he is dressing up as Buddy from the Dinosaur Train. My son LOVES this show and there is a lot of days where the Dinosaur Train Song for the show is stuck in my head while I am trying to write a post.
For those of you with Dinosaur Train fans at home, checkout these two CUTE costumes for the characters Buddy and Tiny that are available from California Costume Collections.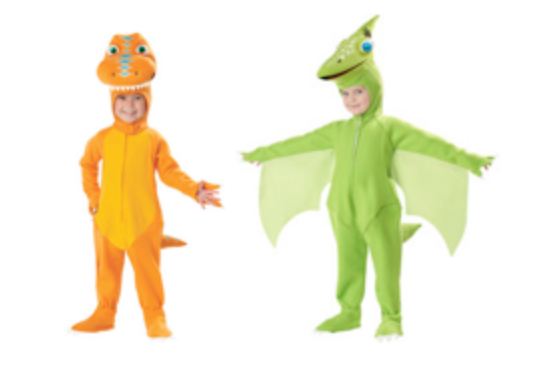 Here is a picture of my son wearing the costume…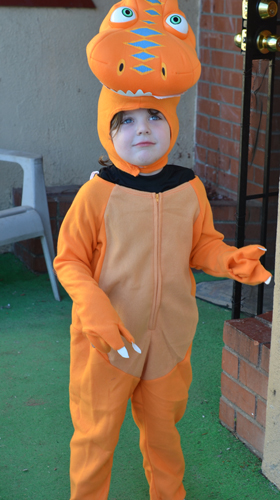 When I took the Buddy costume out of the package my son asked if he could try it on. I told him only if he let me take some pictures. After taking the pictures, he didn't want to take it off. He has asked me several times since if he could wear it, but I want to make sure it is nice and clean before Halloween. The costume is made of a soft fabric.
The costume is also really bright orange and very colorful.
Can you imagine what my neighbors thought when they seen this running around in my yard…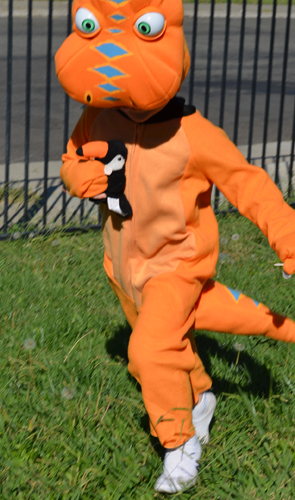 When I put him in the costume I didn't even realize that it had the shoe covers in the bag. So if you buy the costume, you will also receive a pair of orange shoe covers too that look like dino feet! If you choose to go with Tiny from the Dinosaur Train, the costume includes the green colored Pteranodon jumpsuit pictured above, Tiny the dinosaur hood, and green shoe covers.
The Dinosaur Train Buddy and Tiny costumes are currently available at various retail locations and online stores across the U.S.  Visit: http://californiacostumes.com/locations
If you are feeling a little crafty, you can also make a Dinosaur Train Buddy Costume at home. Take a peek at this video:

A little something for my bookworms…



Here is a little spooky fun! If you have a little one that likes books they might just want a copy of The Spooky Scavenger Hunt from Penguin Young Readers Group in which Mr. Pteranodon takes Buddy and Tiny on a nighttime trip to the Big Pond for a spooky nature walk! Mr. Pteranodon and the conductor insist they can't be scared, but when the conductor's mom jumps out at them, everyone gets a good scare!
If you are looking for a spooky Halloween read for your child, this might be a great story to end the fun night. This book is recommended for those children ages 4 – 8; SRP $3.99.
There are also Halloween themed episodes from Dinosaur Train to air on PBS Kids® too!

Disclosure – I received the products featured above to provide you with this post. This post is not a paid post and the opinions stated herein are 100% my own.