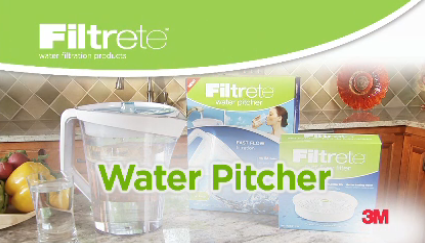 When it comes to beverages, water is something that is drank the most in my home. I know how important it is to drink water, so I try to drink at least 64 ounces a day and encourage my children to drink often too! When they ask for something to drink, I normally try to offer them water before they get anything else. I don't let them just have boring old tap water though, they get nice cold filtered water now from the fridge.
I used to have bottled water delivered to my house. Then I cut back on unnecessary costs and went with one of those filters that hook up to your water faucet. That water filter system worked for over a year and it recently broke. For a couple months we were drinking water from the tap with ice. Thanks to Mom Central, I am now a proud member of a Filtrete Water Pitcher. Now, my family enjoys water from the fridge that is cold and also filtered.
While this is the first time I have tried a water pitcher system, it is said to filter and fill five times faster than traditional pitcher filters. The Filtrete Water Pitcher also holds more water in less space and filters into a 12 cup pitcher. One feature that I like about this water picture is the filter change indicator. When you first setup your water pitcher, you push the indicator to start it off. Then as you drink your water, the indicator will gradually change to let you know when it is time for a filter change. The filter probably will last about 3 months in my house.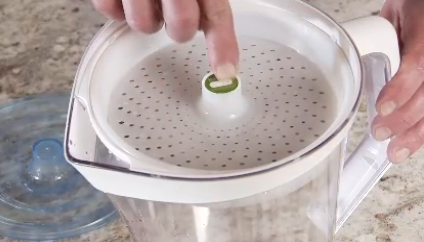 The only thing that I don't like about his filter is the lid does not completely seal the pitcher. So if I could change anything about the Filtrete Water pitcher, I would have a lid that seals this thing completely for the germaphobes like me. I am one that has to cover everything in the fridge just in case there are germs flying around. But overall, I really like this water picture, especially the sleek design. I think this is a great addition to my kitchen. My daughter Hannah now asks for the water from this pitcher so I am not complaining. If you need help getting your kids to drink water, maybe this might help.
You can visit the 3M Filtrete website to receive receive seasonal e-newsletters that feature money-saving offers, filter change reminders, better home living tips and more! Please visit http://www.filtrete.com/wps/portal/3M/en_US/FiltreteUS/Filtrete/Resources/Clear-advantages. You can also "Like" the brand on Facebook or Twitter.
Click Here for a special discount for Filtrete

"I wrote this review while participating in a blog campaign by Mom Central Consulting on behalf of Filtrete and received the water pitcher to facilitate my candid review."