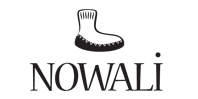 As a mom, I am always looking to keep shoes or socks on my little boys feet. He is one that LOVES to be bare foot.  I think most of our family prefer to be barefoot, so when I find products that my kids actually like to KEEP on their feet I tend to get excited. One of my daughter Hannah's favorite shoes have been the Nowali Moccasins. She wore her moccasins every day, even when they looked silly with the outfit she was wearing. I didn't complain. We have tile floors and I those moccasins always kept her feet warm and protected.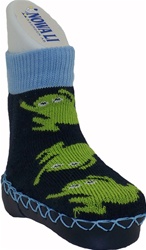 Now my son has recently had the opportunity to try out the boys Nowali Frog Moccasins. My son was SO EXCITED when he seen is frog moccasins. He immediately wiggled his feet wanting them on. He happens to LOVE frogs, so he got so excited when I put them on his feet. Now these will be the shoes that I will have to hide because he won't take them off (haha).
Want to read my review last year when Hannah got to try out hers? Click Here!
Here is some information about these moccasins that you might want to know.
These shoes stay on the feet. They have a double elastic at the ankle that help the moccasin stay on your child's feet.
They have soft soles. I used to think that moccasins were shoes that had a hard sole, but I was wrong. The Nowali Moccasins have a soft sole that allow the foot to move freely and the muscles to develop naturally. My son has a wide foot and these fit well with a little room to grow.
The bottom of these shoes are NON SKID. These are really great for the young walkers.
Machine washable and are made with natural materials.
I think these would make for a great Christmas gift or maybe even a birthday gift. I am thinking about buying Hannah a new pair for Christmas. She would be so thrilled to have a new pair. These come in a variety of  designs and sizes.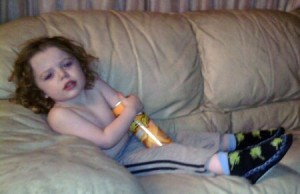 (Here is my son eating one of his FAV snacks & sporting his froggy Nowali Moccasins)
You can find out more about the Nowali Moccasins by visiting: http://www.nowali.com
Mommy Enterprises readers can receive a 10% discount on your purchases by using the promo code: MT14. (Valid until Nov 2, 2010)

Disclosure – The products featured above were provided free of cost to me by the manufacturer or representing PR agency. These opinions expressed are my own opinions and are NOT influenced by monetary compensation.