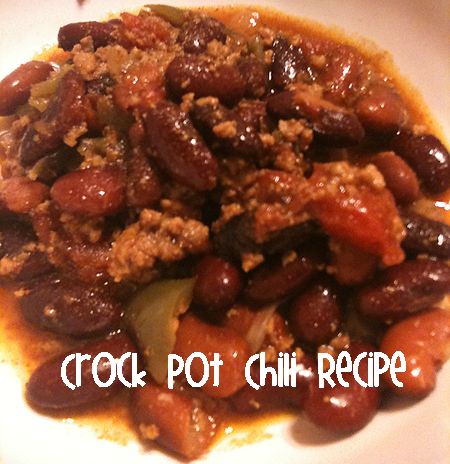 For the past few days I have been craving homemade chili. I decided yesterday morning I was going to make some chili in my crock pot. It has been a month or two since I have used it and it happens to be one of my favorite appliances.
Here is my crock pot chili recipe:
Author:
Ingredients
2 cans dark kidney beans (drained)
1 can light kidney beans (undrained)
1 pound lean ground beef
1 can (14.5oz) diced tomatoes
1/2 small-medium yellow onion (chopped in pieces)
1 green bell pepper (chopped in pieces)
2 TBS chili powder
1/2 TBS paprika
1 TSP cumin
1 TSP oregano
Instructions
Place ingredients listed above in crock pot.
Stir to mix ingredients well.
Cover and cook on low for 6 to 8 hours.
Enjoy with some warm cornbread!
For those of you chili fans, what type of chili is your FAVORITE?