I am really glad that I like water because we are supposed to drink a ton of it each and every day. I think there are days when I probably drink more water than the recommended daily intake. What I don't like is the fact that the water that comes out of my faucet isn't as cleans as I thought it was. In fact, after using the water tester that I received with my ZeroWater Pitcher, I am not too happy about drinking my water now unless I know that it has been filtered.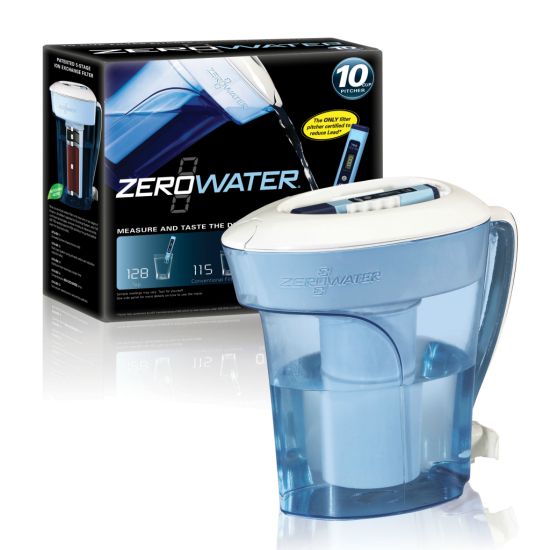 When I went to make my first pitcher of water, my reader showed the number 189 before filtering it. I was thinking to myself, so gross. I then tested the water after it went through the filter of the picture and showed the number 000. I was honestly shocked. I did not expect it to say 000 at all.
After taking the reading I looked at the information I received with the pitcher and read that my number actually is common for households that use water in the US. I didn't feel so bad after reading that, but plan to use my ZeroWater picture to make my drinking water from now on because drinking dirty water does NOT sound to appealing. The ZeroWater pitcher and filters are easy to use. You simply screw the filter onto the lid of the picture and slowly fill the top with water. It filters the water leaving you with water that is definitely better tasting!
I made a picture today and here is my reading: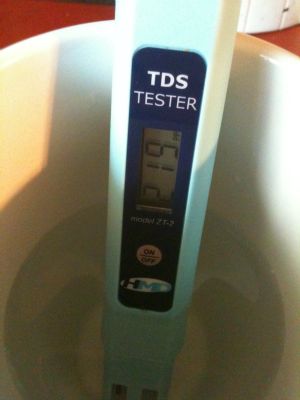 I also took a picture of the water from the ZeroWater Pitcher in my fridge: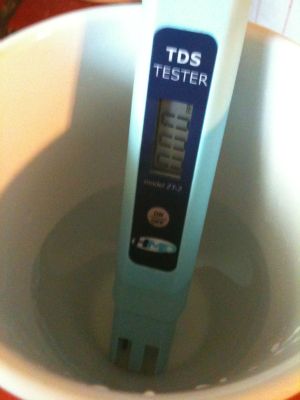 Not only does it show that this water is cleaner, it also tastes cleaner and crispier! Today I think the number was a little higher because it was the first time I used the faucet and I didn't let it run before I put water in the cup for the test. I heard that you should let your water run a little before using it, but I hate wasting water.
I love that this pitcher and filters is easy to use and that it comes with a tester that has a spot right on the lid so I don't lose it.
You can find out more about the ZeroWater Pitcher at: www.zerowater.com
Mom's Blog readers can save 30% off of a 10 Cup ZeroWater Pitcher by using the Promo Code: MC30
Now For My ZeroWater Pitcher Giveaway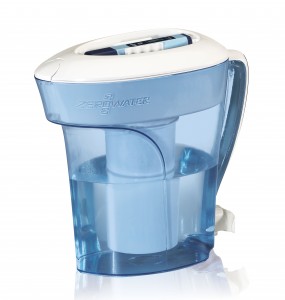 TWO lucky winners are going to receive a ZeroWater Pitcher too!

1) To enter this giveaway, please visit the ZeroWater website and tell me something you learned about this product. (This entry is MANDATORY)….

Extra Entries:
#2 – Subscribe to Mom's Blog. Leave me a comment letting me know how you subscribe. (2 extra entries – leave a comment for each)
#2 – Follow me on Twitter – leave your user name in your comment. (1 extra entry)
#3 – Send a Tweet or Re-Tweet with Twitter @mommye (Leave a comment with link to tweet – 3 extra entries – leave a comment for each)
#4 – On Facebook, become a fan of Mom's Blog @ Mommy Enterprises (2 extra entries – leave a comment for each)
#5 – Become a fan of ZeroWater on Facebook or follow ZeroWater on Twitter. (3 extra entries – leave a comment for each)
This giveaway will end on April 9, 2012 at 11:59 PM PST. The winner will be chosen at random using "And The Winner Is" plugin from all valid entries and submitted. The winner will be notified via email and will have 48 hours to contact me with their mailing information before another winner is chosen. This giveaway is open to U.S. residents only ages 18 years or older.
"I wrote this review while participating in a blog tour by Mom Central Consulting on behalf of ZeroWater and received a water pitcher to facilitate my review, two pitchers to giveaway, and extra filters to thank me for taking the time to participate."