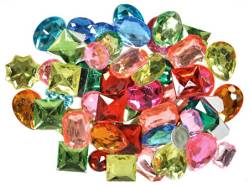 I have always liked making different crafts. I actually have a TON of different craft related stuff at my house to use when I get free time or in the mood to make something. My kids have always liked doing crafts with mom too!
For those of you that have been having rainy days and the kids are inside looking for things to do, making crafts with your kids is a good way to keep them entertained! The options are endless with crafts, you just have to find something you really like to do.  My favorite types of crafts are holiday wreaths, soaps, bead making and painting.
If you don't have craft supplies, there is a neat craft store online you might want to take a peek at. The FactoryDirectCraft website has different kids craft kits that you might want to keep on hand for when you need something fun to do with the kids. In addition, they have a TON of different crafts that will keep you busy. I mentioned that I liked making soaps, I also LOVE making candles. This website has candlemaking supplies, scrapbooking goodies, doll making supplies, ribbons and so much more!
Crafts can also make great gifts! I have made and received all sorts of crafty gifts from my friends and family throughout the years and sometimes they are the best gifts ever.
What type of crafts do you like to do?