During the summer months, you will most likely find me in flip flops. The other day it was cold, but I wanted to wear sandals.  I put on my cute Smoke Cascade Sandals from Fibi & Clo and went on my way to my friends. I wasn't even at my friends for 5 minutes without her noticing my shoes. She complimented my shoes which made me kind of want another pair, but a different style of course.
If you are a sandals kind of girl, you are going to want to check out the CUTE and STYLISH sandals from Fibi & Clo.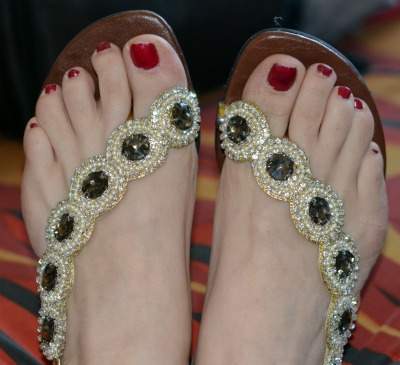 Fibi & Clo offer a cute line of sandals that are flat (no heels) and come in styles that are simple and fancy. The cute Smoke Cascade Sandals I am wearing are also available in Gold Cascade. These shoes can be purchased online or through a Fibi & Clo party for only $45.00.
If you are looking for a way to make an extra income, Fibi & Clo offers a home business opportunity for those looking for a fun way to make money. With Fibi & Clo, you can become a Fashion Agent and be profitable by only working 2-3 hours a week or very profitable by working full time. What is neat about this opportunity is they preserve their representative's sales territories so that no one's territories over lap to make less competition for their reps.
For more information on Fibi & Clo, visit: www.fibiandclo.com.
Disclosure – I received a pair of these cute sandals to provide with this review. This post is not a paid post and the opinions stated herein are 100% my own.