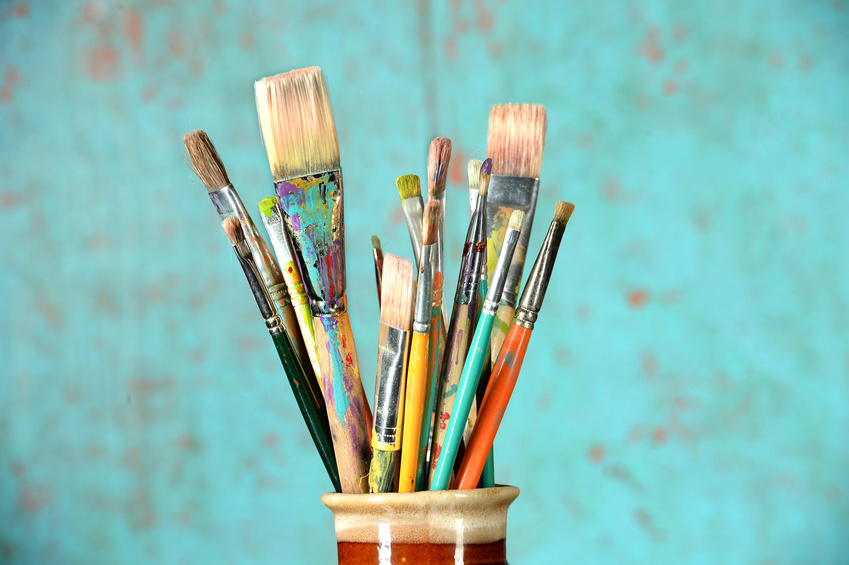 The Association for Creative Industry has found that crafting has become more popular among American families. From 2010 to 2017, the percentage of U.S. households participating in crafting increased from 56% to 63%. For families with young children, crafting provides an incredible creative outlet — a pivotal part of the cognitive and emotional development in younger minds — and a chance to bond. Although the weather may not be so springy across the nation quite yet, it's definitely on its way. Whether it's already warmed up or you're waiting for the snow to stop falling, these crafts will be sure to please both you and your little ones.
While today's children play outside for only four hours per week, they still may have seen little glimpses of early spring buds outside in your garden. Until those colorful blooms really start to pop, you can make your own inside your home. Just put some water color paints in an ice cube tray (for easy clean-up) and place a couple of coffee filters on a small baking sheet (again, clean-up!). Hand out the paintbrushes and let your kids' imaginations go wild. When all the coffee filters have been decorated, you can lay them out on paper towels to try overnight. In the morning, you can wrap pipe cleaner "stems" around the coffee filters — just find the middle of the filter and twist — to create a flower shape. Then, stick these flowers in a vase and leave them out for everyone to appreciate!
If you and your kids love the ethereal fairy look of flower crowns but want something a bit easier than making an actual wreath, you can create the same effect with some artificial flowers, a glue gun, and a paper grocery bag. First, you'll want to cut the bottom off the paper bag and roll that cut edge outward (away from you) from the bottom. This will hide any supermarket branding you don't want to show in the final product. Continue rolling the bag up slowly so as to prevent any tears. Once you get to the end, you should have a basic ring shape; use your trusty glue gun to secure any loose edges. If you're using a low-heat glue gun, your child may be able to help glue their own flowers to their crown (keep in mind that white glue won't provide the hold you need). If you're still concerned, you can take care of the gluing while your child instructs you which flowers to use. As a finishing touch, you can weave some green raffia, ribbon, or yarn all around the crown. Ta-da! The perfect fairy flower crown!
This beautiful sun catcher requires only a cardboard box, transparent contact paper, and some items you'll find right in nature. It's an excellent way to bring the outdoors in and remember that nature is always changing and producing something beautiful. Take your cardboard box and tape down the flaps. Then, parents can use an X-ACTO knife to cut large rectangles on each of the four main sides. You should leave one to two inches of cardboard "frame" around each of the four rectangles. After that, you can cut your transparent contact paper to cover these openings; the sticky side of the paper should face out. Here's where the fun part begins: your kids can help gather fresh flower petals, grasses, and leaves from outside (alternatively, you can use dried versions) and arrange them on the contact paper. After everything is to their liking, you'll cover up their masterpiece with another piece of contact paper. When you hold up the box to the light (or put a battery-operated, no-flame candle inside), you'll see how you've created your own natural stained glass box.
With these colorful crafts, you'll be able to easily satisfy your spring fever and spend some quality time with your family. What could be better than that?