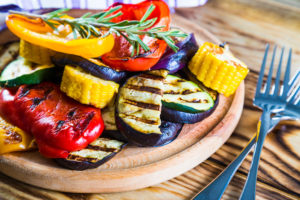 Summer is in full swing, and that means we're spending as much time outside as possible. Afterall, summer means pool parties, beach vacations, and our personal favorite: grilling outside.
Americans love to grill, there's no doubt about it. In fact, 5.5% of Americans say they grill more than once a week. While grilling is a time honored, All-American pastime, too many people never think beyond hot dogs, hamburgers, and sausages.
Many people falsely believe that grilling is limited to meats and starchy vegetables, thus making it a bad option for anyone trying to stay healthy in the summer. However, your grill may just be the most versatile appliance you have, and there's no reason it can't cook up some delicious and healthy summer fare.
Here are some of our favorite suggestions that will keep grilling healthy for the rest of the summer (and all year round!).
Go skinless
While it can be tempting to grill up some chicken wings, choose the skinless chicken breasts instead. You can dice it, shred it, or serve it on sandwiches, you just have to be creative. This way you'll be able to cut out unnecessary fat and calories, but still get a serving of healthy protein.
Create a rainbow
Summer is the best time for fresh fruits and vegetables — so take advantage of it! With the right pan, you can literally throw anything on the grill, so create a side dish with as many colors as you can. And don't be afraid to experiment! Your favorite fruits and veggies taste wonderful when grilled on a kebab or just by themselves. Peaches, watermelon, and even bananas can be grilled to perfection with the right preparation.
Give it a soak
Create your own marinades and rubs instead of buying the prepackaged ones. You'll be able to create your own flavor combinations this way and cut down on a ton of excess salt. Plus, the ratio you need couldn't be easier, you just need about a half a cup of marinade for one pound of meat.
Don't forget the sides
Even though it is totally possible to create an entire meal on the grill, you may want to switch it up and create some colder sides to balance out the hot dishes. Having an assortment of colorful salads is an easy way to incorporate healthy sides to go along with those fatty meats.
Ditch the plate
Get rid of plates altogether and prepare only finger foods. This not only will make it much easier to eat, but people won't be overloading their dishes with fatty foods and feel the need to eat everything in sight. We're talking kabobs, tacos, cut up fruit, corn on the cob, vegetable sticks, and grilled turkey burgers.
There are so many ways that you can incorporate healthy foods in your next BBQ. Remember, just because it's healthy, that doesn't mean it has to be bland and tasteless. Try these tricks and let us know how they work for you!