One thing that I cook often is chicken for my family. With that said I am always trying to come up with creative ways to make dishes with chicken that everyone will enjoy.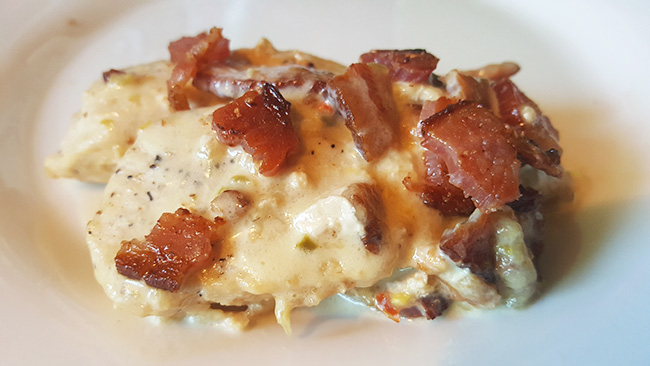 I love pepperjack cheese and I L-O-V-E cooking and baking with bacon. I decided to put these two together and make chicken in a bacon and cheese cream sauce that turned out delicious!
Creamy Pepperjack And Bacon Chicken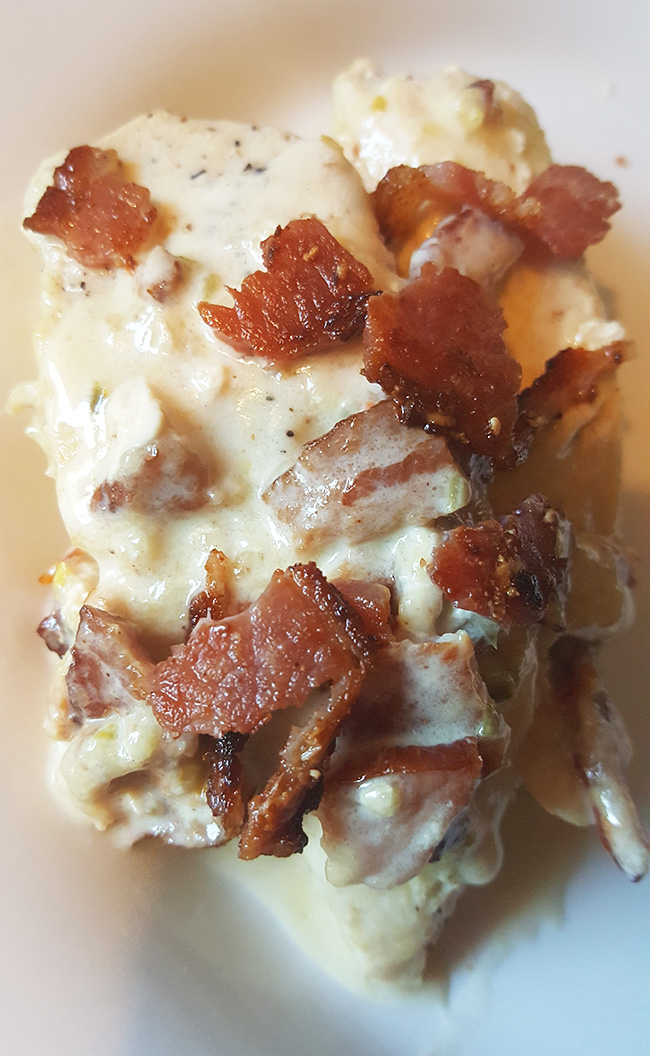 The combination of the flavor of Pepperjack cheese with the bacon in a creamy sauce was AMAZING. This is something I will definitely be making again real soon! You can also get creative and try other cheeses like Gouda, Parmesan or maybe some Asiago!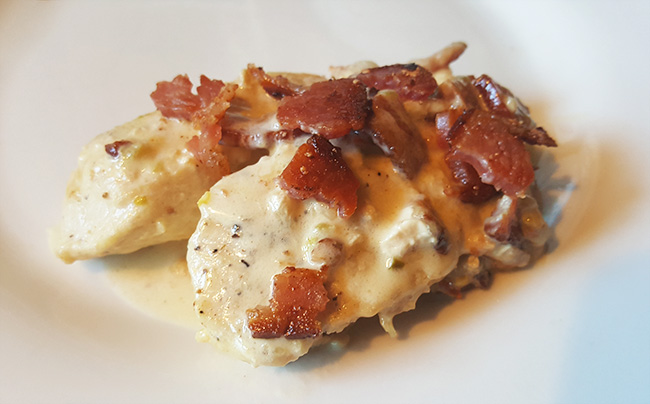 What I also like is that I only had to use one skillet to make this delicious dish! To make this dish feel free to print my Creamy Pepperjack And Bacon Chicken recipe below: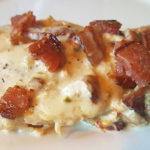 Creamy Pepperjack And Bacon Chicken
Ingredients
4

boneless chicken breasts

cut in halves

2

tablespoons

vegetable oil

1

cup

chicken stock

8

slices

of bacon

cooked and crumbled

1

cup

heavy whipping cream

1

cup

shredded pepperjack cheese

salt and pepper
Instructions
Heat vegetable in a large skillet. Sprinkle salt and pepper on chicken and add to skillet. Cook on medium high for about 2 minutes on each side to slightly brown chicken. Remove chicken from skillet.

Add chicken broth and half of crumbled bacon in the skillet. Lay the chicken breasts on top of the bacon in skillet, cover and reduce heat to low. Simmer for 20 minutes flipping chicken over halfway through.

Check to make sure chicken is done. If done remove from skillet. Next add heaving whipping cream to skillet and bring to a boil, stirring and mixing well. Reduce heat to medium and add shredded pepperjack cheese. Stir for 30 seconds to 1 minute until cheese is melted. Reduce temperature to low and add the chicken breasts back into the skillet. Keep stirring chicken in sauce about 3-5 minutes until the sauce thickens.

Remove from heat and sprinkle remaining crumbed bacon on top of chicken breasts.