This past week I have been overloading you with pictures and interviews from the Cinderella World Premiere and press day. Well today is finally the day that Cinderella is finally in theaters and I am excited to be able to take my daughters to see it.

Ever since I was a little girl I loved the story of Cinderella. My mom had bought me the set of the Disney Wonderful World Of Reading hardcover books and the Cinderella book in the set was always my favorite. I remember having those books for my daughters when they were young. It was one of those fairy tale princess story that has always been my favorite.
For those that don't know the story of Cinderella, here is why you will want to go see it.
The story of "Cinderella" follows the fortunes of young Ella (Lily James) whose merchant father remarries following the death of her mother. Eager to support her loving father, Ella welcomes her new Stepmother (Cate Blanchett) and her daughters Anastasia (Holliday Grainger) and Drisella (Sophie McShera) into the family home. But, when Ella's father unexpectedly passes away, she finds herself at the mercy of a jealous and cruel new family.

Soon, she is forced to become their servant, disrespected, covered in ashes and spitefully renamed Cinderella. Yet, despite the cruelty inflicted upon her, Ella will not give in to despair nor despise those who mistreat her, and she continues to remain positive, determined to honor her mother's dying words and to "have courage and be kind."

When Ella meets a dashing stranger in the woods, unaware that he is really the Prince (Richard Madden) and not merely Kit, an apprentice at the palace, she believes she has finally found a kindred soul. It appears her fortunes may be about to change when the King (Derek Jacobi) summons all maidens in the kingdom to attend a royal ball at the palace, raising Ella's hopes of once again encountering the charming Kit. Alas, her Stepmother forbids her to attend and callously destroys her dress.

Meanwhile, the calculating Grand Duke (Stellan Skarsgård) devises a plan to thwart the Prince's hopes of reuniting with Ella and enlists the support of the devious Stepmother. But, as in all good fairy tales, help is at hand. Soon, a kindly beggar woman (Helena Bonham Carter) steps forward and, armed with a pumpkin, a few mice and a magic wand, changes Cinderella's life forever.
What I LOVE about this new Cinderella movie is that it is the SAME story that I remember loving as a little girl. Even though it has been 65 years, the story of Cinderella, her Fairy God Mother, the pumpkins turning into a carriage and her pretty glass slippers still remains the same but with more details and more history.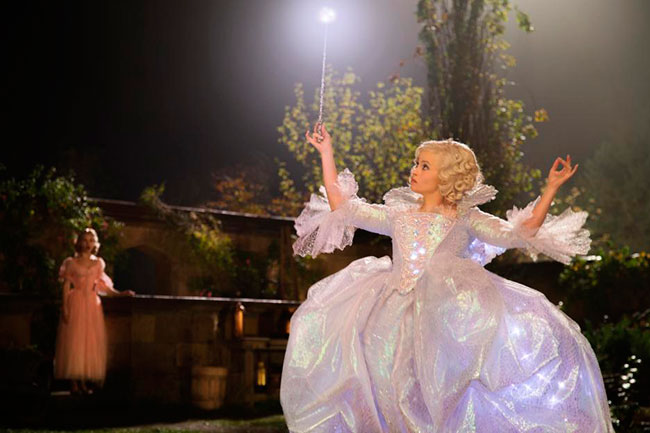 When the movie started playing at the El Capitan Theatre I was glued to my seat. I did sneak and take off the heels but there was no getting up for a bathroom break or any snacks. I didn't want to miss a minute because the fairy tale that I had read so many times and seen so many times on a VHS tape had came to life on the screen. The only wish that I had at that time was that my daughters were there with me.
The movie was AMAZING! From beginning to end. I love the cast that was chosen, the costumes, the location that it was filmed!  After getting to sit in the same room as Lily James who plays Cinderella and Richard Madden who plays the Prince, I think that Kenneth Branagh definitely choose the right people for these important roles.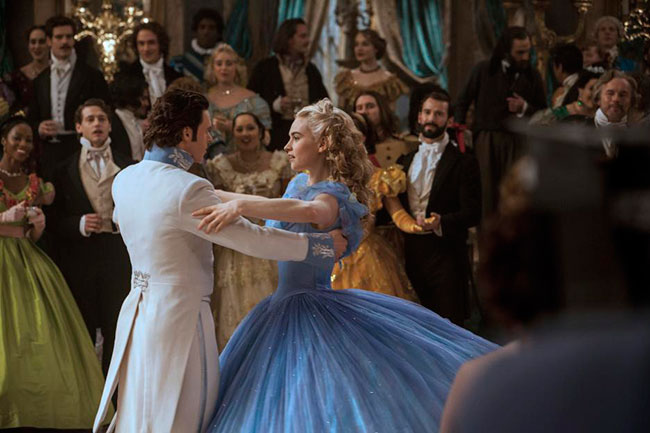 Now don't let me forget about Cate Blanchett who plays Lady Tremaine, Cinderella's evil stepmother in the film. She played the role perfect with an evil laugh to top it off. Not only was she amazing in her scenes, she looked amazing in all of the dresses that were designed by costume designer Sandy Powell.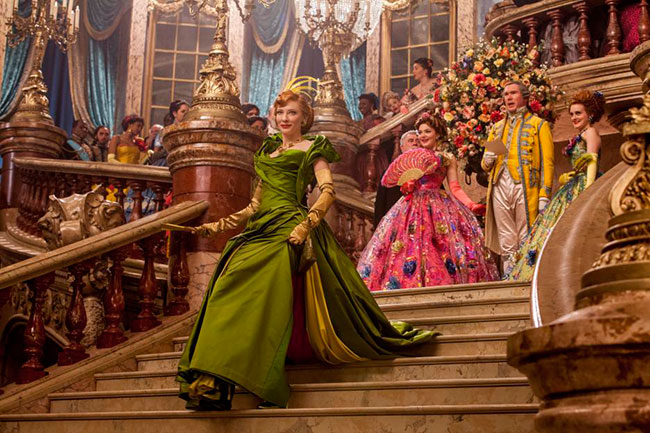 During the movie you will also see the two evil stepsisters that you probably remember from the story. In the fairy tale growing up remember that I pictured them as ugly and mean stepsisters. They aren't so ugly on film,  just not as pretty as Cinderella is in her pretty blue ball gown.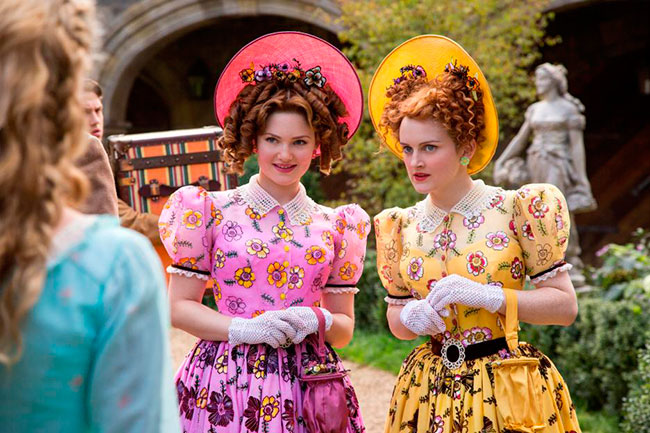 I am happy that the director, Kenneth Branagh kept to the same story line but added more in depth details that you may have been wondering about for all these years. You will see more of the Prince and you will find out more about the history of Lady Tremaine and why she is so evil. I don't want to give too many details or spoilers because I want you to see this film and see the magic for yourself.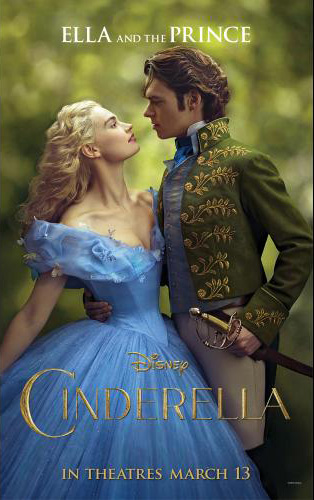 This is a movie that is great for everyone! I am thinking about taking my 7 year old son as well as my Nana who is 78 years old. This is a fairy tale that is good for everyone to watch…
Take a peek at the Cinderella trailer below:
Cinderella is in theaters starting TODAY!!!
Find out more about Disney's Cinderella by checking out the following links: