When it comes to Heelys, my two oldest daughters had to HAVE a pair when they first came out. I remember going to different stores just to find a pair for both of them that was their size and CUTE. My oldest Ariyona had to have the black and pink Heelys and Hailey had to have the white and pink Heelys. I actually have both pair of them years later because my family believes in hand me downs and from what I have seen, Heelys are shoes that are made to last a long time.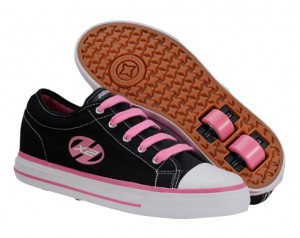 Up until  recently I had only purchased Heelys for my daughters, I had never got to try them for myself. I officially now have my own pair and can wheel around my house in. When you have a house with tile floors, these things can be fun (or maybe dangerous in my case). What is cool is the new Heelys HX2 have two wheels to provide stability and balancing easier. Now I used to skate when I was a kid, OFTEN. But skating as an adult doesn't seem so easy as it was back then.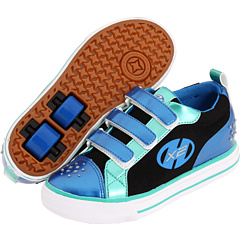 The Heelys HX2 line is a new and perfect for beginners that are just learning to skate. These cool shoes have been built with safety in mind. They allow you to balance which is a must for me. This mom does NOT like to fall, especially in front of anyone.  What makes the HX2 different from the classic Heelys shoes is the two removable wheels in each shoe. Before, you just had one wheel in each shoe. I like that you can take the wheel out and use the cap to make them just a regular shoe too.
Hannah is totally excited that mom has a pair of these new Heelys HX2 like hers. The only difference is our colors. I am rocking the Heelys Jazzy Pink while she is rocking these cool Sparklers. If you have a little one and want a pair, this is great for a Mommy and Me. Grab a pair for you and your child date and make it a skate date!
To find out more about Heelys, please visit: http://www.heelys.com . You can also find Heelys on Facebook and Twitter.
Disclosure – The products featured above was provided free of cost to me by the manufacturer or representing PR agency. These opinions expressed are my own opinions and are NOT influenced by monetary compensation.