There are times when I want to satisfy my sweet tooth with chocolate cake but I don't want to take the time to bake a whole cake. Or better yet there are days when I would rather not use the oven because it tends to heat up the house. Lucky with just some items from my kitchen, I can make my own personal chocolate mug cake in just a few minutes in my microwave.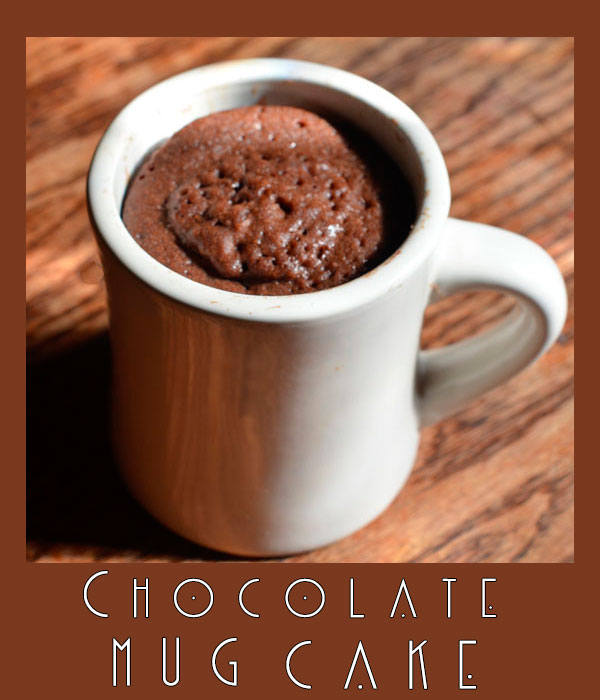 Yes, you can make a chocolate cake in your mug in the microwave and it will be ready in just a few minutes. It won't be like a cake you buy from a bakery but it can definitely be a treat for when you are craving cake and don't have time to bake!
I like my plain but you can add frosting, whip cream, peanut butter or whatever else you think would go great with it.
Easy Chocolate Mug Cake
Author:
Prep time:
Cook time:
Total time:
Ingredients
1/4 cup all-purpose flour
1/4 cup sugar
2 TBS unsweetened Cocoa
3 TBS milk
3 TBS vegetable oil
1/4 TSP vanilla extract
Instructions
Combine all ingredients in a large coffee cup or mug and stir well.
Place in microwave and cook for 3 minutes on high.
Let cool for 2 minutes.
Enjoy!
Sounds easy right? I think it is the perfect midnight snack for those craving some chocolate! If you happen to have some frosting be sure to add some to the top.
More Microwave Mug Cake Recipes
Mug Cakes: 100 Speedy Microwave Treats to Satisfy Your Sweet Tooth
Absolute Best Mug Cakes Cookbook: 100 Family-Friendly Microwave Cakes
5-Minute Mug Cakes: Nearly 100 Yummy Microwave Cakes
Mug Cakes Cookbook: My Top Mug Cake Recipes for Microwave Cakes
Mug Cakes: Ready In 5 Minutes in the Microwave