One of my favorite hobbies would have to be baking, especially during the holidays.  With Valentine's Day coming up next month I thought I would bake some heart shaped cookies for the family. These cookies are easy to make and perfect for putting smiles on those loved ones faces. These are not just any ordinary cookies though. These are Chocolate Heart Cookie Sandwiches that have a frosting filling along with some pretty colored sugar sparkles on the edges…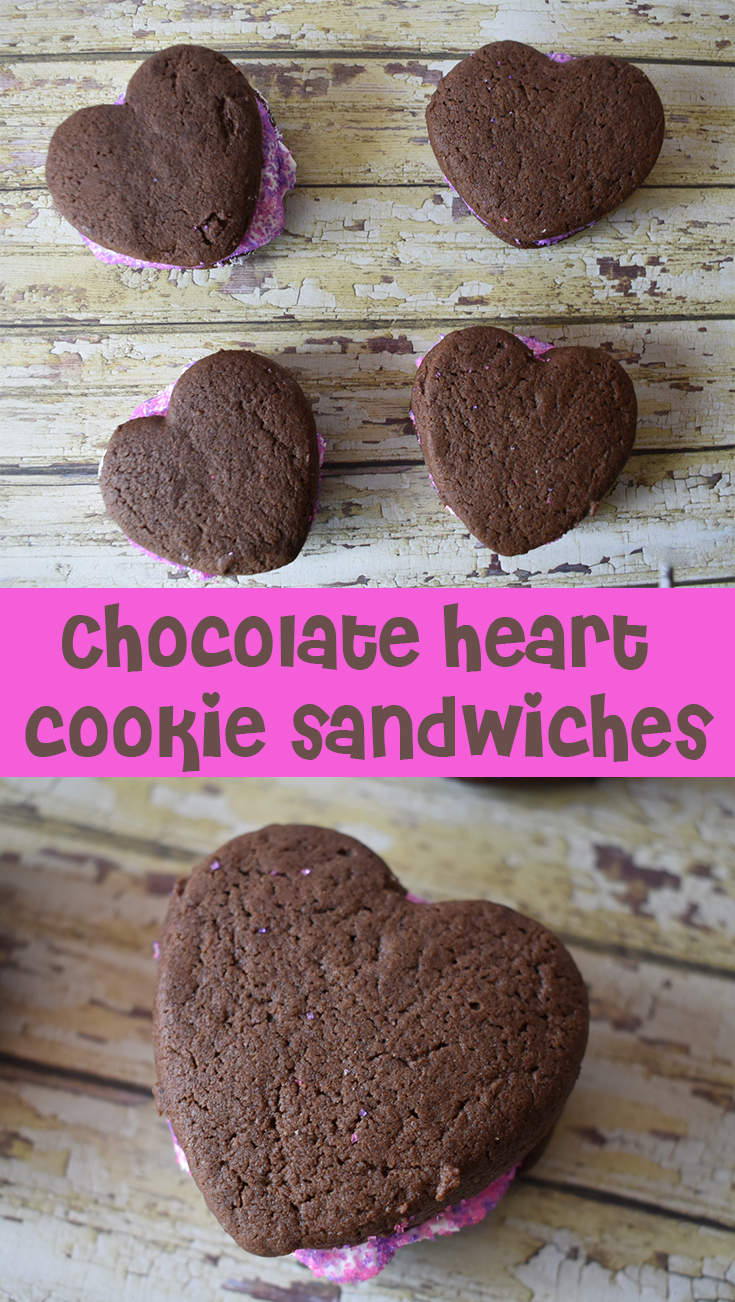 When I think of Valentine's Day one of the first things I always think of is CHOCOLATE! I always love to receive the chocolates with the NUTS!  If you are like me and love the taste of chocolate + almond you are going to LOVE this recipe! Not only do you have the flavor of plenty of chocolate in a cookie, you will also taste some of almond flavor and vanilla too!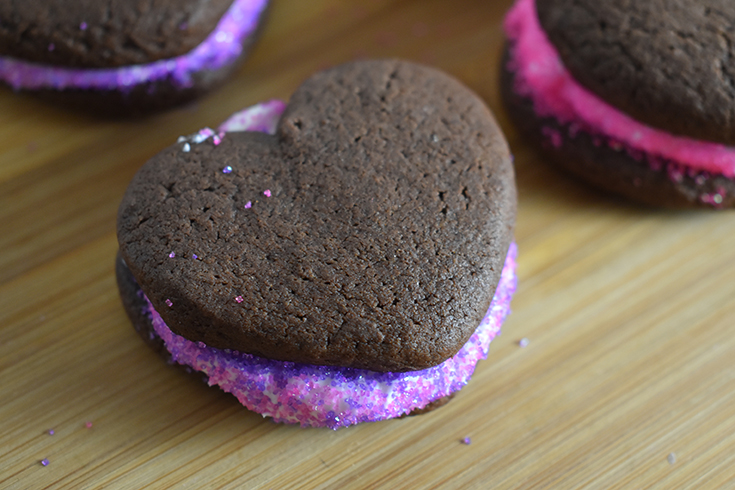 What is fun about making these cookies is you can get creative with the frosting and the sprinkles. I just used vanilla frosting but you would use any color, especially PINK for Valentine's Day!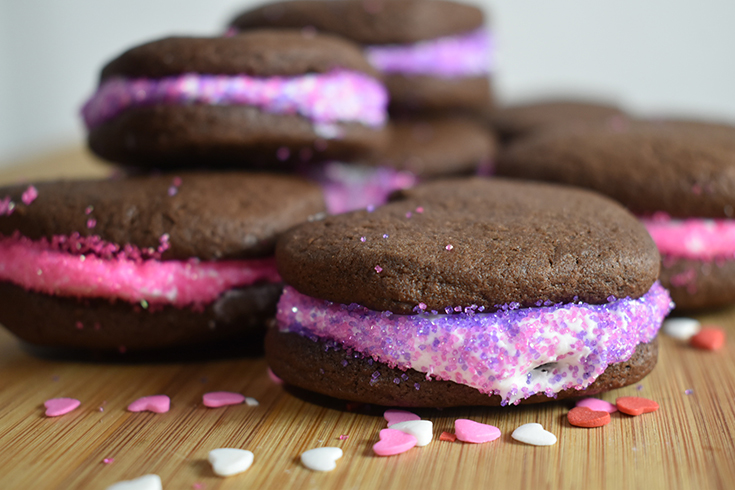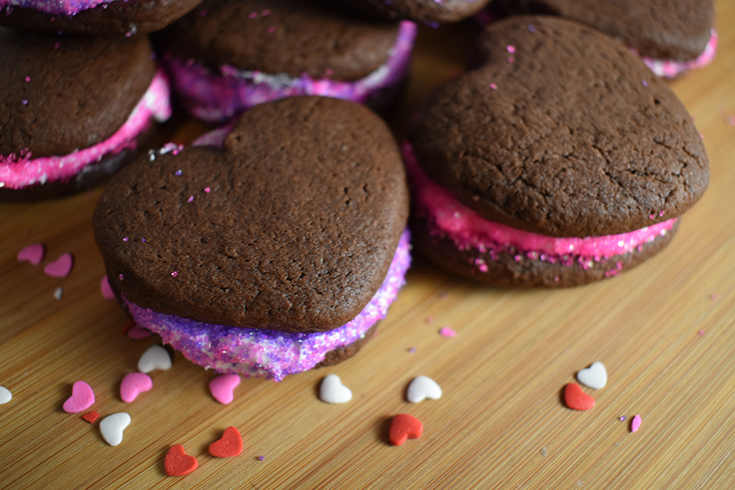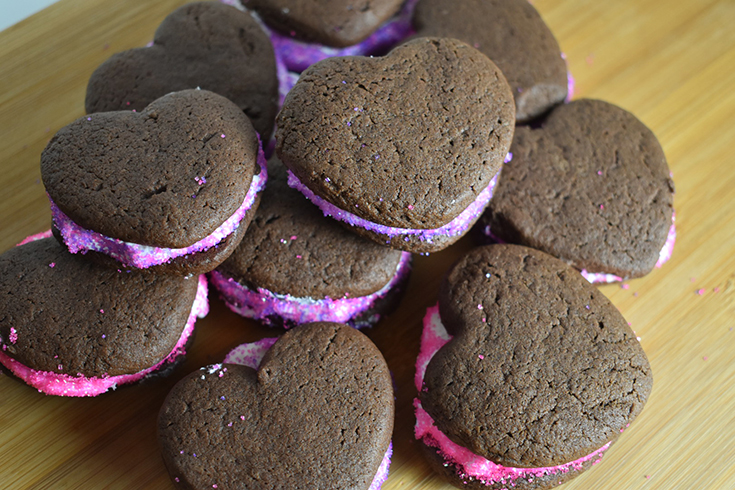 If you don't want the frosting, the cookies just by themselves are DELICIOUS! If you would like to give these a try, be sure to print my recipe below…
Chocolate Heart Cookie Sandwiches Recipe
A recipe for Chocolate Heart Cookie Sandwiches
Ingredients
1

Nellie's Free Range Eggs

1 1/2

cups

all-purpose flour

3/4

cup

unsweeted cocoa

3/4

cup

unsalted butter

room temperature

1/2

cup

brown sugar

1/2

cup

granulated sugar

1/2

teaspoon

vanilla extract

1/2

teaspoon

almond extract

1

teaspoon

baking soda

1/8

teaspoon

salt

1

cup

vanilla frosting

sprinkles (optional)
Instructions
In a mixing bowl add the softened butter and both sugars. Mix, using a hand mixer or a stand mixer on medium speed for about 1 minute. Use a spatula once or twice around the sides during the creaming process to scrape the sides of the bowl.

Next add the egg, vanilla extract and almond extract and mix for about 15 seconds to incorporate it into the butter/sugar mixture.

In a separate bowl, add the flour, unsweetened cocoa, salt and baking soda. Use a whisk to mix the ingredients well. Slowly add the dry ingredients into the butter/sugar mixture. Continue to beat mixture until a dough has formed and no dry ingredients can be seen.

Next you will want to chill the dough you just made for at least an hour. Once chilled use a rolling pin (dusted with flour) and roll dough out dough about 1" thick.

Use a small heart shaped cookie cutter to cut dough into heart shapes. Place cut out shapes on a cookie sheet lined with parchment paper. Bake at 350 for 10 minutes. Remove from oven and allow to cool on cookie sheet for 2-3 minutes. Move to wire rack to allow to cool completely.

Once cookies are cool, take one and add about 1 tablespoon of frosting on the bottom. Place another cookie underneath to create a cookie sandwich. Sprinkle pretty sugar crystals on the outside of the filling to make them pretty!
When I made my cookies I used the Nellie's Free Range Eggs. You may not know it but not all eggs are the same.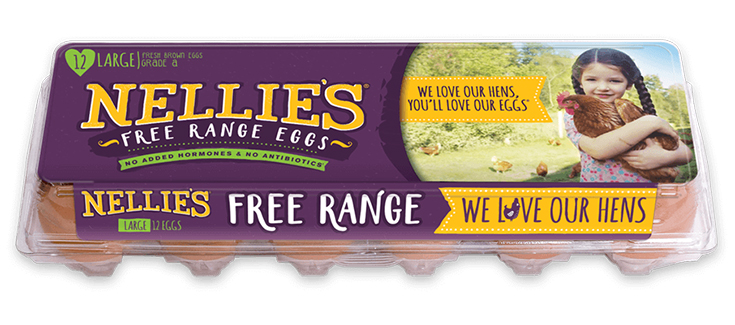 Nellie's Free Range Eggs are Certified Humane, Free Range, B Corp and have NO added horomones or antibiotics.  You can learn more about Nellie's Free Range Eggs at: https://www.nelliesfreerange.com.
You can also follow Nellie's Free Range Eggs on social media too: