One of my favorite beverages growing up was Tropical Punch Kool-Aid. One a hot summer day, a glass of ice cold Kool-Aid was so refreshing. While I don't drink it as much as I do when I was a kid, I do always have a pitcher of Tropical Punch Kool-Aid in my fridge to drink when I get a craving. My husband also drinks it daily!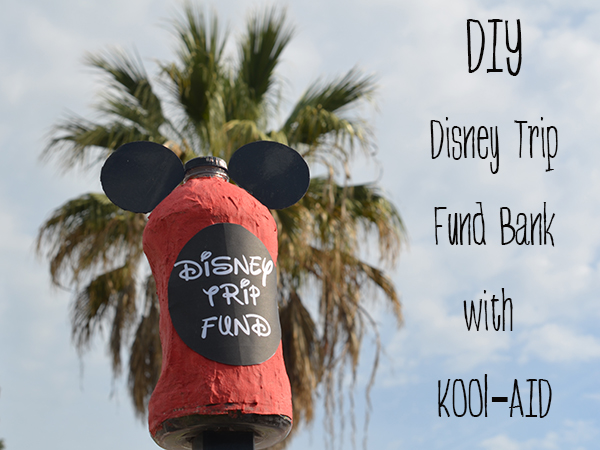 I normally buy the Kool-Aid packages and make my own pitcher at home so I can control the amount of sugar that goes in it. For those that prefer to buy the pre-made drinks, I found these 96oz bottles of my Tropical Punch Kool-Aid at Walmart for under two dollars in a variety of the Kool-Aid flavors.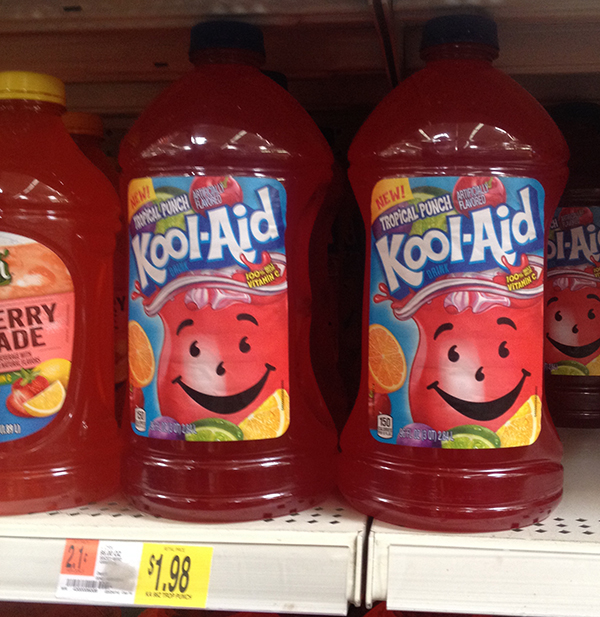 We had a BBQ last week and I thought this would be perfect for the kids and perfect for a craft that I have been wanting to do. I have been to Disney a few times but my youngest has not. My goal is to start a Disney Trip Fund and I wanted to create a fun Disney themed container to collect our money in.
So the last few days I have been working on my bank using the Kool-Aid container and here is what I came up with.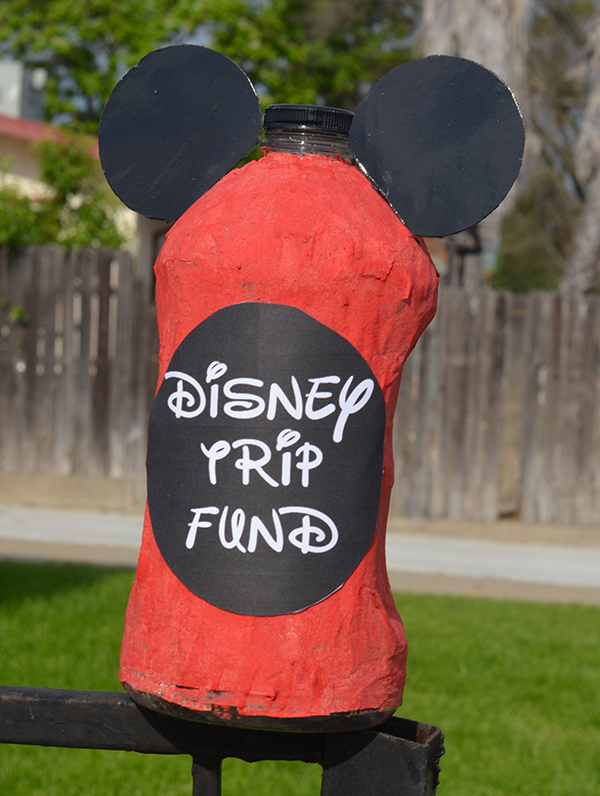 Here is the supplies I used:
Kool-Aid 96oz container
Kool-Aid Cherry Flavor packet (2)
Newspaper
Flour
Salt – just a pinch
Paint brush
Cardboard
Black spray paint
Water
Hot glue and glue gun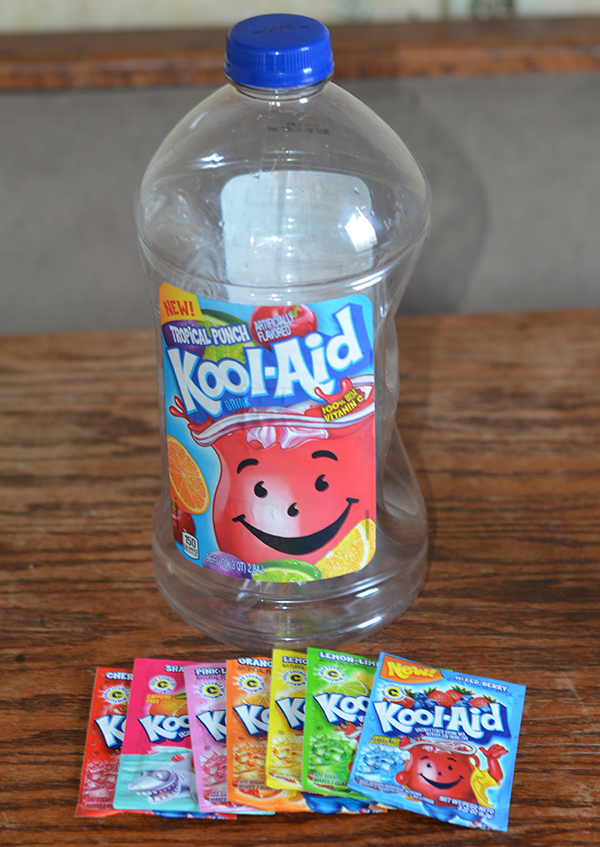 I remember in second grade doing Papier-mâché and I have always wanted to do it again. I have thought of making a pinata before but I think this Disney Trip Fund Bank was a better idea.

Step One: Cut your newspaper
First you will want to cut the newspaper in strips about 6-7 inches long. Fold the newspaper when you cut so you can cut multiple strips at the same time.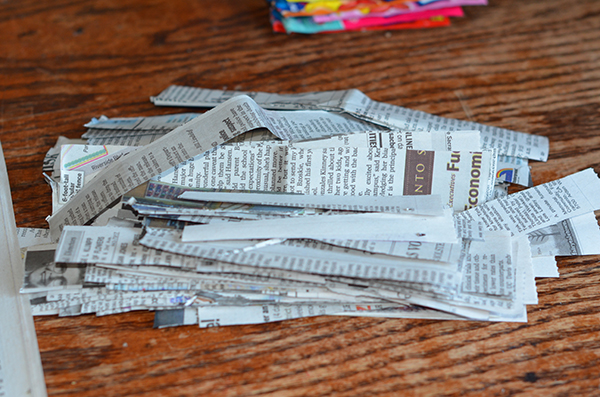 Step Two: Make a paste
For the paste, boil 1 part flour to 5 parts water for 1-2 minutes.  I would start with about 1/2 cup flour with 2 1/2 cups for water. To make sure your bank don't mold add a pinch of salt. You can also add a tad of cinnamon to make it smell pleasant. I added a little too much but that's okay, it worked out just fine.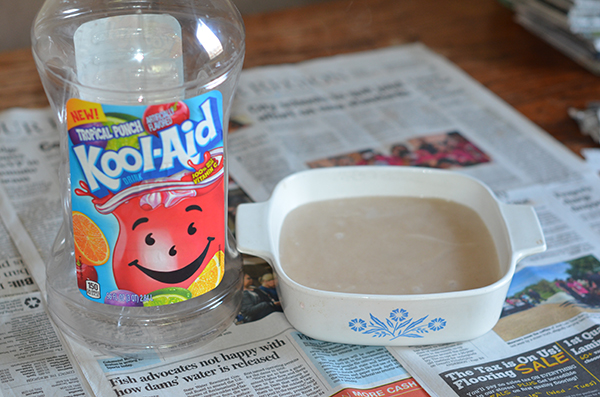 Step Three: Have fun with the paper and paste
You will want to use enough strips to cover the container. Let it dry completely and do it again with a second layer. I only used two layers but you might want to do a third layer using white printer paper so it looks better when painted.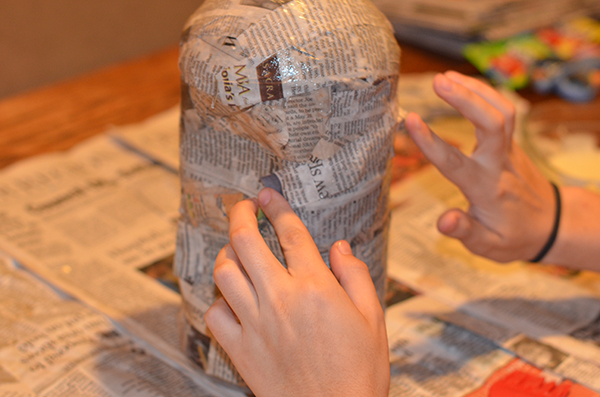 Step Four:  Make the Kool-Aid paint
Once your container is dry, it is time to make some paint with paint with Kool-Aid packets, flour and water. I originally bought all the Kool-Aid flavors to have a variety of colors, but decided to use just the Cherry flavor to make my container red.  Add one package of Cherry Kool-Aid in container with 1 tbsp of water and 2 tsp of flour. Mix well. (You will save other package for second layer of paint.)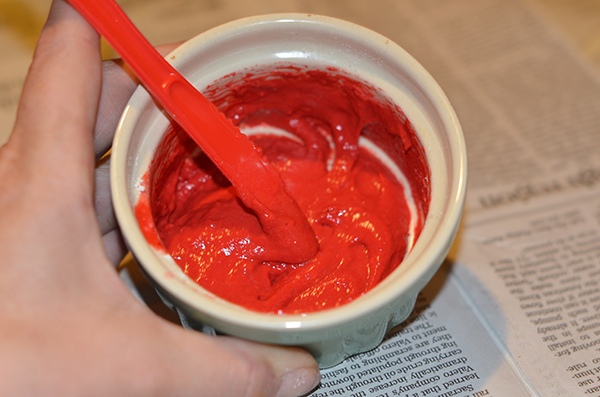 Step Five: Paint the Kool-Aid container
Using a paint brush, paint one layer on container and let dry. Create another batch of paint and paint a second layer to make it darker red.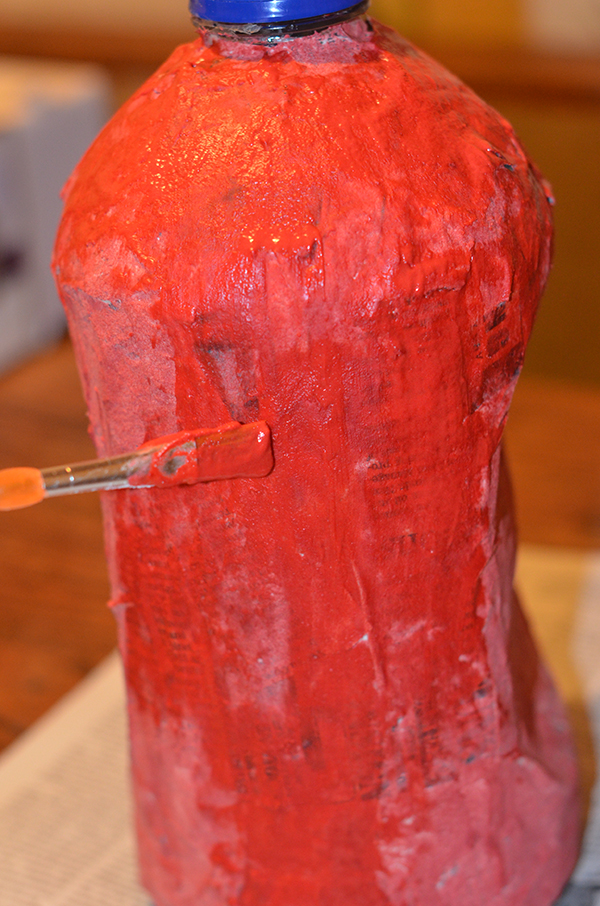 Step Six: Make Mickey Mouse ears & sign
My husband used a coffee mug and traced two circles on cardboard. Then painted the ears and the cap to the container with a black spray paint. Once those were dry they were glued onto the side of the container with hot glue.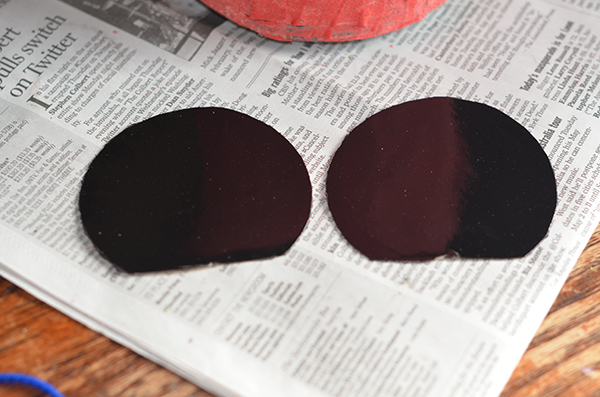 To get the ears to stay on, you are going to have to make your own little tabs on each of the ears with cardboard. Glue those on to the ears and then glue the ears onto the container.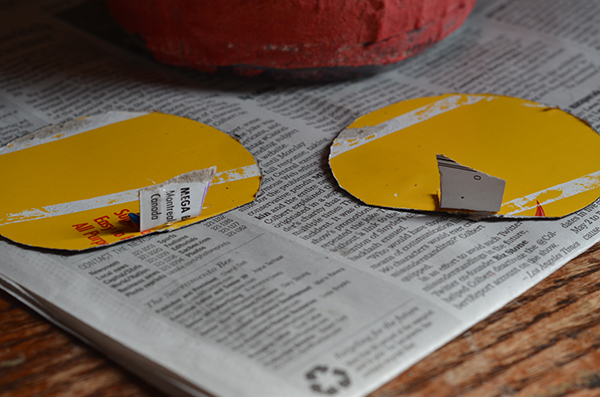 On my computer I created an image for the front and used a font that resembled the Disney look. Click image below for larger version that you can print for your own Disney Trip Fund Bank. You can use as is or cut off ears as I did with mine.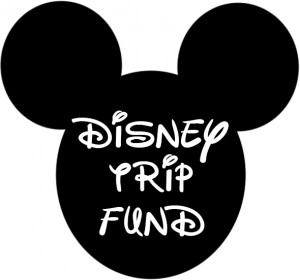 Once your sign is glued on, you are ready to show off your new Disney Trip Fund Bank.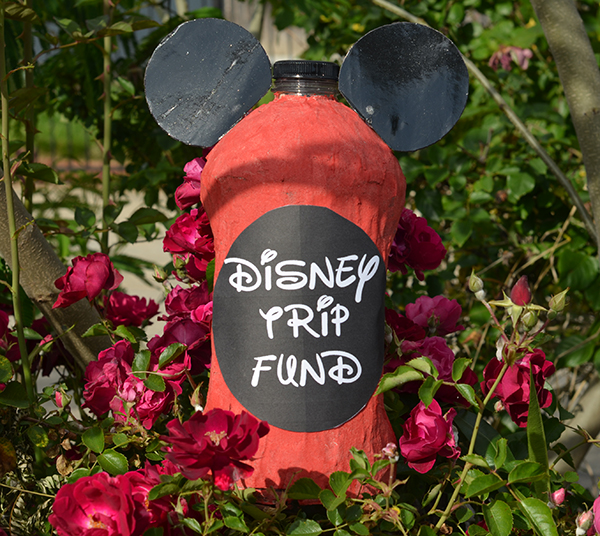 Now you just have to get to Walmart to get your Kool-Aid supplies.