Want to try something different? Or maybe looking for a new vegetarian dish that is gluten free? Try the Pesto Fettuccine with the House Foods Tofu Shirataki Noodles.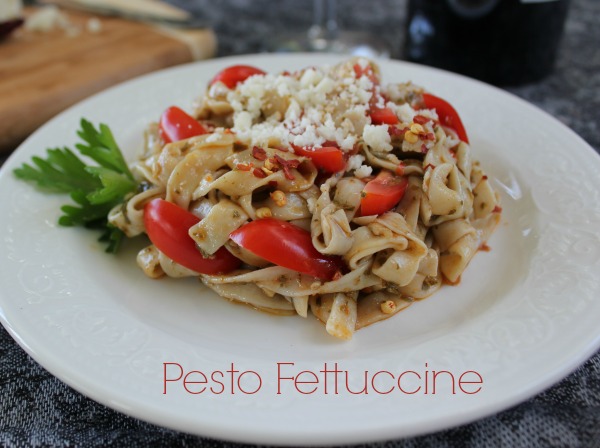 The House Foods Tofu Shirataki Noodles are a noodle substitute that is versatile, easy to cook with, and compliments a ton of different sauces so you can create your own unique meals! The Tofu Shirataki noodles are made with tofu and Japanese yam powder, Konnyaku that makes for a low-calorie and healthy alternative to wheat pastas. These noodles have the benefits of soy to create a great texture and added protein to the dish. I think it looks delicious!
Now for the recipe…
Meatless Monday – Pesto Fettuccine Recipe
Author:
Courtesy of House Foods Tofu
Ingredients
3 (8 oz) packages of House Foods Tofu Shirataki Fettuccine Shaped
½ cup pre-made pesto
½ cup sun-dried tomato (in oil)
(optional: garnish with cherry tomatoes)
Instructions
Rinse and drain Tofu Shirataki noodles well. Pat dry using paper towels. Put in a microwave-safe bowl and heat in microwave for 1 minute. Drain excess liquid. Cut noodles to manageable size.
Place sun-dried tomatoes in food processor and chop until pieces are very small.
Stir tomato mixture and pesto into noodles.
Garnish with tomatoes and serve.
 
Would this be a dish that you would be willing to try?