In their preteens or teens, kids are known to give their parents grief. It is one of the most taxing and trying periods in the parents' life. Their children are not little kids anymore, and as they are growing up, they prefer to live in their bubble and have privacy. They don't tell you much or nothing at all. They are in a fix themselves as they are a half adult and half kid stuck in a growing body.
Children need their own space and privacy to grow. Parents have to build trust so that they can be independent individuals. Teenage is a critical phase both for teens and their parents. They are new at this, and it gets overwhelming to deal with so many physical and psychological changes. You cannot expect them to think and act like adults completely.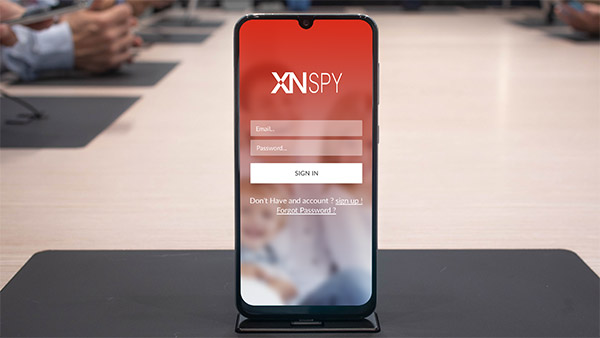 Digital Parenting Methods Are Need of the Hour
Children, no matter how they much they have grown up, need their parents' guidance and supervision from time to time. Even more so in this digital era where the internet poses numerous threats to one's privacy as well as mental health. Every child today has 24/7 access to the internet, which might have its perks, but there are many disadvantages as well.
Children and teens are vulnerable to get trapped in tentacles of digital harms such as online predators, scammers, cyberbullying, harassers, pedophiles, stalkers, explicit content, the dark web or getting into trouble because of giving out too much information on the internet and facing serious consequences. So, living in a digital age calls for digital measures as well.
What is the solution?
To curb the ongoing trend of online bullying and to keep one's children safe from stalkers and pedophiles, parental monitoring apps have emerged in the market. This way, parents can deal with various digital trends effectively. One such app is Xnspy, which currently ranks amongst the best parental monitoring apps. With Xnspy's help, you can monitor everything that is going on your teenager's phones and be in the know of his digital footprints as well as his offline activities such as the places he hangs out and the kind of conversations he has with his mates. You can know who they are talking to, the kind of multimedia they share and receive from friends, and the web browsing history as well.
Xnspy parental monitoring app allows you to remotely monitor all the popular social media platforms too which most of the teenagers use to communicate with friends such as Instagram, Facebook, and Tinder along with regular messaging apps such as WhatsApp, Viber, Skype, and Kik.
Parental monitoring apps like Xnspy are designed while keeping a digital parent's requirements in mind. Xnspy is compatible with both Android and iOS devices. After installation, you can access everything that goes on your teen's phone, including their text messages, call logs, emails, multimedia, web browsing history, and instant messenger chats.
Price
Xnspy parental monitoring app has two editions which parents can choose from according to their monitoring needs. The Basic edition, as the name suggests itself, offers basic monitoring features to the users. The Premium Edition allows you to use the advanced monitoring features as well. So, you can go for whichever that best suits your needs. There is only a slight difference between the two editions.
| | |
| --- | --- |
| XNSPY Basic Edition | XNSPY Premium Edition |
| $4.99/month | $7.49/month |
Xnspy Online Dashboard
You can also call it the control panel of the app. This way, you can view all that you want to know from the child's phone, be it text messages, call logs, emails, and a lot more. Paying attention to the fact that not all parents are particularly adept in using gadgets and apps, the developers of the app have created an easy and simple interface so that users can easily navigate through the app.
The dashboard demonstrates the phone activities in the form of a graph so that you can know at a glance regarding the frequency of text messages and calls while they are holed up in their room while making you think that they are studying.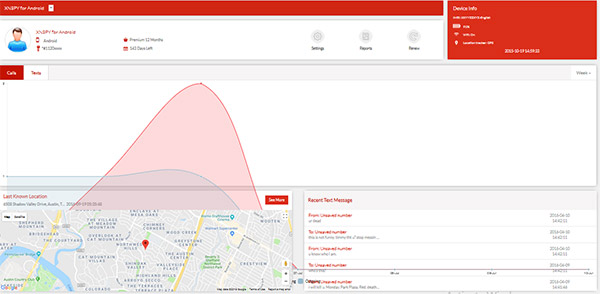 If you take a look at the left side of the screen, you would see a menu that has a column divided into different sections. Click on each of the tabs to know more details about a certain phone activity.

Xnspy Features
Because of its interesting mix of basic and advanced features, Xnspy has garnered its place among best parental monitoring apps. This way, parents can keep a check on their children while being away from home.
Here's a quick look at the features this parental monitoring app:
Basic Monitoring Features
The generation today is not that good at conversations. They would rather send a text message than having face-to-face communication. So, teens spend a lot of time texting with friends. Xnspy allows you to view and analyze the incoming and outgoing text messages. You can even view the deleted text message if the app has made a backup by then. You can add certain words, contacts, and emails in the Watchlist and get an automated notification right away when they appear in the conversations.
This helps in saving time, and you don't have to rummage through tons of messages and get to read only the texts you want to know about.
Children nowadays are addicted to their screens, and parents want to take some control measures. With Xnspy, you can monitor their calls and missed calls as well. The app lets you see the call history report and view the top 5 Callers and top 5 Calls' duration.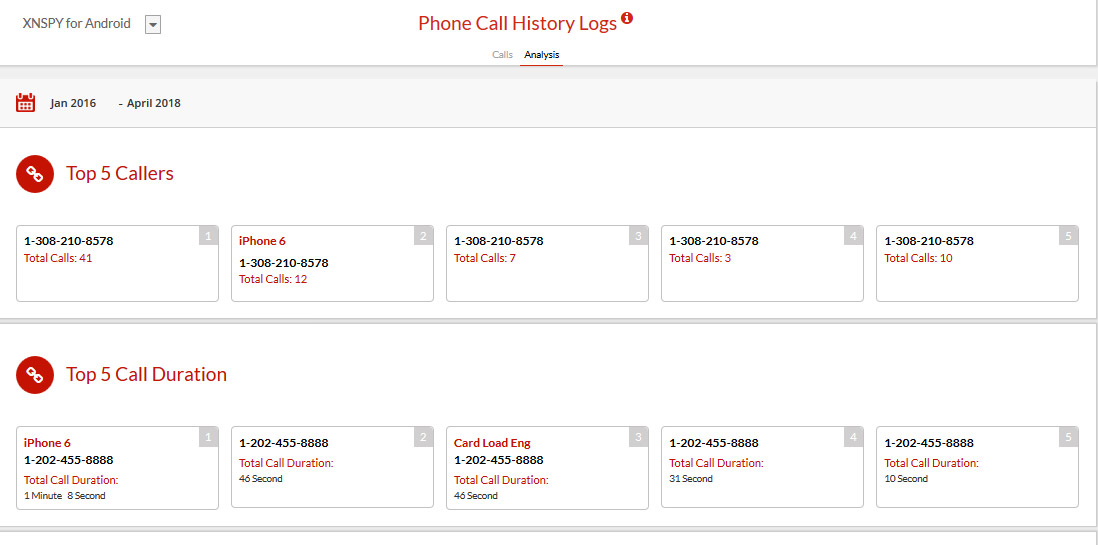 Teenage is an unpredictable and spontaneous age. Teens are in the process of exploring themselves so, they are into trying out new and sometimes reckless things. To know where your teens are, you can monitor their real-time location as well as the places they have recently been to. The geo-fencing features let you draw virtual boundaries, which let you know when your child enters or exits a certain place. You can set alerts via the Watchlist feature as it allows you to add locations too.
Emails Web browsing history
With tons of information on the internet, you cannot filter everything. An innocent word could bring up inappropriate content on the internet. Xnspy parental monitoring app lets you see the web browsing history of the phone and even get the list of top 10 frequently visited websites. You can also access their emails.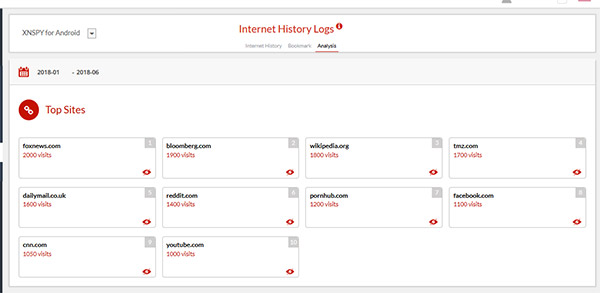 Advanced Monitoring Features
Call and surround recording
We have already established that teenagers of today are rather obsessive about their space and privacy. If you find your kid getting disturbed, or preoccupied after an email, phone call or an email, it calls for a close watch. You can record all the phone calls of your child with Xnspy parental monitoring app.
Xnspy also offers the option of surround recording. This way, you can record the sounds and conversation surrounding the phone. If you have reason to believe that your child might not be telling you the complete truth about something, this feature surely comes in handy. You can send a discreet command and record for 30 minutes and listen to it later on.
Access Instant Messenger Chats
Even the best parental monitoring apps don't offer users with the functionality of accessing instant messenger chats such as Tinder, Skype, Kik, Instagram, WhatsApp, and Facebook Messenger. You can also see the videos and images your teen and his friends share among themselves using these apps.
Xnspy parental monitoring app lets you remotely control your child's phone. You can lock it, shut it down, block certain apps you deem inappropriate, and take live screenshots. In case your child loses the phone, you can even remove all the data from it.
Another feature for Android phones, parents can know where their teenager connected their device to Wi-Fi. You can know all the details such as the name of the connection, date and and its time of connectivity.
Lastly…
Coupled with its features, price, and compatibility, Xnspy parental monitoring app is an ideal remedy to keep an eye on your tween/teen. It is a time-saving alternative which shall also save you from having arguments with your child over frequent questioning. Xnspy delivers what it promises which you could see for yourself from online customer reviews. Though all the best parental monitoring apps proffer pretty much the same features, not all come with the functionality and compatibility that comes with Xnspy. And of course, there is the price factor as well. Xnspy is affordable compared to its counterparts without compromising on the features. As it is designed for parents, you cannot possibly go wrong with it.
So, while a parental monitoring app helps in relieving several parental worries, there are few other things parents need to keep in mind. Parents of this digital generation need to understand that a parental monitoring app is to help them stay informed of their child's activity and call for intervention for emergencies. But do not get obsessed with the idea of monitoring. Don't become a helicopter parent and keep an eye on your teen's every activity and conversation. This would damage your bond with your child where you won't be able to stop yourself from intervening in everything, and they won't be able to do anything on their own. So, a moderate approach is imperative. Do random checking as this age is rather sensitive and you certainly wouldn't want your child, to drive away from you. Let them grow and be independent but stay involved and know about their lives for their well-being.