"I participated in an Ambassador Program on behalf of Mom Central Consulting for Anheuser-Busch's Family Talk About Drinking program. I received a promotional item to thank me for my participation."
After two decades working on the front lines of childhood education, MJ Corcoran had a revelation. She realized that one of the best ways to help children was to teach their parents how to become more effective communicators.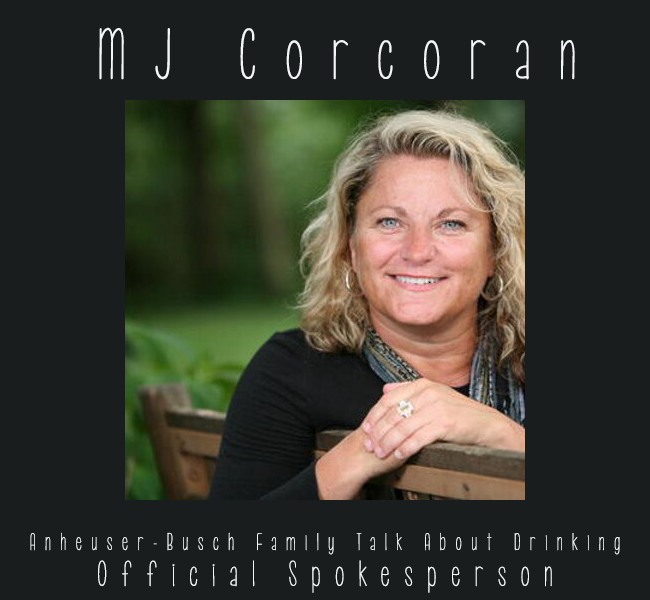 Starting in 2010, this mother of two became an official spokesperson for the Anheuser-Busch Family Talk About Drinking program. An engaging and highly sought-after speaker, Corcoran offers stunning insights into the mind­­s of children and teens, and shows how the simple act of better communication can prepare kids to make smart decisions about underage drinking.
Corcoran's revolutionary approach emphasizes asking open-ended questions, practicing active listening and setting clear expectations as ways to help children build self-confidence, deal effectively with peer pressure and make better choices. Her practical, ongoing strategies help families establish enduring, meaningful communication and strengthen the relationships between parents and kids, no matter their ages. Thanks to Corcoran, Family Talk has grown into a vibrant online community that helps thousands of parents use the power of their influence to help prevent underage drinking.
I was lucky and was able to do a phone interview with MJ Corcoran last month. She gave me some helpful information on methods that I can use to get involved with talking to my kids about underage drinking. I am also giving one of my LUCKY readers a chance to WIN a 30 minute PRIVATE phone session with MJ Corcoran. This is a once in a life opportunity to get some expert advice on what and how to talk with your teens about moving out, going to college, alcohol, underage drinking and more!
For your chance to WIN a private 30-minute phone session with MJ Corcoran, please use the Rafflecopter below:
To learn more about MJ Corcoran and Family Talk About Drinking, visit www.Facebook.com/ABFamilyTalk.