If you have been following my blog, you might know that we go through quite a bit of coffee here at my house. My husband is actually more of the coffee fanatic, but I do LOVE flavored coffees when I am in the mood for some caffeine in a cup. Since we are a coffee drinking family (even Hailey likes coffee thanks to her Nana), we enjoy trying different varieties and flavors.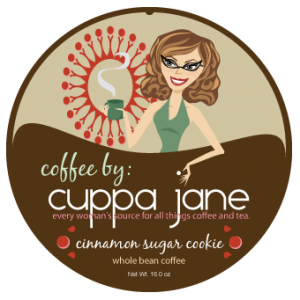 We recently have been drinking a few yummy blends from Cuppa Jane. When you buy the flavored coffees from Cuppa Jane, you can choose to get your coffee in whole coffee beans or ground. I received my three flavors in whole coffee beans, so luckily I have my handy Magic Bullet that grinds my coffee beans like a charm. I now prefer the whole beans over the ground because I think the coffee tastes more fresh when you ground the beans as you need them. The first flavor we tried and the one that I have to say is my favorite of these three is the Cuppa Jane Cinnamon Sugar Cookie blend. This flavor ROCKS. Drinking a sip of this stuff tastes just like the name of it and reminds me of eating a YUMMY sugar cookie.
We also received a bag of the Cuppa Jane Pumpkin Harvest blend. I LOVE pumpkin flavored bread, so I knew this pumpkin flavored coffee was going to be a HIT. Taking a drink of a cup of the Pumpkin Harvest flavor from Cuppa Jane reminds me of the fall and all the bright orange pumpkins at the pumpkin patch and how this coffee would so go good with a nice slice of pumpkin pie with Cool Whip.
Lastly, we also have been drinking the Cuppa Jane Creme Brulee. This has a very unique vanilla flavor. The name Creme Brulee is French for burnt creme which usually consists of a rich custard base dessert topped with a contrasting layer of hard caramel. If you like vanilla flavored coffees, this flavor might be right up your alley.
These were just three of the great flavors at Cuppa Jane. They have a whole list of other flavors that we want to try including Candy Cane, Caramel Nut, Caramel Nut Fudge, Chocolate Cream, Cinnamon Pecan Brownie and more. One thing I forgot to mention is this stuff smells so good in the bag and also brewing. The aroma will make your house smell delicious!
Guess What Readers? The nice folks over at Cuppa Jane have offered a chance for my readers a 16oz bag of each of the three flavors that I got to try. One LUCKY WINNER will receive a Cuppa Jane Holiday Sampler Set that contains a 16oz package of the Pumpkin Harvest, Cinnamon Sugar Cookie and Creme Brulee Cuppa Jane flavored coffees.
1) Please visit the Cuppa Jane website and tell me what flavor you think sounds best. Then, tell me if you follow Cuppa Jane on Facebook or Twitter. These two things MUST be left in your first comment.

Extra Entries:
2 ) Subscribe to this blog and leave a comment that you are a subscriber.
3 ) Follow me on Twitter – leave your user name in your comment.
4 ) Send a Tweet with Twitter @mommye – leave a link to your Tweet. This can be done once daily!
5 ) Blog about it – Leave link to your post (3 extra entries – leave comment for each)
6 ) Become a fan of Mommy Enterprises on Facebook.
7 ) Become a fan of This Mom Can Cook on Facebook.
8 ) Join/Follow Mom's Blog On Google Friend Connect (See right sidebar)
9 ) Add my button to your website or blog (see sidebar) – leave link
10 ) Comment on any NON-GIVEAWAY post – Maximum of 5 extra entries – LEAVE A COMMENT FOR EACH EXTRA ENTRY
This giveaway will end on December 9, 2010 at 11:59 PM PST. The winner will be chosen using the "And The Winner Is" WordPress plugin from all valid entries and submitted. The winner will be notified via email and will have 48 hours to contact me with their mailing information before another winner is chosen. This giveaway is open to U.S. residents only ages 18 years or older.
Disclosure – The products featured above were provided free of cost to me by the manufacturer or representing PR agency. These opinions expressed are my own opinions and are NOT influenced by monetary compensation.