Disclosure – I received an invite to the #MonstersUEvent. All expenses were paid for and covered by Disney. This post is not a paid post and the opinions stated herein are 100% my own.
Last month during my press trip to Pixar Studios, we not only got to watch some of the footage from the new and upcoming film Monsters University, we also got to sit down  and talk about what goes on behind-the-scenes with some of the important people that contribute to the success of these cute animated films made at the Pixar Studios like producer, Kori Rae.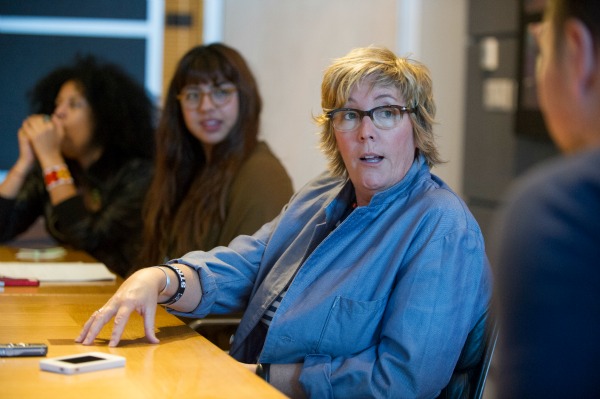 During our roundtable interview with Kori, our group was able to ask questions about the challenges that go along with creating a movie. We talked prequels and we talked sequels. Kori shared that the thoughts came along pretty early about another film in the Monsters, Inc. franchise. She told us that the team threw out ideas for a few days and that they wanted something involving Mike and Sully before Monsters, Inc. and getting to know the characters and how did they end up becoming who they were.  Here is what Rae had to say…
And so it was kind of a… Let's, let's go backwards, and, and then they just thought the college setting would be fantastic in a, in a world that we hadn't really explored before, so, so it came out back then.
We of course had to ask Kori if there is any talk for a sequel to Monsters, Inc. We all wanted to know if someday we were going to find out where Mike and Sully are now!
I don't know.  You know?  It's if a great idea comes around, and, and, um, Peter and somebody wants to, to, to make it, sure.  But there's, there hasn't been any talk of it thus far.
While there is no talk yet of a a sequel to Monsters, Inc. just yet,  that doesn't mean it won't ever happen. I think there is a possibility of a sequel if the Monsters University film is a success when it comes to theaters next month. Being a fan, I am definitely hoping for another Monsters, Inc. Pixar film.
Kori Rae was born and raised in Bergen County, New Jersey but luckily made her way to San Francisco where she currently resides for the past 23 years. Kori Rae joined Pixar Animation Studios back in June of 1993 as a producer in the studio's commercial division where she helped to produce several award winning commercials. Kori was part of a dynamic and entrepreneurial team that helped to shape and build Pixar into the successful studio it is today.
Kori is currently a producer of Disney Pixar's upcoming film, Monsters University and was also an associate producer for Monsters Inc.  Kori also has helped to produce Toy Story, A Bug's Life, Toy Story 2, The Incredibles, Up and Cars Toons.
MONSTERS UNIVERSITY opens in theaters everywhere on June 21st. Follow along the Monters University chat by using the hashtag #MonstersUEvent on Twitter!