This is a sponsored post with Old Navy but the thoughts and opinions that are stated are 100% my own.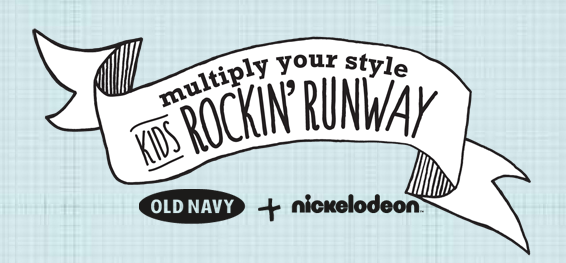 This past weekend I packed up two of my daughters and prepared for a road trip to Los Angeles. I had received a VIP invitation to the Old Navy Multiply Your Style: Kids Rockin' Runway Fashion Show event and I couldn't pass up the opportunity. This wasn't just any fashion show, this one was hosted by Jennette McCurdy and Ariana Grande the stars of "Sam & Cat", one of my daughter Hannah's favorite show on Nickelodeon.
Last Friday I picked up a rental, packed up the kids and we made our way to Los Angeles. Once we got into town, we got a hotel and got some rest for the show the following day. On Saturday August 3rd, we all were awake before the alarm. We got ready for the day and headed to Santa Monica to the Third Street Promenade to the Old Navy store where the show was going to be held.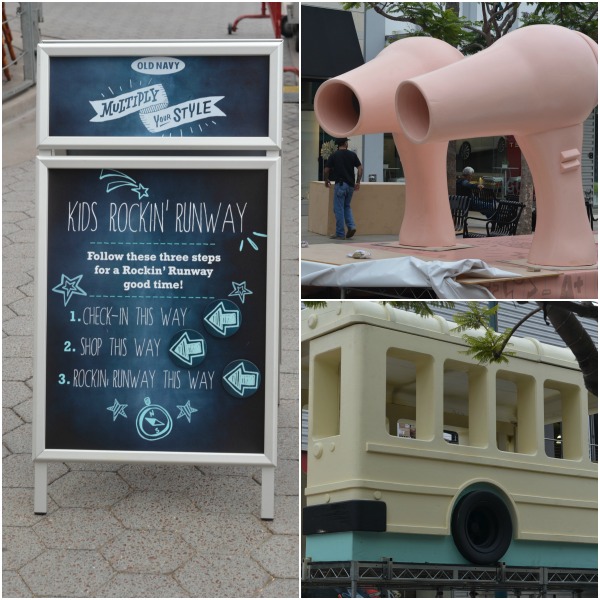 Once we parked the car in the parking garage, we made our way to find Old Navy. Just after entering the Promenade we found the Multiply Your Style sign which showed us which way to go. I think all of us got excited when we saw the sign. We were all wondering what the runway was going to look like. Since we arrived a couple hours early, the crew was still building the Nickelodeon style runway and it was fun watching them build quickly as the clock was ticking. This crew was working on making the runway perfect up until seconds before the show started.
While we were waiting for registration to begin, the guy working the photo booth asked us to help him setup his camera by letting him take a few pictures of us. I couldn't say no to free pictures and I have to admit we felt a little special being one of the first to be photographed.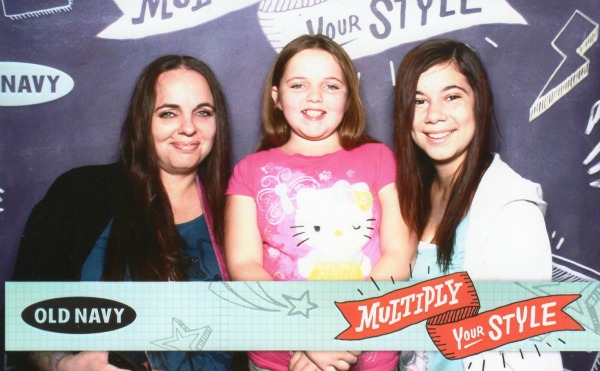 Since we arrived early to the show, we were one of the first in the line to register and check-in.  This fashion show was geared for kids ages 5-12 and after registering, each child received a voucher to go purchase an outfit to wear on the runway.

Once we registered Hannah and got the voucher, we quickly made our way into Old Navy to pick out an outfit for Hannah to walk the runway in. Here is a video I made on Vine to capture the memories!
With so many cute tops and bottoms, it was a little hard for Hannah to decide.  Here are Hannah's final two choices that she tried on in the dressing room before the show.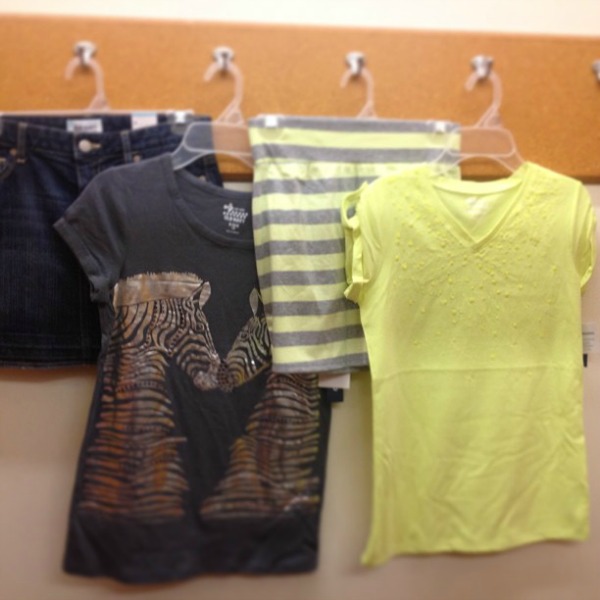 After trying on the two outfits, Hannah went with the denim skirt and zebra shirt. I think mostly because she really wanted the flats that we had picked out for this outfit. I thought this outfit was the cuter of the two also! All three of these items are currently available at Old Navy.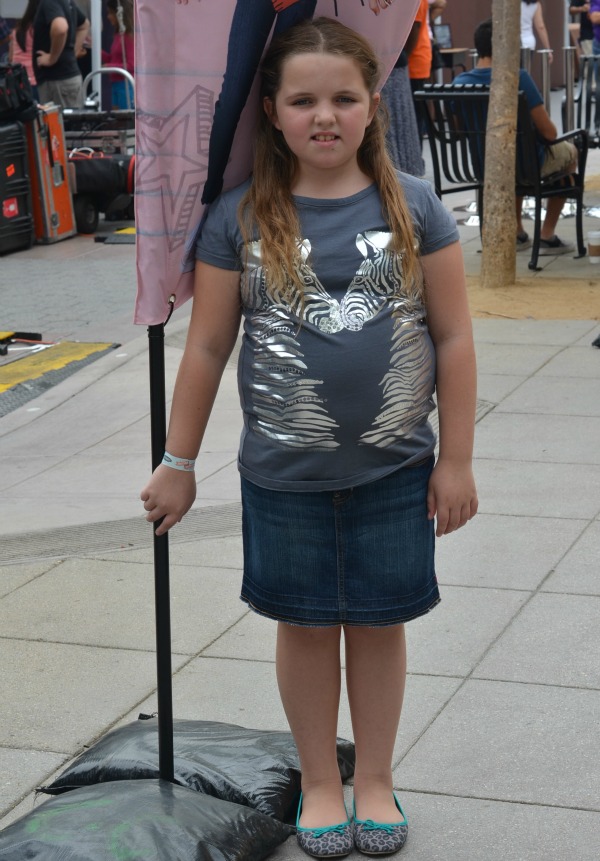 Once Hannah was dressed and ready, we walked around checking out the booths that were setup for the kids. At the Science Lab you could find scientists making potions and also giving out yummy orange smoothies.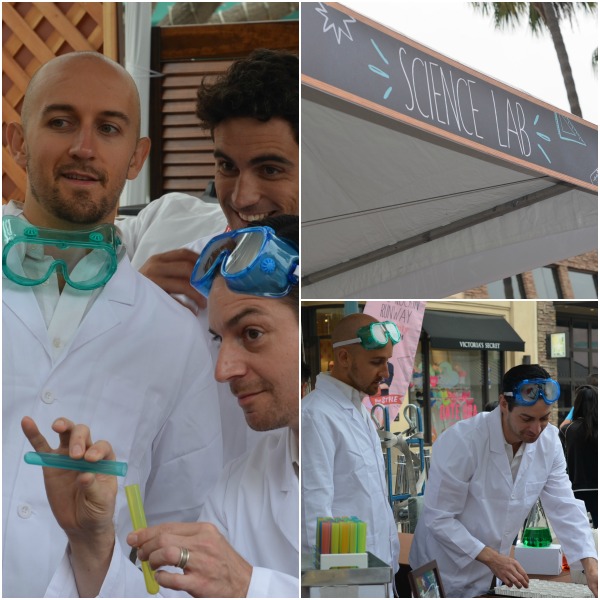 For those that were hungry, there was also a Cafeteria where you could get a cup of tater tots and dipping sauces. I thought this was a great idea and so did the kids. Not only could you find the tater tots in the cafeteria, these ladies also were handing them out in line to the kids participating in the show too!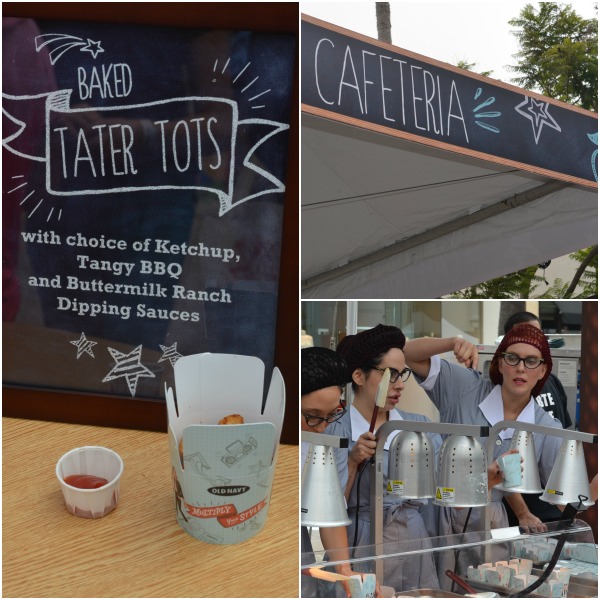 Once the Multiply Your Style Fashion Show started, everyone was so excited and awaiting the arrival of Jennette McCurdy and Ariana Grande. They happened to walk right in front of me and I captured some of the show on video. Below is a video with both "Sam & Cat" as well as the footage of my daughter I got of her going down the FUN runway.
It was fun to see how much the runway had changed from when we first arrived to when the show started. I overheard one of the crew members say that they had started at 9pm the previous night. Here are more pictures of the Nickelodeon themed runway: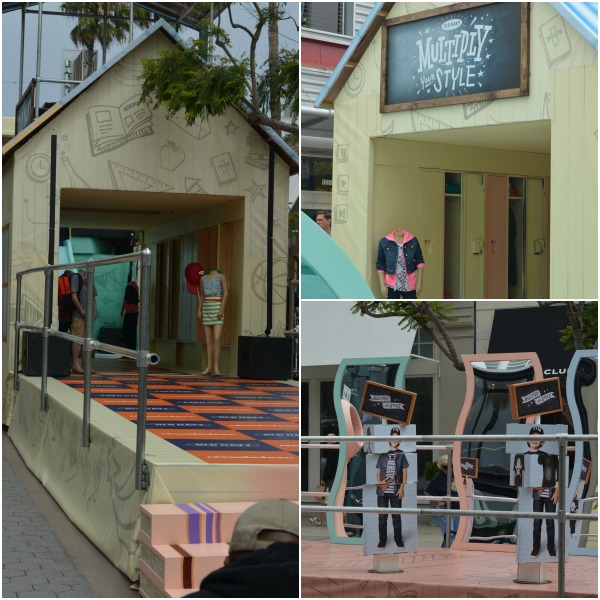 My daughter had a blast participating in this fashion show. It will definitely be something that she remembers forever. Not only getting to walk down the runway, but also meet a couple of her most favorite stars on tv. Since we were VIP to this event, we got to do a special Meet and Greet with the stars of "Sam & Cat" where we got to take a couple pictures of us with the celebrities. One of the best photo opportunities I have had yet! I have been a fan of Jennette McCurdy from watching so many episodes of iCarlly with my daughter that it was really neat seeing her in person.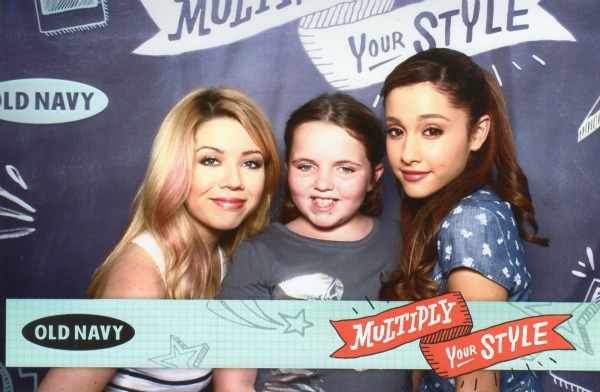 My youngest was lucky enough to score a picture by herself with Jennette and Ariana. Let's just say my oldest was a little jealous! She actually took her photo first and there was no way I was leaving without a picture of us all with "Sam & Cat". In addition to the photo opp, food and watching my daughter get to walk down the runway, it was also fun watching the other kids smiling from ear to ear on stage showing off their new Old Navy outfits.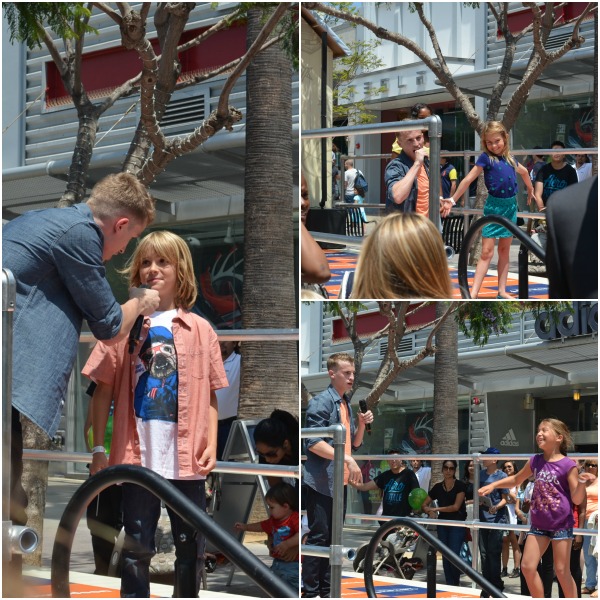 Here are a couple of good shots I took of Jennette McCurdy and Ariana Grande while they were on the stage.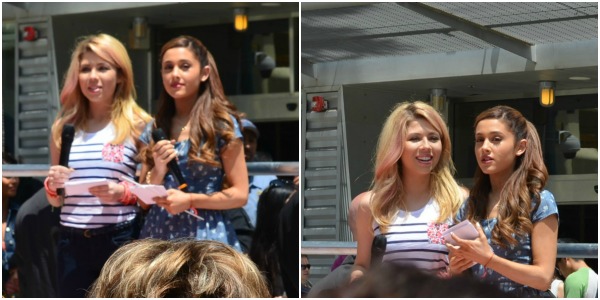 If you have a "Sam & Cat" fan, you might want to take advantage of this Multiply Your Style Sweet Sweepstakes that is ending soon for a chance to meet Jennette McCurdy and Ariana Grande too!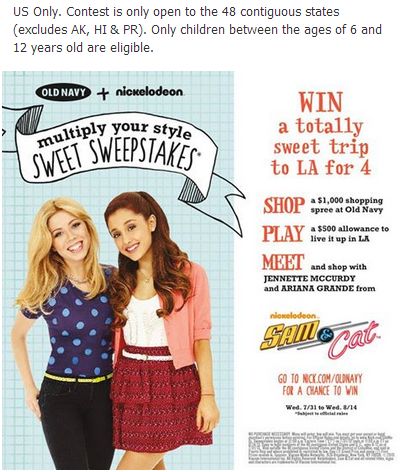 From now until August 14, 2013 kids ages 6-12 (or their parents) can enter for a chance to WIN a trip to LA to not only meet Jennette McCurdy and Ariana Grande, but go shopping too! The grand prize includes travel and hotel for 4, a $1,000 Old Navy Shopping Spree with the stars and $500 in spending money.

For find the latest "Back To School" fashions, visit: www.OldNavy.com.