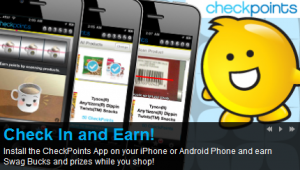 A couple months ago I finally splurged for an iPhone. It is not so much the phone that I splurged on, it was the 2 year contract that came along with it.  I don't like contracts so I had avoided getting an iPhone for as long as possible. With all the different apps available and being the internet junkie that I am, I just had to have one of these phones. One of the things I do often online is "Check-In". Yes, I am one of those on Facebook and Twitter that like to share my current location sometimes and sometimes even add a picture.
Today I installed the CheckPoints app on my phone. This is a cool app that allows you to earn points for checking in. At some locations, you can even scan items with your iPhone to earn even more. In addition to points, they have a coin system. You earn coins that you use to spin for FREE points. You earn and save your points to redeem for cool prizes like gift cards, miles, goodies, gadgets & more. If you are a member of Swagbucks, you can now earn Swagbucks for using the CheckPoints app. If you have not joined CheckPoints, you can join and use the Bonus code "Swagbucks" to earn 20 FREE Swagbucks + 300 points that is enough to redeem for a reward if you wanted to. Also, if you scan at least one product each month, you are going to earn another 6 FREE Swagbucks.
Watch this video to see just how it works…….
You can download this at www.CheckPoints.com or on the App Store for your phone. This is available for both the iPhone and Android phones.
Powered by

Sidelines