2.1K Flares
2.1K Flares
×
Have you ever wondered what the kids were doing at home when you aren't there? Or maybe you want to check and see if your baby is awake without having to get off the couch. This past month I have been having a little bit of fun with my new D-Link Wireless Day & Night Camera that I received for review.
The D-Link DCS-932L Home Network Camera is a small little camera that can provide both day & night surveillance for your home or small office. This camera is a little smaller than men's wallet and will give you access to your camera's feed via a computer, iPad iPhone or Android device. Since I have 4 children including 2 teenagers and 2 under 10, I thought it would be a great idea to install this handy camera in the living room of my house so that I can keep an eye on this part of my house when I am not home.
When I first setup the camera my husband and I thought it would be a good idea to have a little fun with the camera before we told the kids about it. After I setup the camera I installed the mydlink App on my iPhone and tested it out to make sure it worked. The first time we left, we made a call home and made a comment about what was going on in the living room. Nothing bad, just wanted to let our teenagers know that we can see what is going on. Not only can you see what is happening in front of this camera, it also has sound so that you can hear what is going on too!
With my iPhone I can see what is going on my living room in just a few seconds….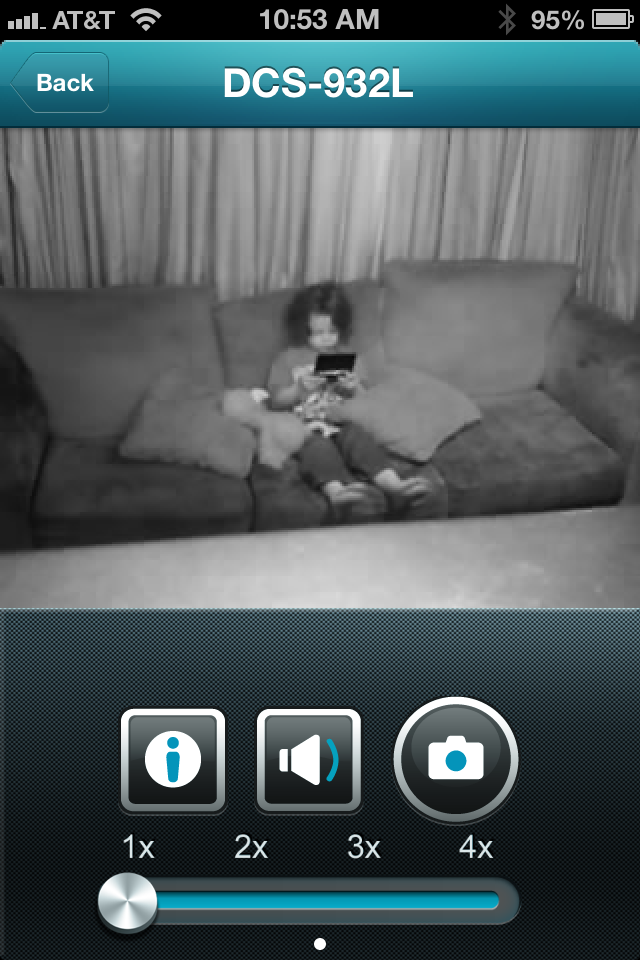 I can also snap a photo of the live action at my house with just a touch on this app too! Or I can zoom in if I want.
With the D-Link DCS-932L Wireless N Day/Night Home Network Camera, you have to have a wireless home network for the camera to join and a stable internet connection to be able to view the camera outside of your home network. This camera is wireless, but there is an AC power adapter that you will have to plugin to make it work. You can choose to stand the camera up vertically or use the mount on the back of the camera to place it on a wall as well.  The camera is equipped with an adjustable neck so you can get the perfect view and also is equipped with infrared LED's so that you can see when it is dark up to a few feet.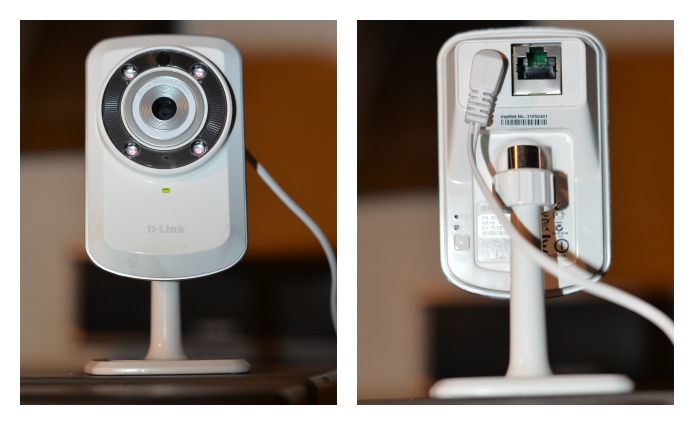 For the price of this camera, I think it is pretty handy. If you don't have an iPhone, iPad or Android Device you still have the option to view the camera if you have internet access by setting up an account on the mydlink website. With your free account you can access any of your D-Link cameras you have setup. Take a peek at the screenshot I just took below: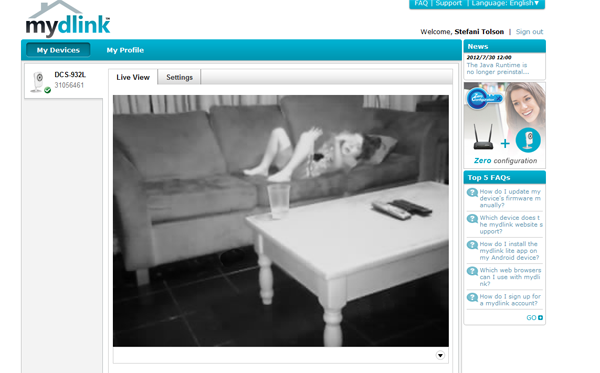 The only thing that could make it better in my opinion would be the video playback. The camera currently plays the video you view in black and white, but that is fine for me. Or maybe the option to record!
Right now Amazon has this D-Link DCS-932L  Day/Night Network Camera
on SALE for only $89.99 (a savings of $50). For those of you with Amazon money saved, this might be something you want to snatch!
If you had one of these cameras, what would you use it for?
Disclosure – I received a product sample to provide you with this review. This post is not a paid post (but does contain affiliate links) and the opinions stated herein are 100% my own.
2.1K Flares
Tweet
Email to a friend
2.1K Flares
×