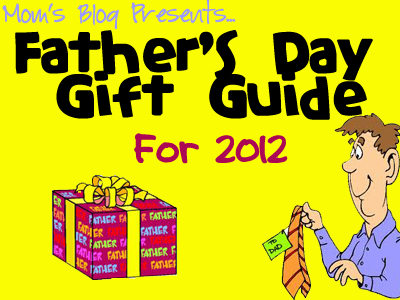 Starting next month in June I will be featuring a Father's Day Gift Guide to help you find fun and unique gifts for your dads, grandfathers, husbands or whoever else you are looking to buy a Father's Day gift for.
Right now I am currently taking submissions for my gift guide. In order to be included in my gift guide, there is NO FEE, but I do require a full size sample of the item you want featured to be sent for my review that will not be returned. I am asking that the product be valued that you are submitting to be at least $25. If you have an item that you do think would be great, but is under the required amount, you can pay a small fee of $25 for a listing instead.
What you will receive:
A review on Mom's Blog about the product including 2 links
Exposure in my 2012 Father's Day Gift Guide – includes photo, price and link to product
Exposure to my 11,000 + Twitter fans – A Tweet or more out to my followers about your product
Exposure to my 3,600 + Facebook Fans – A blast on Mommy Enterprises & Mom's Blog Facebook Walls
If you a company owner or a PR rep and have a product or service that you would like to be featured in my gift guide, please fill out my 2011 Father's Day Gift Guide Submission Form to submit your idea.