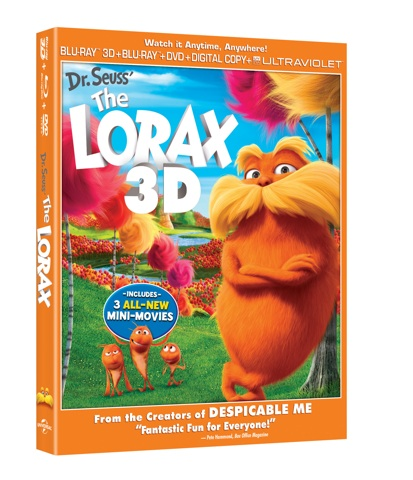 Ever since I was a child I have been a fan of Dr. Seuss. I remember I used to have all of the little hardback books when I was young and would love reading these books over the others because they had funny sayings that would rhyme and they were fun to read.
Yesterday I had some time alone with the husband and we thought it would be fun to watch a movie while the kids were gone and it was quiet. Being kids at heart, we thought it would be fun to watch The Lorax that just came out on Blu-ray and DVD a week ago since I already had a copy of the movie that the kids already enjoyed watching without us. Actually, I met The Lorax in New York earlier this month at BlogHer'12 which had me wanting to watch the movie even more.
Here is a picture of me and the Lorax in New York City!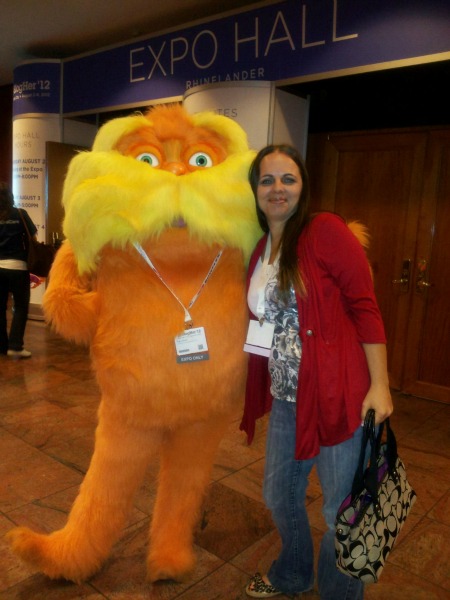 In The Lorax, Ted lives in the happy town of Thneedville where everything is perfect except for the air. In Thneedville the only trees you will find are trees that are fake and the air is something that can be purchased in a bottle. Audrey, the girl of Ted's dreams wants a real tree and Ted goes on a mission to find a real live Truffula Tree to impress Audrey for her birthday.
During Ted's mission to find a Truffula Tree he learns about the legendary Lorax who is a grumpy little orange character that is the protector of Truffula Valley and speaks for the trees. Once he learns about the Lorax, he knows it is even more important to find that Truffula Tree that he begin his journey looking for to win the girl of his dreams heart.
My thoughts – I just LOVED this movie. Usually the cartoons that I watch with the kids will bore me after a while but my husband and I watched the entire movie together. I love all cute characters, I love the Lorax and I really love the Truffula Trees. This is definitely a good movie for a family movie night.
Right now The Lorax is available on DVD,  Blu-ray™ and Digital Download. I have a copy of the Blu-ray™ 3D Combo Pack that also  includes three brand new mini-movies including:
Serenade – Two Bar-ba-loots — one love shy and the other suave and confident — battle for the heart of their would-be sweetheart with the help of a colorful cast of characters.
Wagon-Ho – Two Bar-ba-loots take The Once-ler's wagon on a ride they won't soon forget.
Forces of Nature – Determined to scare The Once-ler out of Truffula Valley, The Lorax decides to create the illusion of ominous forces of nature.
Right now Dr. Seuss' The Lorax Combo Pack (Two Discs: Blu-ray + DVD + Digital Copy + UltraViolet)
is on sale on Amazon for only $24.96 and eligible for FREE Super Saver Shipping.
For those with Lorax fans at home, here is a neat activity sheet for you to print.
For those on Facebook, be sure to "Like" The Lorax: http://www.facebook.com/theloraxmovie
Disclosure – I received a copy of this DVD/Blu-ray set to provide you with this review. This post is not a paid post and the opinions stated herein are 100% my own.
45 Flares
Tweet
Email to a friend
45 Flares
×