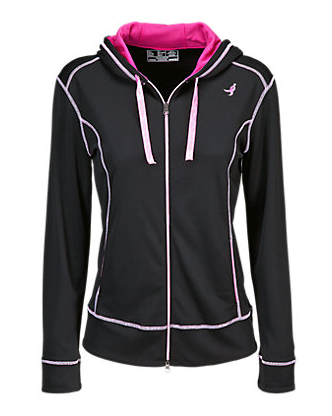 These past few months I have been going to the gym more times than I ever have. I finally joined back up with my favorite gym and have been taking advantage of using their fancy equipment to burn some calories. For the last year  I have been rocking some cute white and pink New Balance WW850 walking shoes while exercising because I LOVE how comfortable they are. They don't hurt my feet like other walking/running shoes I have and they are still in great shape.
I have now added more cool New Balance apparel to my closet…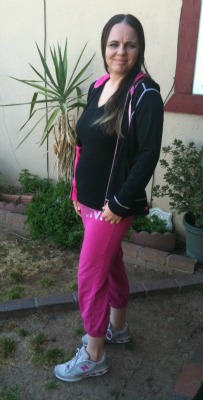 One thing that the gym does offer is a COLD place to workout. Before I would wear a sweatshirt to the gym and take it off once I started to get warm. Now, I have a cool Stride Jacket from New Balance that has been perfect for the gym.
The Lace Up for the Cure® Stride Jacket is a lightweight jacket that not only is comfortable, it is made with moisture management knit fabric that allows me to wear it the whole time I am exercising. I have the cute one in black, but this jacket also is available in pink too! I think I might just have to order the pink one so I am not seen always wearing the same one. 

I also love that this jacket has a cause behind it too!  New Balance will contribute 5% of the suggested retail price of sales from the Lace Up for the Cure® Collection with a guaranteed minimum donation of $500,000 each year to Susan G. Komen® through 2012.
Here are the jacket's features:
100% Polyester Body
2-way front zipper
UPF Ultraviolet Protection Factor of 20+ for effective protection from UV rays
Side seam pockets for mobile storage
Like I mentioned before, I LOVE my New Balance shoes. I actually have a new pair that I will be sharing more information about soon too! You can find more of the New Balance shoes and apparel by visiting: http://www.newbalance.com.
Disclosure – I received a product sample to provide you with this post. This post is not a paid post and the opinions stated herein are 100% my own.