For those of you that missed any episodes of Scandal, you can now buy the complete first season on DVD.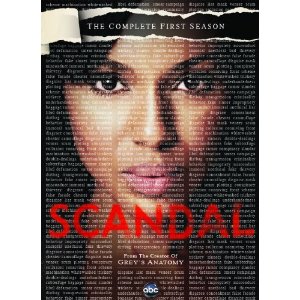 Synopsis:  From the creator and executive producers of "Grey's Anatomy" and "Private Practice" comes a drama revolving around the life and work of a professional crisis manager and her dysfunctional staff. A former consultant to the President, Olivia Pope dedicates her life to protecting and defending the public images of America's elite. After leaving the White House, the power consultant opened her own firm, hoping to start a new chapter – both professionally and personally – but she can't seem to completely cut ties with her past. Slowly it becomes apparent that her staff, who specialize in fixing the lives of other people, can't quite fix the ones closest at hand — their own.
When it comes to TV shows, some of my favorites are ones that include a little suspense and detective work. I started watching Scandal with my oldest daughter last week and hopefully will finish the season this weekend.
Take a peek at this video clip below:
If you want a copy of the DVD to watch the whole season, right now you can grab a copy of this Scandal 2-Disc set on Amazon for only $19.96 (reg $29.99) & eligible for FREE Super Saver Shipping.
Disclosure – I received a copy of this DVD set to provide you with this post. This post is not a paid post and the opinions stated herein are 100% my own.